If you haven't had the opportunity to visit Dogfish Head Brewing's restaurant Brewings & Eats in Rehoboth Beach, Delaware, any time between 2002 and now, you might not know, but the brewery famous for off-centered ales has been pumping out off-centered spirits since then too. Now, over a decade and a half later, DFH's spirits arm, Dogfish Head Distilling Company, is releasing its first whiskey called Alternate Takes: Volume 1 Whiskey Finished in Rum Casks.
"We got our start in 2002 when Sam [Calagione] convinced some Dogfish Head World Wide Stout fans who were also engineers to help design a new 200-gallon still from reclaimed farm equipment," says James Montero, Dogfish Head Distilling Company's general manager. "Until 2015, Dogfish Head used this still, lovingly called 'Frankenstill,' to distill small-batch vodkas, gins, and rums primarily for folks visiting the Rehoboth area and Dogfish Head Brewings & Eats."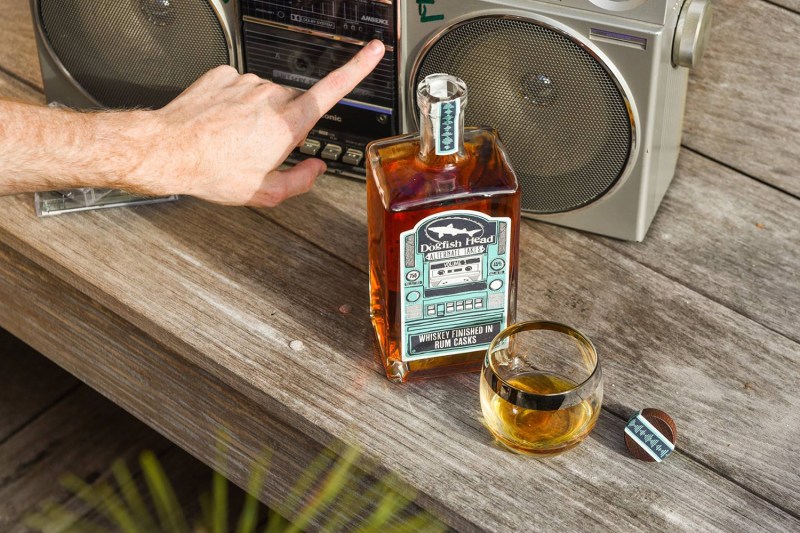 These spirits helped them establish an audience, allowing them to keep growing the brand and increasing the quality of the spirits produced. Then, in 2015, the distilling operations moved to a new state-of-the-art distillery located in the heart of the Milton, Delaware, brewing campus, according to Montero. This allowed them to tap "all the same awesome malt suppliers, brewing expertise, equipment, and warehousing space that supports our off-centered ales."
While this isn't the first whiskey DFH has made, it is the first one that is being sold on its own. Previously, DFH has released Sonic Archaeology, a bottled cocktail containing a blend of DFH's rum, brandy, and whiskey. The move to the larger facility, Montero says, has allowed the company to truly invest in a whiskey program.
Alternate Takes Whiskey is first fermented using a blend of malted barleys and DFH's proprietary ale yeast. It was aged for two years and spent the first two-thirds of the time in 53-gallon, charred, new American Oak barrels before it was transferred to casks that previously held another DFH spirit, Barrel Honey Rum, which helps imbue even more smooth caramel, vanilla, and (of course) honey notes. Further tasting reveals candied nuts, spicy cinnamon, and a cocoa and smoke finish.
While this is the first whiskey release, it certainly isn't going to be the last from DFH.
"Under the Alternate Takes name, our fans should expect an experimental whiskey release once a year, usually around the holidays."
"Because of our brewing heritage, we love malt and will continue to play with a variety of different style malted barleys to make new whiskies; we will also experiment with a variety of different barrel types and finishings," Montero says. "Under the Alternate Takes name, our fans should expect an experimental whiskey release once a year, usually around the holidays. The type of finishing for this second volume of Alternate Takes will be announced at a later date."
Currently, Alternate Takes (as well as DFH's other spirits) are available in Delaware, Maryland, Washington, D.C., and northern Virginia. The company will be expanding distribution in 2019 to Pennsylvania and New Jersey, with hopes to continue expansion later in the year.
If you do make it toRehobothh, Montero suggests visiting DFH's restaurants, Chesapeake & Maine or Brewings & Eats, because while there you can try some of the whiskeys in development and provide feedback, playing a part in future releases from the company.
Editors' Recommendations