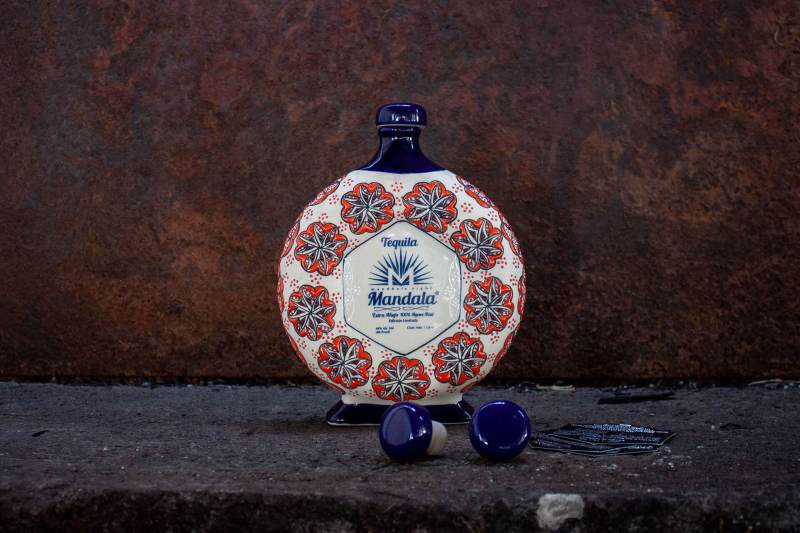 The Los Angeles Dodgers may have won 100 games in the regular season. But just like all of the other 100-plus winners, they've already been bounced out of the MLB playoffs. The highly-touted, let-down of a team was swept three games to nothing by division-rival Arizona in the National League Division Series. And while this is a bummer for fans of this yearly under-achieving team (except for when they won the World Series in 2020), it also means a fun, alcohol-fueled celebration is over. Specifically, tequila.
During the regular season, when the team won a series, the team would pick the most valuable player. Instead of giving this player a plaque or a Chipotle gift card, they would take a team picture, using infielder Miguel Rojas' phone, surrounding the player, and then pass around shots of tequila to celebrate. While they didn't stick to just one bottle, the main tequila the team enjoyed sipping was Mandala.
While we don't know which variety of Mandala tequila the team imbibed, the award-winning brand makes Tequila Blanco, Tequila Reposado, Tequila Añejo, Tequila Extra Añejo, and a handful of limited-edition expressions all in hand-painted, beautiful ceramic bottles.
Drinking this lesser-known El Arenal, Jalisco, Mexico-made tequila was a way for the team to bond. It all started when the Dodgers lost three series in a row and were looking for a way to get loose, bond, and move forward in the right direction. The last series was a sweep by the rival San Francisco Giants. After beginning the tequila-based ritual, the team didn't lose a series in August and had pulled away from the division competition by September.
They won the division by a full sixteen games and seemed to be soaring (and raring for another taste of tequila) heading into the postseason. Because of the new Wildcard format, the team received a bye into the Divisional Round. Perhaps they ran out of gas after a long season, or a long layoff between games was too much to handle. Either way, they dropped all three games in the best-of-five series to a rival Diamondbacks team that only won 84 games in the regular season.
But there's no guarantee of a Hollywood ending in the real world. Every season, great teams bow out earlier than expected, so it should come as no surprise that the Dodgers players are now free to play golf and go on well-deserved vacations after the grueling 162-game season. It's just sad to see a unique, fun bonding experience among teammates come to an end. While Roja will always have the memories on his phone, there will be no more celebratory shots of tequila this season.
Perhaps, they'll carry the tradition into next season? But, like with every team, there will be turnover and players coming and going. It likely won't be the same. At least, even though they didn't win this year, they can carry the memories of the celebratory shots of tequila with their teammates forever. That's almost as great as winning the World Series, right?
Editors' Recommendations