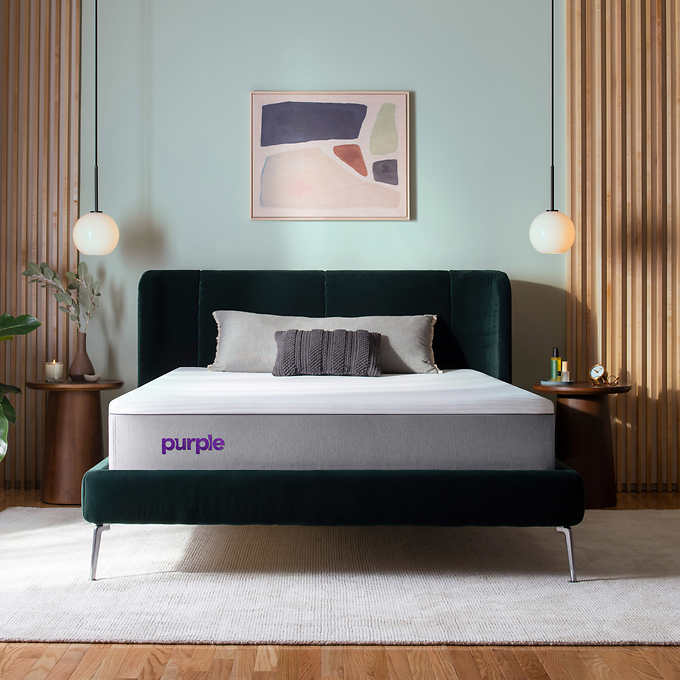 Everyone loves a trip to Costco, with its thrilling variety of goods ranging from fresh flowers and enormous croissants to exclusive state-of-the-art mattresses. Purple, creator of the iconic purple gel-grid mattress, has teamed up with Costco to bring you a fantastic night's rest by way of the PurpleRenew. This special deal combines the legendary convenience, accessibility, and customer care of Costco with the superior comfort of a Purple.
Living on the grid
A Purple mattress is arguably the most distinctive kind of mattress you can find. Even in a marketplace saturated with appealing options for those looking to give their bed a complete makeover, it's hard to forget the soft and springy undulations of the Purple's specialized GelFlex grid. This gel-grid may seem at first to be less than cloud-like, but it's specially designed to bounce back to all kinds of pressure. It can even comfortably swallow up a raw egg pressed into it with no danger of cracking, according to Purple commercial legend.
The GelFlex grid isn't just eye-catching — it's designed to dissipate heat for toasty sleepers while cradling and supporting the sleeper in every possible position. The PurpleRenew offers the Goldilocks setting, a medium-firm feel that will please just about anyone.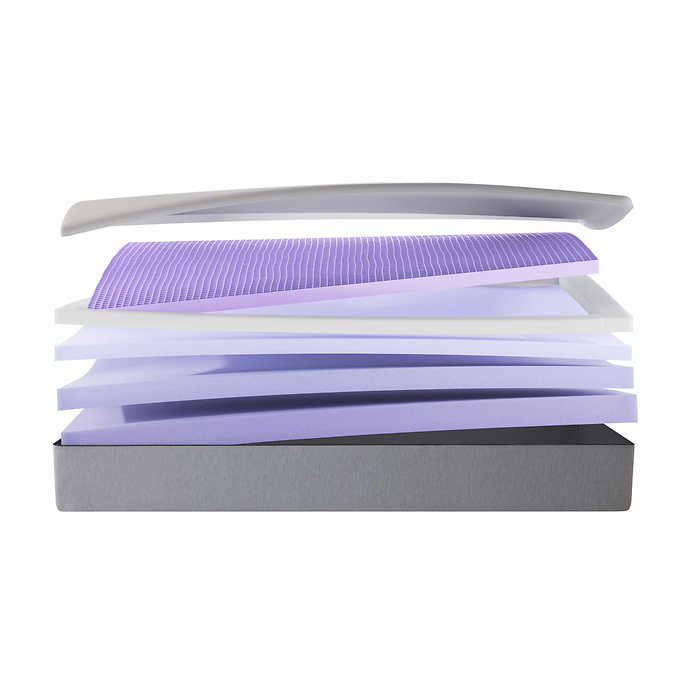 The PurpleRenew's not-too-firm, not-too-soft style is great for couples, especially as its buzzworthy technology minimizes movement across the entire mattress, lessening partner disturbances. Specialized breathable ComfortFoam assists in temperature regulation, while two layers of Base Support Foam keep the sleeper's body stable and their spine aligned.
If you've tested out a Purple mattress in the past and found sitting on the edge to be a bit concerning due to a slight "waterfall" effect, never fear. The 11″ PurpleRenew is equipped with an edge support perimeter encasement, making it a bit more of a solid sitting experience. The many high-tech layers of the PurpleRenew add up to just one thing: delicious naps and sumptuous nights of sleep. Stability, durability, comfort, and support unite in one purple package.
A better night's sleep, exclusive to Costco
If your shopping list contains a new office chair, mouthwash, a bottle of wine for a party, and a mattress that's going to change your nights, grab your Costco membership card, and let's go. The PurpleRenew is available in Queen, King, and California King, and because this is Costco, ordering the PurpleRenew comes with white-glove delivery service to the room of your choice, and they'll even remove the discarded packaging and haul away your old mattress.
Do note that California residents will need to call 1-800-955-2292 to arrange for haul away. Costco will also help facilitate fixing problems with your Purple in accordance with their 10-year warranty. Because of the GelGrid's stretchy durability and a commitment to customer service, a Purple Purchase is a long-term investment in your health and well-being. Plus, you can grab a churro.
Editors' Recommendations