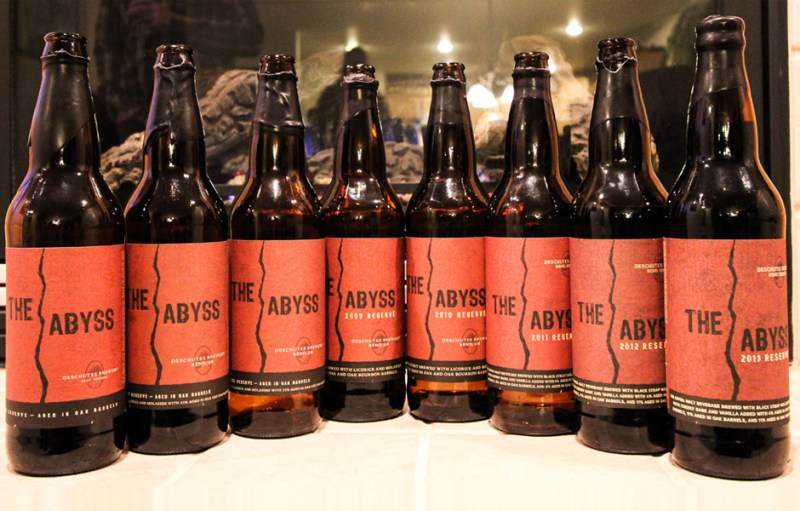 Deschutes Brewery in Bend, Oregon, makes some of the biggest and most exciting barrel-aged beers in the country. We talked to barrel master Ryan Schmiege about the risks and reward of sitting on beer for years. His position in Bend affords him the opportunity to taste beer in all the stages of its life, but with a critical eye toward risks and off flavors that could threaten his casks at any time. He shared thoughts on the process, aging, blending, and even told us about an upcoming brew you can only find at the Deschutes pubs and tasting room.
Barrel aging beers has become ubiquitous among craft breweries in recent years, but Deschutes has been at it for a while, could you talk about it how and when that process started?
For Deschutes, barrel aging really began with Mirror Mirror and The Abyss; so that means 2005, as both of them were first released in 2006. At that time the brewery's founder, Gary Fish, was asking the brewers to take more risks. He wanted to use ingredients that other brewers weren't using, to push boundaries of styles and flavor profiles that would really excite our fans. Barrel aging fit into that scenario very well. We have maintained the attitude of pushing boundaries ever since, from R&D phases right through to production products.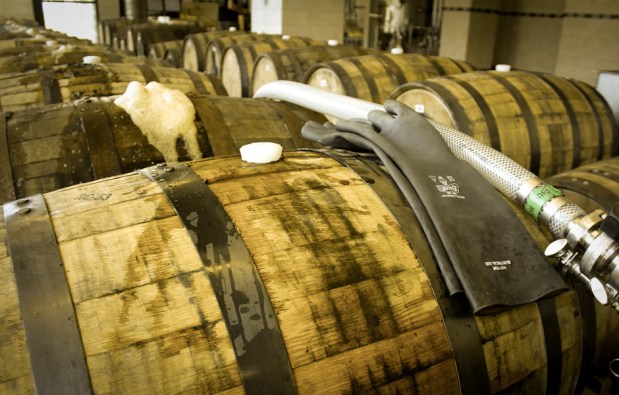 You went through a big expansion into a new space in the last couple of years, has that expanded the program's reach?
Absolutely. Just over two years ago we moved our barrel aging to a warehouse a couple miles across Bend from our main brewery; we simply couldn't fit it all on site. At that time we had roughly one thousand casks. Today, we have about thirty-five hundred casks comprised mostly of whisky and Oregon pinot. We also use a fair amount of new American and new Oregon oak and we have barrels that previously held Tempranillo, Cabernet, Malbec, Muscat, Sauternes and other wines; even Sherry. We've expanded into Cognac, Rum and Tequila too.
All of this allows us to produce a wide variety of barrel aged beers. Some of those beers don't get sold outside of our public houses, while there are others that we try to have reach our entire sales footprint.
Do you find yourself being able to craft more new and interesting beers, or does most of your time go towards refining the beers people are already familiar with?
Barrel aging, as with most elements of craft brewing, is an ever evolving process. We do a great deal of experimentation with the intent of learning and discovering.
At the same time, we are always looking for potential ways to improve more widely familiar beers such as those you mention and even those that don't hit oak. We have no sacred cows, so to speak. If we can improve our flagship brands like Mirror Pond Pale Ale and Black Butte Porter, then we're going to do it. One of our core values is, "Do our best and next time do it better."
There are risks involved in barrel aging, not the least of which is deferred profits on beers with big upfront cost like barleywines. How do you mitigate these risks and ensure a quality product from 6 months to 4 years out?
It begins with very good brewing practices, which means clean and sanitary. We take very good care in cleaning all of our equipment; piping, pumps, tanks, hoses, etc.
Throughout the beer's time in oak we do both lab and sensory analysis periodically. Flavor tells us a lot and what can appear as small changes in lab analytics can also tell us a lot about the development.
Just prior to packaging we bottle condition our products. This means we add back a specified amount of yeast and fermentable sugar so that there is a small re-fermentation in the package. This adds additional carbonation, helps consume the small amount of oxygen that is incorporated in the packaging process and assists in a longer shelf life for the beer.
Generally speaking a higher alcohol content helps these beers age as well. The bottom line is nothing lasts forever. These beers as well as all others, change with age. Likewise no two people have the same taste buds, so while I may love an Abyss that is 5 years old you may prefer it to have less age.
One of my favorite days of the year is the Abyss release specifically because our pubs serve sample trays with 5 to 6 different years or releases of Abyss. Tasting that many releases side by side is a great experience.
One of the reserve series beers that's a little different is Green Monster. What's the story behind that beer?
When the organic beer craze hit craft we got in the game like many other brewers. We made a beer called Green Lakes Organic Amber. During the course of brewing one day some non-organic malt was put into a batch of Green Lakes, which therefore meant it was not an organic product.
Rather than releasing it anyway without saying anything or dumping the batch, we isolated it. After primary fermentation we put it into some unoccupied wine casks to sour it. We didn't know much about souring at that time, so we thought it was a good opportunity to learn. Its nick-name was Green Monster from the onset.
We just left it alone for 3 years, tasting it occasionally. Finally we found most of it to be in a place we were happy with. It took about seven of us no less than five individual tastings of each cask to determine the final blend.
I think it was Gary Fish who at one point said something to the effect of, "If half the consumers love this beer and half the consumers hate this beer, then we've done it perfectly." In the end the split was damn close to 50/50 on some of the ratings sites.
What differentiates the anniversary Black Butte Porter from the year-round version?
A lot. On the very basic level our anniversary releases are imperial versions of the year round Black Butte Porter. On another level about 30% of the beer gets aged for one year in freshly dumped whisky barrels. That's about where the commonality between each of the six releases that have already occurred end. We change elements of the Anniversary Black Butte Porter every year. We've added coffee, cocoa nibs, pasilla negro peppers, oranges, pomegranate molasses, medjool dates, mission figs, black currants, cranberries and more, sometimes together. We blended in a kettle soured batch for our 25th Release. Our 27th anniversary, this coming June, is sure to be a winner as well.
There's a new reserve series beer later this year as well, right?
The Specialist will be the fourth in a series of limited release beers that come from our public house breweries. The same base recipe gets brewed at each pub and goes into oak barrels. Those barrels later get blended back together and packaged at our production brewery and are then sold exclusively at each pub and our production brewery's tasting room. You can't get them anywhere else.
The Specialist, at its essence, is an imperial bitter. We have made a couple of different award winning bitters through the years and they are still loved by our loyal customers, specifically at our original Bend Oregon Public House. So, Veronica Vega our Assistant Brewmaster there and Ben Kehs our Assistant Brewmaster in Portland created this beer and aged it in bourbon, pinot and sherry casks. The result is a lightly earthy, oaky, balanced, malt forward beer with woody notes, bourbon compliments, a very light acidity and elements of dried fruit.
Reserve series beers from Deschutes are available at the brewpubs and tasting room, and find them near you by using the Deschutes beer finder.
Editors' Recommendations