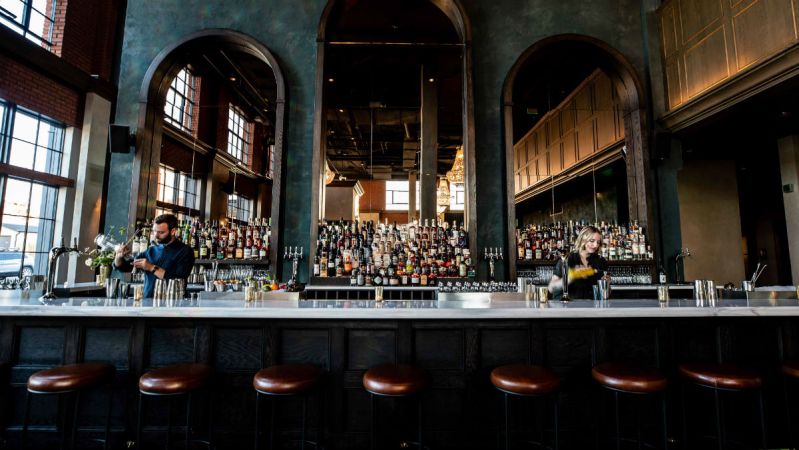 From a 50-seat, windowless haunt in New York's East Village, Death & Co. — dubbed the most influential cocktail bar in New York City — has taken flight, opening its second location in Denver, Colorado's new Ramble Hotel with more than four in-house spaces curated with different cocktails, dishes, and moods.
Praise the cocktail gods!
The Manual was on hand to watch D&C's David Kaplan, Alex Day, and Ravi DeRossi announce the opening of Death & Co. Denver, the brand's first-ever expansion. Bringing with it notorious talent and a list of more than 36 craft cocktails that will adapt seasonally, Death & Co. is emerging out of its NYC den and into new spaces within the locally owned-and-operated, 50-room boutique hotel.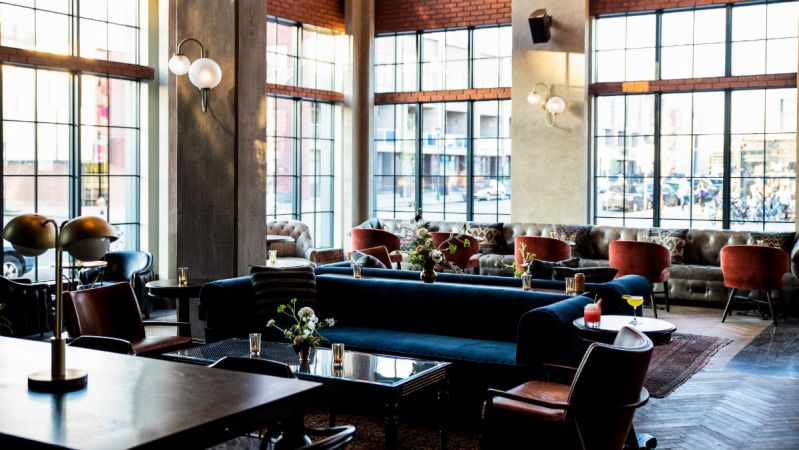 Death & Co. Denver begins in the Lobby, where a marquee welcomes guests into a room characterized by Ramble Hotel founder Ryan Diggins as a "grandiose study hall during the day, then at night, you draw the velvet curtains to a romantic, moody lobby inspired by classic London hotels."
Giant windows let in natural light, and the bar … well, let's just say it's the grandest in Denver to-date. Also in the lobby is D&C's coffee bar (which converts into a second spirits bar in the evenings), where guests can order rich java from MiddleState, Death & Co's exclusive coffee partner, as well as tea, cold-press juices, and a full menu of breakfast food. Even if you don't plan to stay at the Ramble, this is a perfect morning-time spot to bring your laptop and bask in its classic, clean ambiance.
Upstairs, the vibe gets darker. The intimate mezzanine-level bar called Suite 6A seats no more than 20 people and almost always requires a reservation. The swanky Suite 6A is inspired by Death & Co's NYC haunt and features highly-creative cocktails with rare ingredients and inventive presentations.
Beyond these curtains and out the patio is The Garden. Completely outside and roofed only by repurposed wooden beams and string lighting, the emphasis here is casual presentation and seasonable drinks with pops of color and tons of refreshing flavor. Picture sunlight and lush greenery. "For brunch and all-day drinking … and lots of rosé," says Day.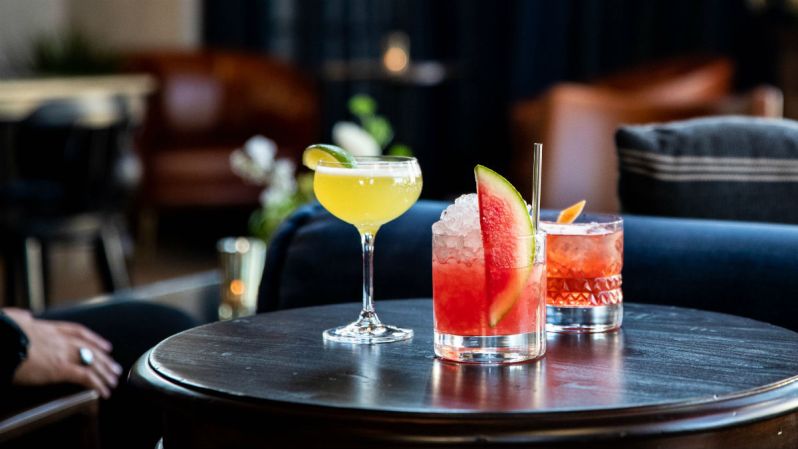 Kaplan adds that, for this wide-open space (very Colorado, given the 300 days of sunshine), "We asked ourselves: Who is Death & Co. when it goes outside? Same for the lobby, we asked: Who is Death & Co. on a grand hotel bar? This has allowed us to exercise the different elements of our 12-year personality … having daylight is new for us."
Moving into the guest suites, Death & Co. is the room service provider — each guestroom also includes a fully-curated D&C bar. If you rent out one of the larger suites for an event, D&C will stock the space with a bartender to personalize libations. (From about 700 applicants, only the best of the best bartenders were chosen.)
The last area Death & Co. will fill is Vauxhaull, an event venue that will host live concerts, film screenings, First Friday art walks, and private events. Vauxhall's marquee takes up the coveted Larimer Street front.
This massive project to infuse D&C into Ramble started three years ago when Diggins was contemplating the right food and beverage provider to bring on — and he had the Death & Co. cocktail book right on his table. "Death & Co. was the wish list," Diggins tells The Manual.
Death & Co. opens in Ramble on May 4, 2018. You'll have to wait just a little longer for The Garden and Suite 6A, which will debut mid-May and end of May, respectively.
For New York patrons who are also beer fanatics, the word on the street's that D&C NYC is about to make its very own beer … Until then, just visit Denver for the Colorado location's curated local beer selection. You'll have a designated campus to drink and be moody. Here, here!
Editors' Recommendations