So six artists, six chefs and six bartenders all walk into a venue.
Sounds like the beginning to a corny joke, but this is real and it's happening the afternoon of June 1, 2014 as part of CREATE Boston. Chef Louis DiBiccari, owner of Tavern Road and TR Street Foods, founded the event three years ago as a way to celebrate art, food, drink and music.
CREATE Boston pairs rising culinary and mixology stars with six emerging local artists and challenges them to craft food, drink and art tied to a unifying theme.
"We like to bring street artists who are under the radar into the public eye," says DiBiccari. "We thought it would be fun to pair them with chefs and then we brought in bartenders for the liquid art. We plan to grow and evolve this. I don't want to call it a festival. It's more of a celebration of all different forms of art."
Here's how it all works—participants will be guided to six stations, each featuring a chef, bartender and artist, inside the Fairmont Battery Wharf. Each team comes up with its own theme with the dish and drink corresponding, interacting or interpreting the art. The art may be 2D or 3D and may be interactive (live). Guests can explore, sip and taste a trifecta of Bostonian culture at their leisure. If they see a piece of art they want, they can buy direct from the artist.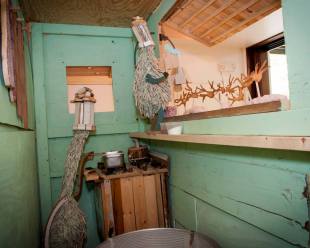 DiBiccari points to the Ind!v!duals—an artist collective—as a group that continues to up their creativity each year. They work with reclaimed wood and create wooden aliens (yep, heard that right!). Last year, they brought a Lovesick Cafe food truck (check out the photo to the left), which featured their artwork along with some edible creations by chef Alex Crabb of Asta. He offered up raw asparagus spears covered in cotton candy.
"We look for artists and chefs who will really put their heads together and collaborate," says DiBiccari. "That's when you see some really cool stuff happening."
2014 CREATE Boston:
Participating Artists:
Ind!v!duals
Karen Jerzk
Mark Sebastiano
Moe Pope
Stephen Holding
Cecilia Ulibarri
Participating Chefs:
Jade Taylor, Bondir
Alex Crab, Asta
Scott Jones , Menton
Jason Cheek , Merrill and Co
Monica Glass , Clio
Meg Ward, Coppa
Participating Bartenders:
Emma Hollander, Trina's Starlite Lounge
Palmer Matthews , Drink
Daren Swisher, JM Curley
Steve Schnelwar, 80 Thoreau
Sabrina Kershaw, The Franklin Cafe
Tyler Wang, Audubon
Editors' Recommendations