Have you ever said, I wish this beer was cased in a taxidermied squirrel?
Well that's the beauty of the alcohol industry, folks. Many of the minds behind chic vodkas, machismo tequilas, and punk rock beers have sworn not only to contribute to the making of spirits, but to squash the status quo of what that experience can look like.
Throughout our hunt to find the craziest alcohol bottle designs, we found a lot of ingenuity, imagination, and plenty of downright idiocracy (i.e. Grazia Cammello's merlot wine with what looks like a 4-foot long spout.) Here are the best and boldest, well worth the price even if it just sits on the shelf with the seal unbroken.
Absolut Disco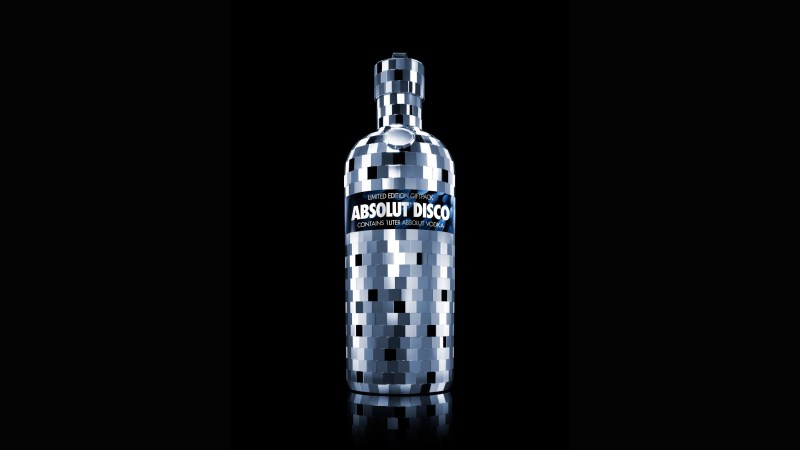 This limited edition Absolut bottle takes its form from a 70's era disco ball, and was marketed from Absolut in 2007. (You can buy the bottle from eBay for like $25 today.) At the time of its winter holiday '07 release, Absolut did what Absolut does best and dazzled us with their creative marketing. Not that the taste is bad, but the packaging is definitely better. Credited with the mirror-ball concept is Mårten Knutsson, executive creative director of Stockholm-based design agency Family Business. He and his agency had worked on Absolut's account the season before creating Absolut Bling Bling (an all-gold Absolut bottle). But Disco was hands down more inventive. It's not a subtle piece to display on an aged oak bar, but pulls together a more modern liquor array. If you're more about simplicity, go for Absolut's No Label.
Brew Dog End of History Beer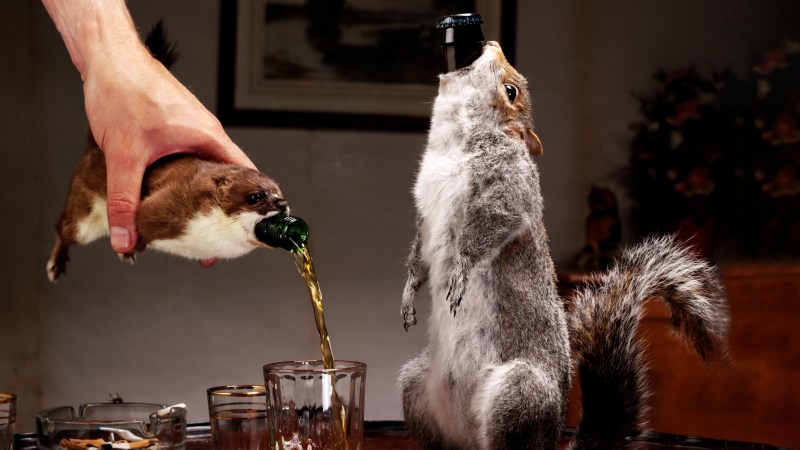 Boy, if I had a dollar every time I said, I wish this beer bottle was encased in a taxidermied squirrel… I'd have exactly zero dollars. But the punk rock bizzaros at Brew Dog would have probably $100. They created the End of History limited-edition 55% blond Belgian ale (meant to be enjoyed in multiple sittings) as a result of their mission to break the status quo of what beer can taste like, and how it can be enjoyed. They're passionate about craft beer and think generic beer co's "alcohol industry Nazis" can proverbially (or maybe not so much) suck it. Only 11 bottles of End of History have been made and each comes with its own certificate and is presented in a stuffed stoat or grey squirrel. (The packaging was created by a skilled taxidermist and all the animals used were road kill.) They're all sold out. There goes your dream of drinking beer stronger than liquor from a deceased rodent.
Hijos de Villa Reposado
Are you gonna pull those pistols or whistle Dixie? Hijos de Villa pulled the pistols, creating this limited-edition tequila ($44.99) in collaboration with the Villanueva Barragan family, owners of Licores Veracruz, for their 55th anniversary. Accordingly, the pistol is meant to represent the family's pride, courage, and respect. Very machismo, but we kinda like it. The tequila itself is a reposada, having spent a little over a year resting in oak casks and giving the gun a slightly gold tinge. Although the bottle itself comes in cheap plastic and cardboard packaging, once you unholster the bottle, it's a badass feeling. Drink it if you want, but this is one we recommend you keep on the shelf for display.
Mocambo Rum Buccaneers Pistol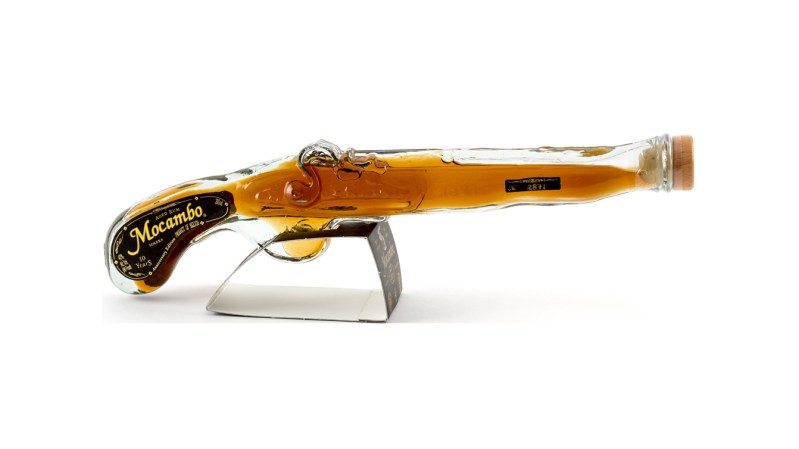 If rum is more your flavor, Licores Veracruz teamed with the Ron Mocambo Rum ($79.99) to design a buccaneer pistol filled with 10-year aged, dark Mexican rum. And it ain't just for looks. This bottle holds a full 5-star rating from online reviews and was awarded the Silver Medal at the 2007 Ministry of Rum Tasting Competition in New Orleans, US, the 2006 Winner of Worldstar Packaging competition in Sweden and the 2006 Winner Nacional Packaging Competition AMEE in Mexico.
Medea Vodka
It's 2017 and we don't have flying cars, but we DO have vodka bottles with LED screens on them. Totally customizable, you can write whatever you'd like to appear on the screen of Medea Vodka ($36). The family behind Medea pulls from its Netherlands heritage of producing spirits since 1777. Medea itself was crafted much later, with help from Master Distiller, Ad van der Lee, and granted the prestigious classification of World Class Distillery in 2012 thanks to it. The taste is clear with complex hints of orange zest, white pepper, and beeswax… but did we mention the bottle has an LED screen. This techy design detail makes the bottle perfect for a special holiday, but it's cool that the taste is great for year-round cocktails. Also, Shaq approves.
Lazarus Wine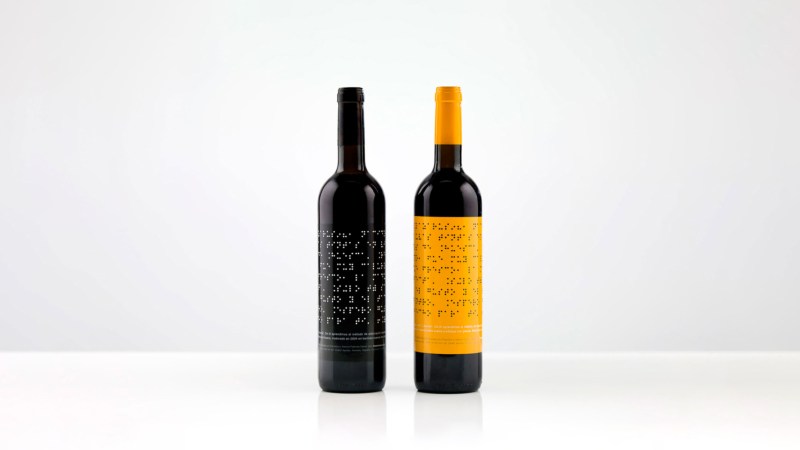 The only vino to make the list, Lazarus Wine bottles may at first glance appear to be just another uniquely designed wine label, but you're missing the point. Or perhaps the feel. The labels are written in the tactile braille alphabet, since the liquor is made by extraordinarily sensitive blind winemakers in Spain. The whole endeavor of Lazarus began in the late 90s when a Professor of Enology began working with a blind winemaker, who was able to detect changes in aromatics and taste earlier than anyone else. Hence the birth of Sensorial Winemaking. I'd recommend an hour of research on the topic, because it's fascinating… perhaps while drinking Lazarus' Orange Label Red ($28).
Nikka Gold & Gold Samurai
A stunning Japanese blending whiskey, Nikka took a note from its heritage in the warrior packaging of the Nikka Gold & Gold Samurai (anywhere between $20 and $169 on eBay). Complete with removable samurai armor and helmet. Bottled from the Nikki owned Yoichi distillery opened back in the 30s, this bottle was initially marketed only at duty free shops around Japan. And it makes sense that tourists flocking to the east would go H.A.M. over this very culturally-inspired display. So if you're into this kind of thing, you'll love the bottle. If you're not, go west.
Editors' Recommendations