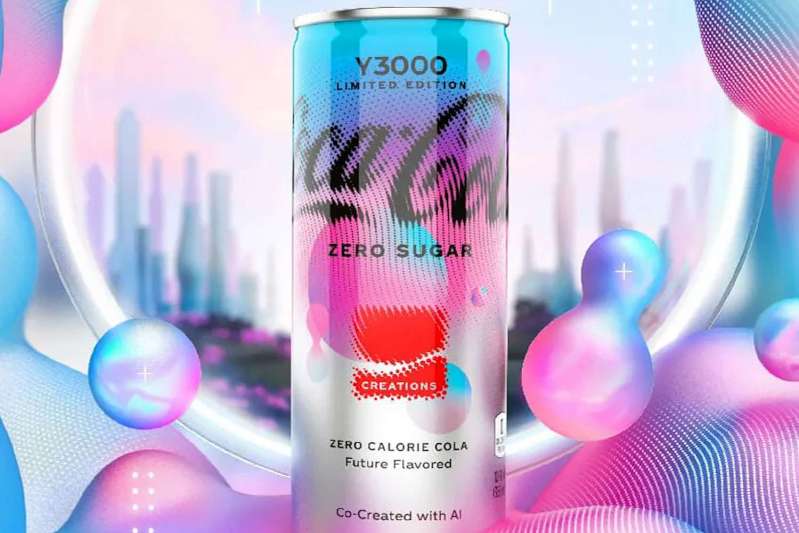 If you're anything like us, you're still a little wary of artificial intelligence (also known as AI). Maybe it's because of movies like I, Robot or Terminator 2: Judgment Day, but we don't think it's so wrong to be at least a little cautious about artificial intelligence. The last thing we need is a robot uprising that eventually leads to the downfall of humankind, right? Well, clearly, Coca-Cola doesn't share our fears of an impending AI-led apocalypse because it just launched a cola made with artificial intelligence. Well, co-created with AI.
It's called Coca-Cola Zero Sugar Y3000, and it was co-created by humans and artificial intelligence by "understanding how fans envision the future through emotions, aspirations, colors, flavors and more," according to a Coca-Cola press release. It was created by Coca-Cola fans around the world as well as "insights gathered from artificial intelligence." If that sounds kind of sci-fi, that's because it really is. Robots and humans working in unison to create…cola? We're sure that's what people envisioned when they created artificial intelligence.
This limited-edition Coca-Cola flavor was designed to be a sneak peek into the year 3000. And while we may have fears of a robot rebellion, the folks at Coca-Cola clearly don't because this soda is all about an optimistic view of the future.
"We hope that Coca‑Cola will still be as relevant and refreshing in the year 3000 as it is today, so we challenged ourselves to explore the concept of what a Coke from the future might taste like—and what kind of experiences would a Coke from the future unlock?" Oana Vlad, Senior Director, Global Strategy at The Coca‑Cola Company, said in the press release. "The 'Real Magic' brand platform celebrates unexpected connections that make the ordinary extraordinary, so we intentionally brought human intelligence and AI together for an uplifting expression of what Coca‑Cola believes tomorrow will bring."
The bottle itself is futuristic and looks like something Marty McFly would have ordered in future Hill Valley. The label features "liquid in a morphing, evolving state, communicated through form and color changes that emphasize a positive future." The bold color palette is filled with magenta, violet, and cyan as well as a connected dot matrix with fluid dots that meld together to show the unending human connections now and into the future. That might seem like some heavy stuff for a soda, but maybe that's exactly what we need.
This zero-sugar cola is only available for a limited time in select stores and markets in the U.S., Canada, China, Europe, and Africa. Canadian and U.S. cola fans can also find the original Coca‑Cola Y3000. That one has sugar.
The can says that it's "future flavored," and honestly, we have no idea what that means. We assume that it will taste at least a little bit like classic Sugar-Free Coke, though. Maybe a little more future-y, though. Whatever that means. Honestly, what could it taste like? Most likely like cola.
Editors' Recommendations