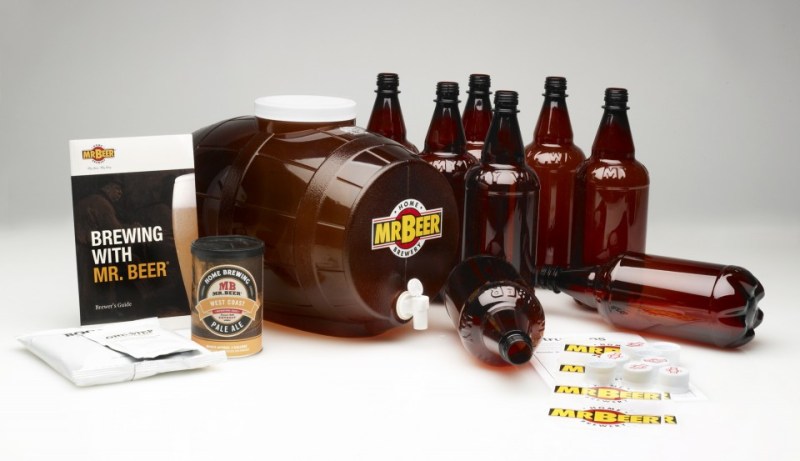 With all those delicious microbrews around, we've been wondering what it would be like to brew our own beer. Thanks to the good folks at Mr. Beer, we can get everything we need in one handy kit, which comes complete with a two gallon keg; a spigot, washer and nut; a can of hopped malt extract (HME); yeast; eight 1-liter plastic bottles, bottle caps and labels; no-rinse cleaner and the handy Brewing With Mr. Beer instructional DVD. All you have to provide is three gallons of water, a one gallon container, a one quart pot, a metal or hard plastic spoon, a can opener, a measuring cup, a bowl or plate and white granulated sugar. Now let the beer-making fun begin!
First we assembled the spigot. Next, we sanitized it, along with the spoon, can opener and measuring to kill all the gross bacteria and wild yeasts that could potentially produce that funky beer taste that we don't want. Back to Beer Making 101. In case you didn't know how beer is produced, it's a process, called fermentation, of combining a starch source with yeast. Then the yeast devours the sugars in the starch, which produces alcohol and carbon dioxide. So basically we carefully followed all the steps in the directions and then we let the mixture sit. Then we waited. And waited. And waited. Finally, around two weeks later our homebrew was ready to be bottled! We sanitized the bottles and put a little sugar in each, along with the mixture. Then we waited again — this time around two-and-a-half weeks for the secondary brewing to take place.
We let the beer sit for two more days, and invited some folks over to watch football, have some snacks and enjoy our homebrew. How awesome is that? We think we're going to whip up a spicy batch for the holidays. Oh, and speaking of holidays, wouldn't this make the perfect gift?
The Brewmaster Select Kit, $99.95 at mrbeer.com.
Editors' Recommendations