Between barrel-aged tastings, a sprawling waterfront festival, and brewery takeovers, it was a busy weekend for beer drinkers in Portland, Oregon. But just a short light-rail ride south of downtown into the Milwaukie neighborhood, something special was afoot at Breakside Brewery. Over two years of work had finally paid off with the B-Sides series, eight delicious and wildly varied brews, and it was time to share them with the world.
Related: Festival Beer: Old Town Brewing's Kentucky Refresh-Mint
Unlike your standard IPA or porter, which is just a single beer, fermented, carbonated, and bottled, this project was a bit different. "All of these are "blended" beers," noted Brewmaster Ben Edmunds. "That is, we approached this series in the winemaking tradition of creating certain cuvees. Pairing and blending barrels that worked together to create harmonious and balanced different beers."
That led to some wildly complex drinks, all eight of which appeared on tap in the crowded brewery, many of them poured by Edmunds himself.
I must admit, the pace and strength of the beers made it difficult to take detailed notes. Still, there were a few standouts from the night that didn't go unnoticed in such good company. The Man Who Made Dessert, a blend of two biere de garde vintages, balanced a bold and lightly tart brettanomyces character with Turkish apricots. Portmanteau took tart to new places with a number of wood-aged sour ales, and an adjunct list that includes lychees, juniper, ginger, and Gewurztraminer grapes – complex and memorable.
If those eight weren't enough to sate your thirst, Breakside reached into the library for classics like the 2014 Braggadocio, a bourbon barrel-aged London Porter brewed with Stone, or 2015's Bon Vivant, a dry-hopped Belgian ale that spent time in Pinot Noir barrels.
While the release event was the only chance to try all eight on tap, the B-Sides collection is on its way to bottle shops in the form of 750Ml bottles for $15 each. We've included the full list of beers below, in case you weren't thirsty yet.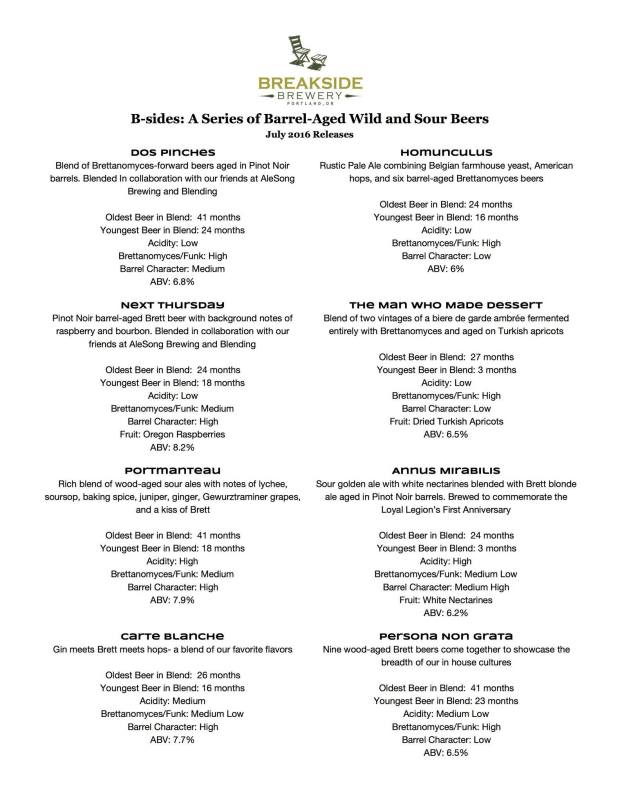 Editors' Recommendations