Is there anyone who doesn't love a good, hearty breakfast burrito? These satisfying little bundles are an easy, delicious, hearty yet simple way to start any day. Or, for that matter, end any day. Breakfast burritos make for a divine dinner that absolutely everyone, including the kids, will love.
As popular as they are, though, breakfast burritos aren't necessarily something we often think to make for ourselves. We usually think of them as a grab-one-with-your-morning-latte-at-the-corner-store kind of food. But if you know how to make a breakfast burrito, you possess a skill that will make you pretty popular. And you'll probably save a ton when you're not dropping six bucks every morning for the corner store version.
This recipe for a breakfast burrito is one of our very favorites. It's easy, includes just the right amount of each ingredient, and will leave you feeling cozy and completely satisfied on any otherwise dreary morning. If nothing else, this simple and delicious recipe will make it a little easier to crawl out from beneath the sheets.
What's in a breakfast burrito?
The short answer to this question? Anything you damn well please. People love to get hung up on what designates breakfast food from lunch food from dinner food, but we're going to let you in on a little secret — it's all nonsense. Your body doesn't know what time it is, and if you want to have chicken and dumplings for breakfast and scrambled eggs for dinner, go for it! You're an adult, and you make the rules. Traditionally, however, a breakfast burrito usually contains scrambled eggs, a protein like sausage, cheese, some sort of potato, and whichever herbs and spices tickle your fancy. You do you.
Homemade breakfast burrito recipe
(From The Modern Proper)
Ingredients:
2 large russet potatoes, peeled and grated, squeezed of excess water
1 pound breakfast sausage, ground
2 tablespoons olive oil
1 teaspoon salt
1/4 teaspoon ground pepper
1 bunch green onions, white and green parts, chopped
6 large flour tortillas
2 cups cheddar cheese, grated
2 avocados, sliced
Fresh cilantro, chopped
Method:
In a large skillet, brown breakfast sausage over medium heat until cooked through. Remove meat from the skillet and set aside.
In the same skillet, add the eggs and season with ½ tsp salt and pepper. Using a rubber spatula, stir the eggs slowly but frequently until cooked through. Once cooked, remove from skillet and set aside.
In the same pan, heat olive oil on medium/high. Add potatoes and spread into an even layer. Season with remaining salt and pepper. Cook 2-3 minutes per side until crispy. Continue stirring until cooked through.
Add green onions to the mixture and stir until well combined.
Preheat oven to a low broil.
Fill one tortilla at a time with 1/2 cup – 3/4 cup sausage mixture. Top each with 1/3 cup cheese, avocado, salsa and cilantro.
Carefully roll each tortilla, tucking in the corners.
Line burritos on a baking sheet and place in the oven. Remove once the tortillas are just golden.
Serve hot and enjoy!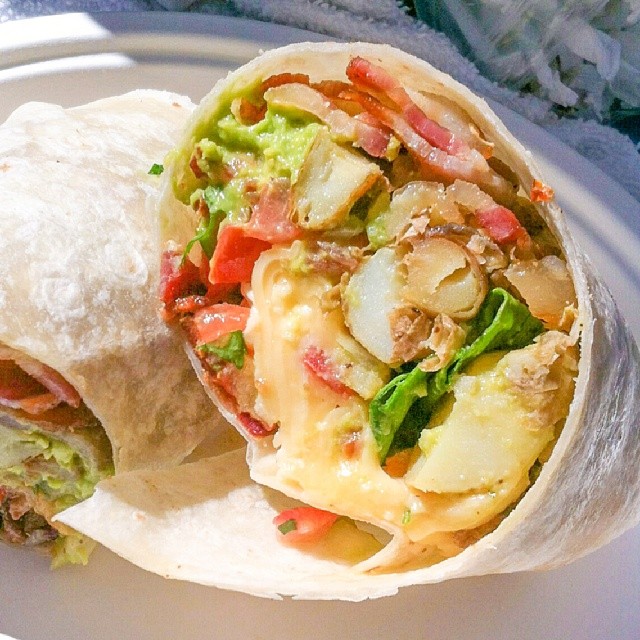 Breakfast burrito tips and tricks
These burritos are completely customizable to your own personal tastes and dietary preferences. Make them vegetarian by simply swapping the sausage for veggie sausage, or leave it out altogether. Add in any extra veggies that you like! Spinach is wonderful in these as well, and a great way to add a healthy boost.
Breakfast burritos freeze beautifully, so make a big batch and toss them in the freezer to enjoy all week. To freeze, make them to the point of assembly (leaving out the avocado and cilantro — these ingredients don't freeze well), then freeze them until ready to bake. When you're ready, simply bake at 400 until golden.
Editors' Recommendations