To sip a fine whiskey is to taste the past. Each year spent in a barrel adds a dash of history to the flavor and essence of the spirit. But in the case of Jim Beam's latest release, Booker's Bourbon Batch 2014, the barrels selected for this limited edition bottling carry a whole lot more meaning.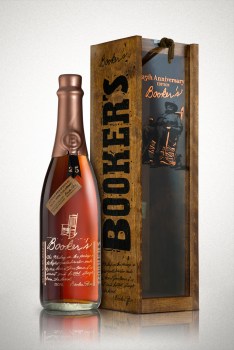 Booker's Bourbon Batch 2014 celebrates the brand's 25-year history, and pays its respects to the late Booker Noe, Jim Beam's 6th Generation Master Distiller and creator of the Booker's line of small-batch, top-shelf bourbon.
Like any bottle of Booker's, Batch 2014 is made from uncut, unfiltered whiskey, bottled at between 121 and 130 proof. Every barrel used to create Batch 2014 was hand-selected by Fred Noe, Booker's son and Jim Beam's 7th Generation Master Distiller, and Freddie Noe, Booker's grandson. All of the barrels used were filled in 2003 – more than 10 years ago – just a year before Booker's death in February 2004, making them some of the last barrels Booker laid down.
"One of Dad's last requests for me was to take care of his Booker's, and we plan to do just that by sharing it with you all, which I know he would have done himself," said Fred Noe in a statement. "This will be a special bottling for our loyal fans of Booker's – they have never ever had one that is going to taste like this particular batch."
As for taste, Jim Beam says Batch 2014 will deliver "a robust vanilla nose and wide range of flavors – from oak tannin to mocha notes," along with a "deep taste" and a "smooth finish." But we hope to get our hands on a bottle just so we can, you know, confirm those tasting notes.
Only around 1000 cases of Batch 2014 bourbon will be made, and each bottle will run you about $100.
To learn more about Booker's Bourbon Batch 2014, check out this video:

Editors' Recommendations