There's nothing like sipping a tropical cocktail on a beach in Hawaii as the warm sun beats overhead and the noise of the crashing waves serves as a beautiful medley of hypnotizing sounds. And if you're a lover of colorful cocktails, you've most likely heard of a Blue Hawaii. Or is it a Blue Hawaiian? If you're unsure, you are not alone. There are actually two versions of the popular blue drink and we've broken them down by history and recipes to help give you a heads-up when asking your bartender for your blue drink, especially since it's highly possible they won't know the difference between the two.
Blue Hawaii Recipe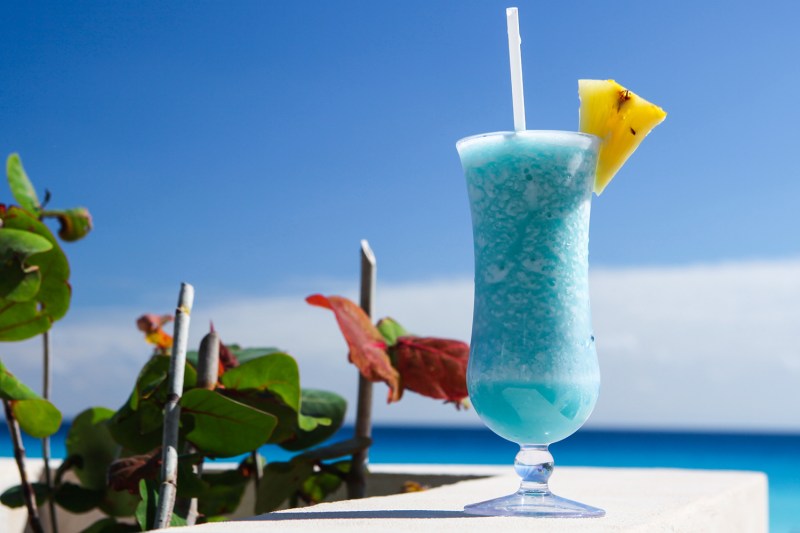 The Blue Hawaii, which dates to the 1950s, is a cocktail created by a bartender and Bing Crosby fan. The renowned bartender, Harry Yee, was known for his many tropical cocktails, including the Banana Daiquiri and the Tropical Itch. As is the case with many cocktails, the Blue Hawaii seems to have its origins in a pushy liquor rep and a case of product to move. Harry appeased the salesman by mixing up a little rum, pineapple, and sour mix with samples of his orange-flavored liqueur and named the now green-colored drink a Blue Hawaii. Since some people are reluctant to indulge in a rum-based cocktail, it's possible to swap out the rum for vodka or create a 50/50 mixture of both.
Ingredients:
1 oz white rum
.5 oz Blue Curacao
4 oz pineapple juice
2 oz fresh-squeezed lime juice
Dash simple syrup
Chunk of pineapple for garnish
0.5 cup ice
Method for the blender: Pour all the ingredients into a blender. Blend until no ice chunks remain. Pour into a chilled hurricane glass or even just a tall glass. Garnish with the pineapple.
Method without a blender: If you don't have a blender or don't want to dilute the drink, consider making this as a shake and pour cocktail. Take your rum, blue curacao, pineapple and lime juice then add to a shaker with ice. Shake vigorously and pour into a tall glass. Don't forget to add that pineapple chunk as a garnish.
Blue Hawaiian Recipe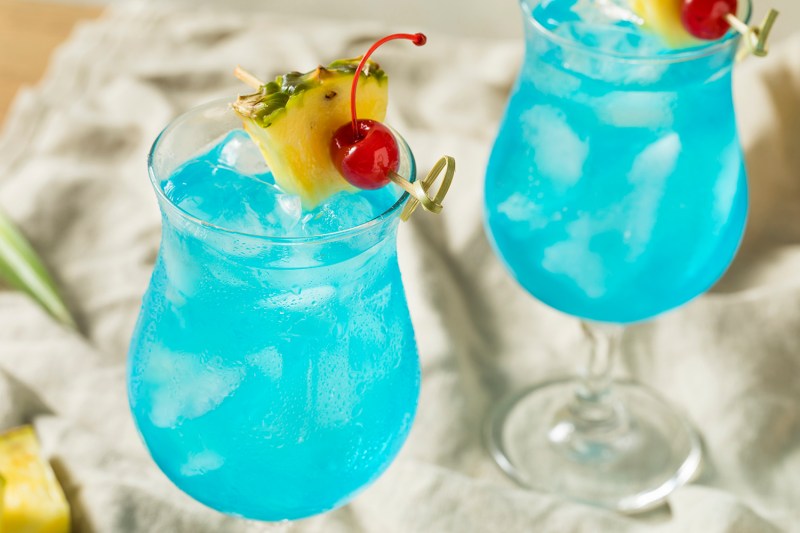 Although the names are practically the same, the Blue Hawaiian is different from the Blue Hawaii. It's a much simpler cocktail that is definitely not as sour.
The Blue Hawaiian has a few variations. Consider swapping the 7-Up for coconut cream to add more of that holiday feel to the beverage. Blending this combination of ingredients is also an option. Note that we never would want to blend a soda beverage since it may explode in the blender. After blending the non-carbonated drinks, just add the soda on top.
Ingredients:
1.5 oz white rum
3 oz of pineapple juice
1 oz of 7-up or Sprite
0.5 oz of Blue Curacao
Chunk of pineapple for garnish
0.5 cup ice
Method: Fill a tall glass with ice. Add your rum to the glass. Add the pineapple and 7-up to fill the glass. Measure out 1/2 oz of Blue Curacao and float the blue liqueur on top. Garnish with the pineapple chunk.
Editors' Recommendations