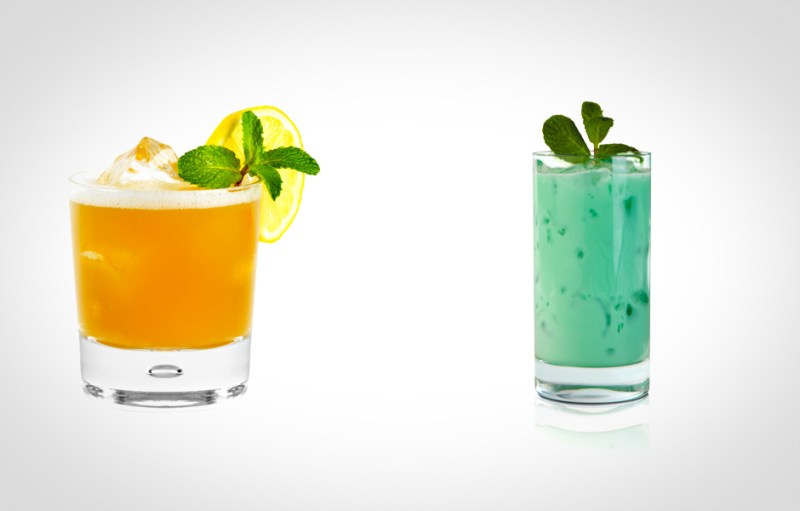 There are two things we at The Manual think you should be aware of. The first: St. Patrick's Day is only a little over two weeks away. The second is that Basil Hayden's whiskey is one of the best American bourbons on the market.
With that preamble out of the way, let's explain where the two intersect. Besides the obvious fact that St. Patrick's Day is the biggest drinking day on the calendar, this year, Basil Hayden's bourbon has put together two special St. Patrick's Day cocktail recipes for your enjoyment: The Irish Julep and the Shamrock Sour.
For a little background, Basil Hayden's was first distilled in 1796 by Master Distiller Basil Hayden Sr. A Maryland transplant in Kentucky, Hayden Sr. wanted to stand out amid the traditional corn base mash used in the state's trademark spirit. So, he decided to add the spicy flavor of rye as a complement to the sweetness of corn in the standard bourbon. Since that time, Basil Hayden's has been providing small batch bourbon with a unique taste of spice, pepper, and honey, a light-body and an aroma with notes of tea and peppermint. It's a flavorful bourbon that never goes out of style.
Now, for the cocktails. The Irish Julep is a simple drink that anyone can make at their own St. Patrick's Day party. All you need is a bottle of Basil Hayden's, a bottle of DeKuyper Green (pretty obvious color choice there!) Crème de Menthe, and a container of Half and Half—you can pick which brand you like. Just mix the three ingredients together with ice, toss a mint sprig on top and you have a festive variation on the age old Mint Julep.
If you want to get a little more involved with your bar tending, then you can try your hand at the Shamrock Sour. Julie Reiner, the director and co-owner of Manhattan's Flatiron Lounge and Brooklyn's Clover Club, concocted this recipe with her expert's eye. For the Shamrock Sour you'll need Basil Hayden's, Green Chartreuse (a green, French liqueur), lemon juice, grapefruit juice, agave syrup and egg white. Once you have all your ingredients measured out, place them in a mixing tin without ice and blend together. After the mixing is done, add ice and give the entire batch a good shake. Strain the mixture over fresh cubes of ice in a highball glass and garnish with mint and a slice of lemon.
With St. Patrick's Day approaching its time to get your act together for the festivities. We've given you two perfectly good cocktail directions to go in with a bottle of the best bourbon in the world—don't be a slouch.
RECIPES:
Basil Hayden's® Irish Julep
INGREDIENTS:
2 parts Basil Hayden's® Bourbon
½ part DeKuyper® Green Crème de Menthe
1 part Half and Half
METHOD:
1. Shake all ingredients well with ice.
2. Strain over crushed ice into a highball glass.
3. Garnish with a mint sprig.
Shamrock Sour
Recipe by Julie Reiner – New York, NY
INGREDIENTS:
2 Parts Basil Hayden's® Bourbon
½ Part Green Chartreuse
½ Part Lemon Juice
½ Part Grapefruit Juice
½ Part Agave Syrup* (To make, combine equal parts of water with Agave Syrup)
¼ Part Egg White
METHOD:
1. Combine all ingredients in a mixing tin and shake without ice to blend.
2. Add ice and shake.
3. Strain over fresh ice in a double rocks glass and garnish with a mint sprig and a lemon wheel.
Editors' Recommendations