Even if you don't like grits, you might be surprised at how your tastebuds embrace the grits produced by Barkley's Mill, a small handcrafted operation in Barnardsville, North Carolina.
It all starts each May when they plant Heirloom Hickory King Dent White corn. They harvest by hand in mid-November and sort it ear by ear. It then sits in a corn crib to dry for 60 days. Shelling takes place in mid-February and lasts three to four weeks. "We shell for two days and go to the mill and mill for a day and put the grits in two-pound bags," said Micah Stowe, farm manager.
The process of going ear by ear is one component of what sets these grits apart from others. They reject any bad kernel, something farm owner Jim Barkley refers to as "awfuls." He continues, "Each load of corn is 50 bushels and it takes five people eight hours to sort. It's very labor intensive."
Open a bag of freshly milled grits from Barkley's Mill and there are flecks of color inside. "It seems like the public thinks black spots are bugs, but they're not," said Barkley. "If you eat grits that don't have black spots, it's been bleached. We don't have anything in our grits that God doesn't put in it."
They take pride in their Non-GMO certification and pending certification for being organically grown. The grits are also gluten-free and free of preservatives.
Just in time for Fat Tuesday, here's a great way to enjoy the grits, recipe courtesy of Barkley's Mill:
Louisiana BBQ Shrimp Creole
Ingredients;
1½ pounds jumbo (21/25 count) shrimp, peeled, tails on
5 teaspoons (divided) Old Bay, or other Creole seasoning such as Emeril's Essence or Zatarain's
2 tablespoons olive oil, divided
3–4 medium whole bay leaves
1 teaspoon coarsely ground black pepper
2 teaspoons finely chopped fresh rosemary
¼ teaspoon celery seed
¼ teaspoon red pepper flakes, or more to taste
¼ cup finely diced celery
¼ cup finely diced onion
¼ cup finely diced green and/or red bell pepper
1 tablespoon (2–3 cloves) finely minced garlic
½ cup amber beer, such as an IPA, or white vermouth
1¼ cups chicken broth
3 tablespoons chili sauce (substitute ketchup)
3 tablespoons Worcestershire sauce
¾ tablespoon cornstarch dissolved in ¼ cup cold water
1 lemon, halved or quartered, seeds removed
½ cup sliced scallions, whites and greens
4 ounces butter (1 stick) cut into tablespoon-size pieces
Salt, to taste
Prepare the Shrimp
Toss the shrimp with 3 teaspoons of Old Bay or Creole seasoning. Heat 1 tablespoon of the olive oil in a heavy 12-inch skillet over high heat until the oil glistens and smokes. Add the shrimp and quickly stir-fry them for about 1 minute until they're seared and turning pink in spots. You're just searing, not cooking them. Transfer the shrimp to a platter and spread them out so they won't continue cooking. Set aside.
Make the Sauce
Reduce the heat to medium and add the remaining tablespoon of olive oil to the skillet. Add the bay leaves, black pepper, rosemary, celery seed, red pepper flakes, and the remaining 2 teaspoons of Old Bay. Quickly mix with the oil. Add the celery, onion, bell pepper, and garlic and sauté until the vegetables have softened—2 to 3 minutes.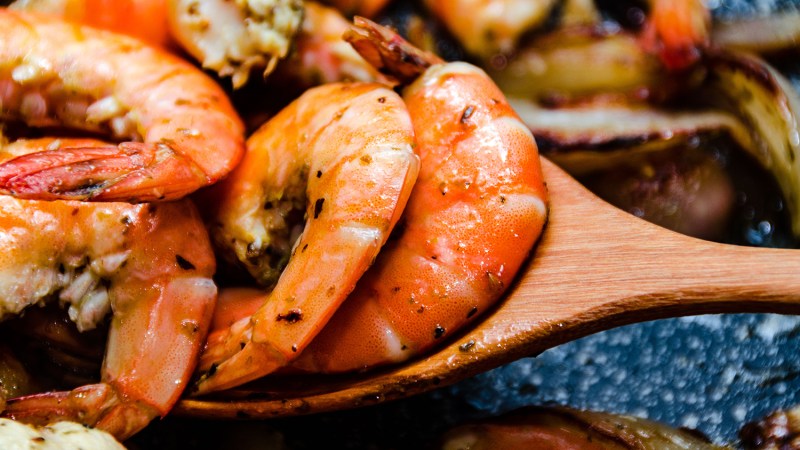 Deglaze the pan with the beer and simmer for about 1 minute to cook off the alcohol. Stir in the broth, chili sauce, and Worcestershire sauce. Squeeze the lemon wedges into the pan and drop them in. Simmer the mixture until the onions are tender and the sauce has reduced slightly—7 to 8 minutes.
Give the cornstarch-water mixture a quick stir then add it the pan. Stir constantly as the sauce thickens and the cornstarch loses most of its cloudiness—2 to 3 minutes.
Make ahead note. At this point the Creamy Country Grits should be ready, the table set, and everyone ready to sit down and eat. If that's not the case, you can remove the pan from the heat and hold for up to 45 minutes (or refrigerate overnight) before adding with the shrimp and finishing the dish.
Finish the Dish
Raise the heat to high. When the sauce is boiling, add the shrimp and half of the scallions. Let the shrimp cook, stirring them constantly, until they begin to turn pink and curl—3 to 7 minutes depending their size. Do not overcook the shrimp! They'll continue cooking after they're off the heat.
Remove the pan from the heat. (If you prefer, remove the lemon pieces and the bay leaves.) Blend in the butter, 2 or 3 pieces at a time, incorporating each addition into the sauce until smooth and velvety. Taste for seasoning and add salt if necessary. Serve Louisiana BBQ Shrimp Creole immediately, spooned over Creamy Country Grits. Top with the remaining scallion slices, if you like, and serve with lemon wedges.
Reheating note: If need be, you can rewarm the dish over low heat, but be careful because the butter will separate if the sauce gets hot enough to bubble.