Airline food can often be described as inedible, cardboard-like and barely fit for human consumption. But if you're lucky enough to be a business- or first-class passenger, the cuisine is savory, appetizing and visually appealing. Many of the best airlines have stepped up their culinary game in recent years by hiring world-renowned chefs to consult on menus. Here are our picks of the best chefs from airlines serving every region of the world.
Richard Sandoval, American Airlines
The United States has some of the world's best chefs and some of the most varied ethnic cuisine around so it makes sense for the top American carrier to partner up with one of the best chefs in the nation. Early this fall, New York chef Richard Sandoval, of Maya and Zengo fame, was hand picked by American Airlines to craft an exciting menu inspired by his Mexican roots. Using fresh indigenous Latin ingredients, Sandoval has created an innovative monthly rotating menu of dishes that includes lemongrass marinated chicken breast with yucca puree and chayote salad with a citrus sauce. Guests can enjoy his cuisine on flights between the United States and Europe, Asia and Latin America.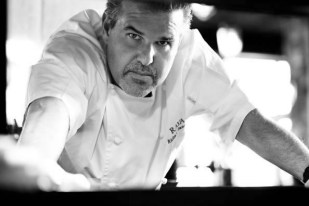 Bastian Mantey, Lufthansa
Lufthansa is arguably Europe's best airline so passengers on the German carrier expect top quality service, in-flight comfort and amenities. The airline hired Bastian Mantey of The St. Regis Bangkok to oversee some of its culinary program. Like the carrier, Mantey is German but his cuisine is decidedly Mediterrrean and Asian in design. Mantey has worked at many Michelin-starred restaurants around Europe, honing his skills with the best and brightest. One of his signature dishes at Viu in Bangkok is a duo of lamb with french beans and garlic and potato gratin. Expect much of the same on long haul flights from Germany to Bangkok in business and first class.
Peter Gordon, Air New Zealand
It seems fitting that the "Father of Fusion Cuisine" would craft the menu on Air New Zealand, one of the best airlines in the world. Kiwi chef Peter Gordon, who shuttles between Auckland and London, oversees four award-winning restaurants—including The Sugar Club and Kopapa—in both cities, serving innovative cuisine inspired by his homeland. New Zealand lamb and fresh seafood often take center stage onboard. Try the smoked salmon with mango mayo or seared cod with quinoa. Both are staples on Air New Zealand flights to and from the United States in business and first class.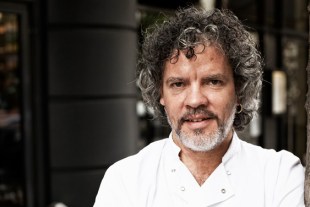 Ramzi Choueiri, Qatar Airways
Qatar Airways is one of the newest airlines in the world but that doesn't mean it's resting on its laurels. The airline hired a coterie of celebrity chefs from around the world but Ramzi Choueiri stands out from the pack. The Lebanese chef is world renowned for having brought his native cuisine to the masses and he is a perfect fit for the airline, which has a large Middle Eastern customer base. The affable Choueiri, who helms a daily TV show and is in the Guiness Book of World Records for having served the largest order of hummus, tabbouleh and falafel, crafts modern versions of traditional Lebanese dishes such as tabbouleh and chicken mousakhan with apricot sauce. Enjoy his cuisine on flights around The Persian Gulf in business and first class.
Sam Leong, Singapore Airlines
Asian carriers have long been ahead of their American and European counterparts when it came to onboard service and amenities. So it's no surprise that one of the world's top airlines has a contingent of star chefs on hand to ensure the best food in the sky. The standout on Singapore Airlines is Singapore native Sam Leong. The young superstar chef, of Forest fame, creates modern Chinese dishes with Western herbs and Asian spices. His signature dish is wasabi prawns, deep fried and crispy shrimp coated with wasabi mayo. Leong brings more than 26 years experience to the sky on long and short haul flights to and from Singapore, in business and first class.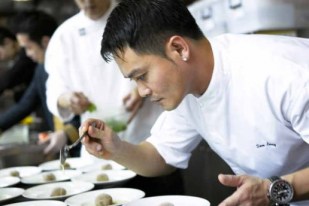 Editors' Recommendations