Although your wedding day is bound to go down as one of the best of your life, proposing can be a nerve-wracking, sweat-inducing, stomach-flipping event, starting with the very first step: choosing the right ring. Walking into a jewelry store is intimidating, and finally working up the nerve to do so, only to see the same rings over and over again, is a huge disappointment. After all, your betrothed-to-be is special, and every love story is unique, so why shouldn't the ring you choose be one-of-a-kind as well?
That's exactly the thinking that inspired Zameer Kassam, a former Wall Street analyst, to start his own fine jewelry business — one that casts aside the same old designs and fully embraces the individuality of each client's story. Kassam grew up working in his family's jewelry business in Canada, and the passion for great jewelry stuck with him even through his schooling and subsequent career in the business world. For Kassam, jewelry isn't just sparkle and bling — it's a treasured token of milestone moments in his customers' lives.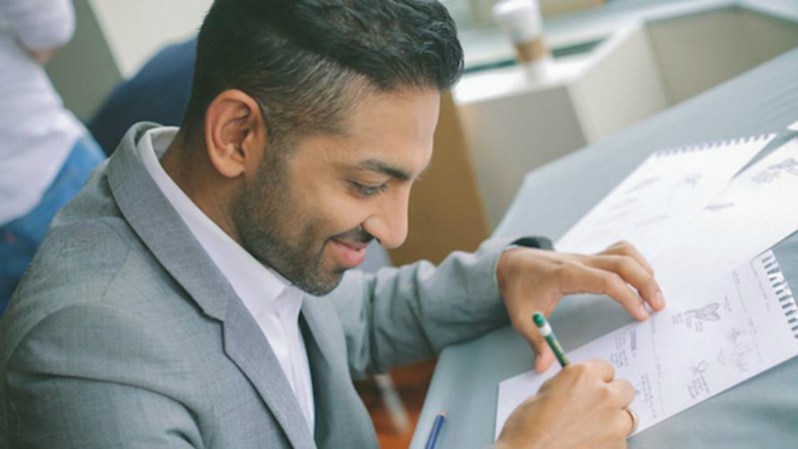 "It always felt really sad to me that when someone is madly in love and about to propose … the best option … was to go into a store and pick something out of a shelf," Kassam says. "It just felt very transactional."
That's why, in 2011, he launched Zameer Kassam Fine Jewelry, a new type of company that eschews the typical cold, repetitive experience of the jewelry store and instead adds a personal touch to the process of picking out thing ring. Instead of a faceless brick-and-mortar storefront, Kassam meets with his clients in hotel lobbies over a glass of Scotch or in his Manhattan studio, and fully absorbs their stories before beginning his work — a process that was defined by Kassam's very first client.
"A friend of mine from business school … asked me to design a ring for his now-wife … and he wanted something classic and timeless and beautiful, but he also wanted to do something that was a little bit special." Kassam decided to sit down and have a one-on-one with the groom. As he learned the couple's story, Kassam began to weave little details of their relationship into the design to create something that was truly personal.
"When he proposed to her and she said yes, I … reached out to her. She said 'I love this ring, not just because it's … beautiful, I love that he spent the time .. to do something that's about us. This ring can never be about anyone else, it's only … about us.' And in that moment, I knew we were onto something. Here's a guy who otherwise would have gone store to store, shopped online, and .. had a … terrible, transactional … experience. But instead, we got to sit down, have drinks, and learn about their love story."
When a man contacts Zameer Kassam Fine Jewelry on his quest for the perfect token of love, it begins a three step process in which the innovative entrepreneur can inform and engage his clients in ways that are usually absent from the jewelry world. First, he gives customers a quick overview of the diamond industry, a process Kassam says is crucial to helping clients "walk into their engagement ring-buying process with some strength and power so they feel like they're not going to be taken for a ride." All of the gemstones used in Kassam's work, including DeBeers Forevermark diamonds, come with a promise of responsible sourcing — something that can be surprisingly hard to find in many jewelers. The diamond tutorial also helps clients make wise decisions about getting the most value for their budget.
"There are trade-offs which we think are worth it," says Kassam. "The cut, for example, is far more important than any other attribute when you're looking at what drives the beauty or the light performance in the diamond. So an incremental uplift in cut can dramatically increase the beauty, while a small incremental decrease in some of the other attributes can actually save thousands and thousands of dollars. For me, it's really important that my clients understand the trade-offs that I think are worth it when building [an] engagement ring that is both meant to be beautiful forever and also provide value. No one wants to spend more money than they should."
The next step in Kassam's process is the Discovery stage, where he sparks up casual conversation with his clients in order to learn the important details of their love story. This process takes about an hour, and feels much more like a dialogue between friends than a business exchange. By truly listening to his client's stories, Kassam is able to go to his drawing board armed with personal stories, special memories, and a genuine connection to the relationship he's trying to honor.
"This is literally meant to be the most beautiful moment that they've ever lived through and yet somehow, the process of getting a ring is the opposite of wonderful. It is the most stressful, anxiety-inducing process. So we designed [our experience] to be the opposite of what everyone else is doing. People want something that means something. They're desperate for thoughtfulness and personalization. When we post a ring on Facebook or Instagram, there are guys who are sharing [it] with their friends because they built this with us. It's a project that they're deeply invested in. Each [ring] tells its own secret love story," Kassam explains.
Finally, Kassam moves into the Storytelling phase, where he and his team create and share design ideas that weave their customers' personal stories into the ring. Hidden engravings may act as a quiet nod to a couple's beginnings, prongs may be sculpted to reflect an important symbol of spirituality, or perhaps the perfect gem is shaped and placed just so to match the cool blue gradation of the bride's eyes, a constant reminder of the first thing her groom-to-be fell in love with.
"This is a moment that matters," Kassam says, reflecting on the question his clients are preparing to pop. "Make it special, make it personal … customize it in a way that's really unique to … your story, because that's what transcends the idea of just a normal engagement ring. Doing things custom and bespoke is a lot less expensive than many people think. It really doesn't need to cost more to do things more thoughtfully, and … it also doesn't need to take a ton of time."
It is this thoughtfulness that has taken Zameer Kassam Fine Jewelry from creating that first ring for a college buddy to designing over a thousand unique engagement rings in six short years. While every piece Kassam creates is stunning in its own right, it's the intimate detail in his work, the genuine passion for honoring his customers' stories, and the dedication to creating jewelry that truly warms the wearer's heart that solidify his as some of the most swoon-worthy engagement rings available.
Editors' Recommendations