The duffle bag is almost certainly the most versatile bag in your closet. Its long, cylindrical shape, paired with its soft sides allows for the storing and carrying items that aren't just your standard cloth clothing. From shoes to sports equipment to books and camping gear, the duffle bag can hold and help you heft it all. The soft-sided shape also allows you to fit it into tight spaces or readjust things while on the go to make stowing and storing easier.
And now, one lucky reader will win our new favorite duffle bag from one of the best leather-makers working in American today, WP Standard.
Inspired by the duck canvas military duffle bags provided to U.S. soldiers during the Vietnam War, WP Standard's modern iteration of the bag is built from genuine full-grain, vegetable-tanned leather in a rich, glossy black. As the brand notes, "Realizing that not everyone needs the massive capacity of a full duffel bag for military deployment, we downsized our version to be more appropriate for a few days away."
Other features include a soft-nap, almost-suede-like interior, a long shoulder strap with padding to make long-distance carrying a little easier on your frame, a side-handle for quick-grabs, an external pocket that's perfectly sized for a passport or wallet, and an approximate weight of 4.25 pounds, which isn't a lot considering the thickness and quality of the leather.
If you like the looks of this bag and want to put yourself in the running for a chance at snagging this $340 value for free, just enter our giveaway below and sit back and wait for the results.
WP Standard Military Duffle Bag – Black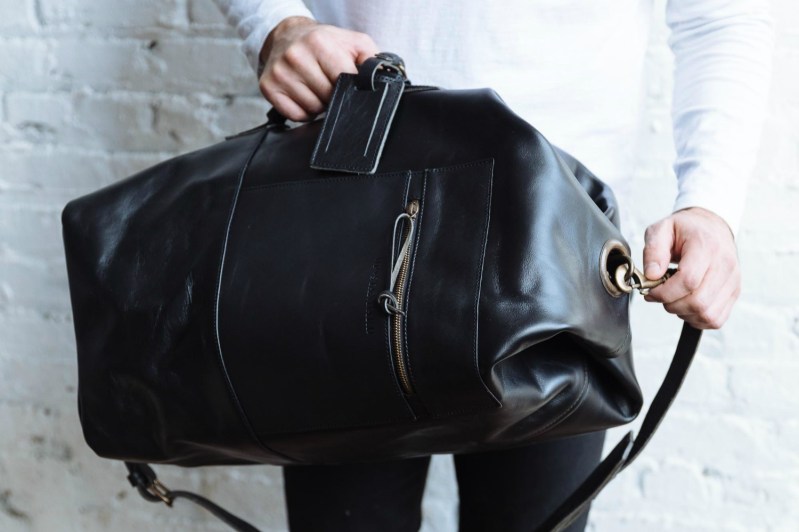 The bag is currently sold out from WP Standard and there's no word on when this will be back in stock. So this might be your only chance to get it. Enter our giveaway below for your chance to win this beautiful bag. Good luck, guys!
If you don't happen to win (or you can't wait a couple of weeks to find out if you're the lucky one), check out our other top-rated and stylish duffle bags.