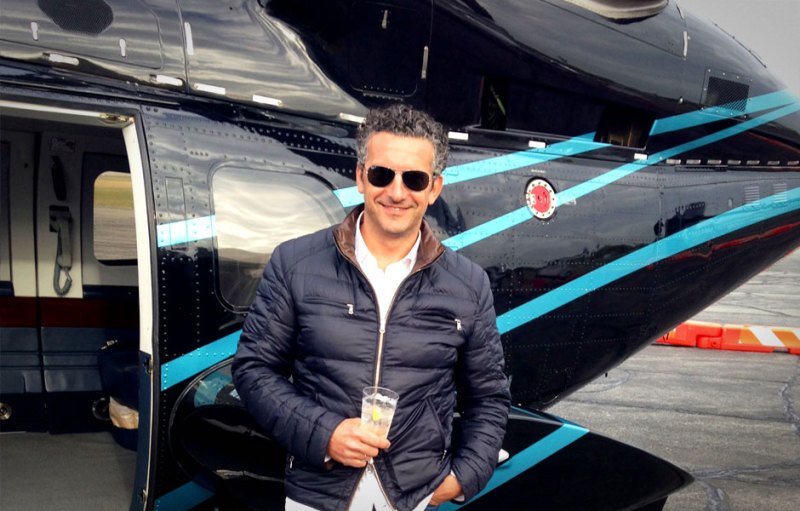 Today we speak to the founder of Pain D'Avignon bakery, Vojin Vujosevic.
I was born and raised in Belgrade, Serbia, where I was surrounded by bakeries that sold freshly baked breads and pastries. Growing up, I'd venture out each morning to buy milk, a newspaper and fresh bread for my family. As a result, I always knew what good quality bread tasted like and the unique ability it has to bring friends and family together at the dinner table.
In 1986, I made my way to the United States to attend school in Atlanta. While there, I still traveled back to Yugoslavia pretty regularly. But, in 1991, like many fellow Yugoslavs, I didn't agree with the political circumstances arising in my home country and chose to settle in America permanently. From there, I made my way up to New York City, where I planned to continue my studies. But a business opportunity presented itself that I couldn't resist.
Noticing that there was a lack of authentic European style breads in the marketplace, I and my three childhood best friends founded Pain D'Avignon bakery in a small storefront on Main Street in Hyannis, MA. We baked bread at all hours of the night and then would deliver it across Massachusetts by day. I loved the quality of French bread and cuisine, and therefore named the bakery Pain D'Avignon after the quaint town in South of France.
Since I wasn't trained in baking myself, I sought out bakers from France, New York and Poland to join my team at Pain D'Avignon. I knew that hiring the highest quality bakers would form a solid foundation upon which Pain D'Avignon could grow.
When it comes to bread, I think it's very similar to fine wine; the longer the dough sits, the better the bread. Adhering to this philosophy, I taught my team the laborious process of European-style baking. Each loaf of bread baked averages about 24 hours of preparation.
About 20 years later, I'm still continuing to grow the Pain D'Avignon brand across New England. I'm joined by my wife, Diana, and co-owner Toma Stamenkovic. After opening the bakery in 1992, we expanded and opened a Café-Boulangerie in 2008 that serves breakfast, lunch and dinner.
Right now, I live in Yarmouth Port with my eight-year-old twin boys, Niko and Vidan. We love living near the ocean and sailing is a huge passion of mine. We can normally be found sailing around New England and frequently down to the Caribbean.
And just in case you're wondering, my favorite Pain D'Avignon breads are our Country Bread and French Baguettes!
As for his personal style:
Jeans: Only Diesel since I was 17 years old. I must have at least ten pairs in my closet… mainly Viker and Zatiny.
Shirts: I mainly wear John Varvatos, Dolce & Gabbana and Etro (always slim fit).
Pants: I normally wear jeans but if not, then I wear John Varvatos and D&G.
Suits: I typically wear blazers and love Lanvin, Brunello Cucinelli, John Varvatos and Paul Smith. I would say that Brunello makes the best fitted blazers in the world. I do own a couple of Prada suits, but only take those out for special occasions. 
Shoes: Mostly Lanvin Chukkas, Bottega Veneta and John Varvatos. I also wear Fiorentini Baker Boots and some of their winter shoes. Having well-made boots during the colder months in New England is very important. For warmer weather, my favorites are Havaianas and DSquared2 flip flops.
Accessories: Personally, I hate when men wear jewelry, so I only wear a whalebone necklace in the summer and I have several watches that I wear depending on the occasion. I love my Panerai watches since they are very particular in their design and large enough that they aren't in your face. My favorites are the Panerai Radiomir Rattrapante and my two Panerai Luminors.  One of them is all titanium that I use for free diving when I'm in the Caribbean with my family. For hats, I own several fedoras, but only wear them on the beach.
Outerwear: Moncler, Brunelo Cucinelli and Helly Hansen, since I'm on the boat for about five months out of the year.
Favorite Cologne: Chanel Allure Homme Sport every day and Joe Malone on occasion. 
Favorite piece of technology: I have to admit, it's my iPhone. But, there is nothing like a remote control toy that goes fast! Traxxas makes the best RC cars in the world that I enjoy playing with when with my boys.
Next tech purchase: Waiting for the perfect drone that can carry bread to all of the Pain D'Avignon lovers!
Editors' Recommendations