Skateboard brand turned hip-hop/rock culture behemoth Supreme is impossible not to recognize thanks largely to its bold red and white logo. Inspired by conceptual artist Barbara Kruger and her propaganda collage text, the "Supreme" stamp has gone from skateboard shirts to Nike kicks and $5,000 Louis Vuitton parkas, but the coolest items from the label can't be worn.
Supreme's wild accessories have included literal bricks with the Futura Heavy Oblique text imprinted in the center, NYC Metrocards, nunchucks, minibikes, and more. Built on a high-demand, low-supply model, you won't be able to find a fraction of these standout Supreme accessories, and the ones you do manage to find will dent your wallet. But a kid can dream …
The Wildest Supreme Accessories So Far
Supreme x Coleman Mini-Bike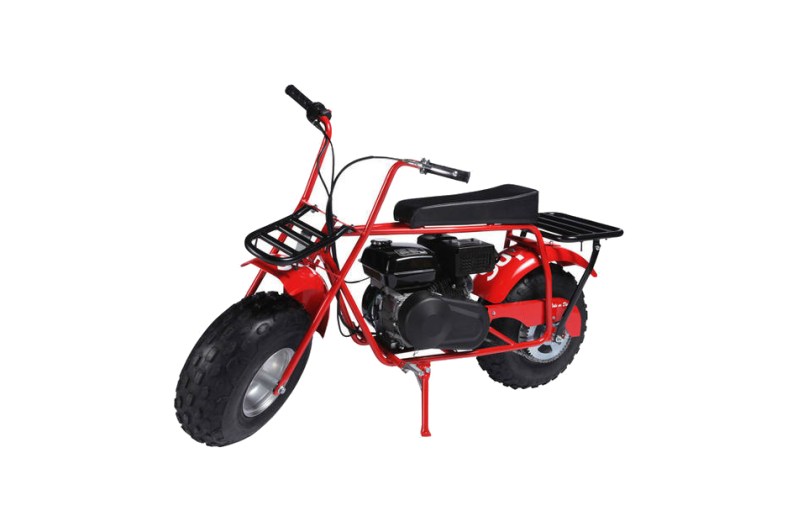 Coleman's gas-powered off-road mini bike seemed like a natural fit with Supreme's aesthetics, not only for its fire-engine red coloring, but also its nostalgic nod. The Supreme x Coleman CT200U Mini Bike is for adults who don't want to grow up. Dropped in June 2017 for roughly $1000, the mini is, for all purposes, a Coleman CT200U with the Supreme stamp of approval on the fender and padded seat. From back roads to city sidewalks, the 196cc/6.5hp engine is long-lasting and tough, while the soft tires cushion the ride.
Supreme x Pearl Drum Set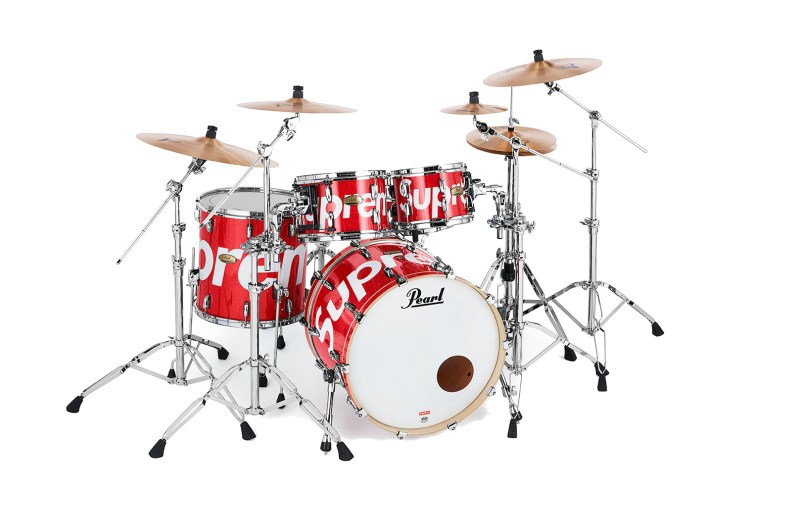 A high note in Supreme's Spring/Summer 2019 line is a five-drum set complete with bass, toms, floor tom, snare, and cymbals. Made exclusively for Supreme in collaboration with rock-god brands Pearl and Zildjian, this accessory is massive (compared to past Zippos and switchblades), and simply makes you wanna play it — skill or no skill. The NYC brand also made a hand-painted porcelain cupid figurine for S/S19, so if that's more your style…
Supreme Nunchucks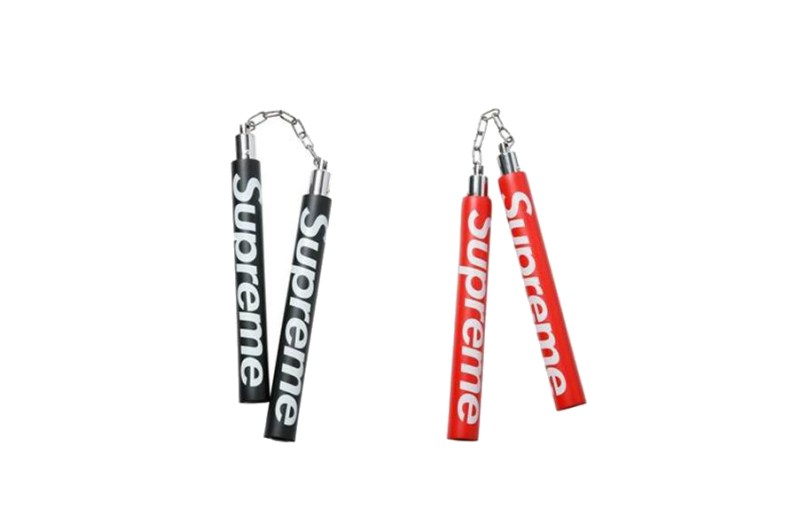 For its the Spring/Summer 2010 line, Supreme went full-on karate kid and made a pair of nunchucks. Available in both white and black and white and red, the iconic martial arts weapons were made out of traditional foam, wood, and metal, with the "Supreme" logo running down the sides. Good luck finding a pair still floating around the internet (even at a massive mark-up). This item was pure Supreme fanatic gold.
Supreme X The North Face Stormbreak 3 Tent
Honestly, $700 for a tent isn't too-too bad, considering both Supreme and The North Face had their hand in making it. The co-branded Stormbreak 3 Tent hammered its stakes online in June 2018 after a long-awaited hype. With a bold green snakeskin dome and high-frequency red "Supreme" footprint, it was obvious this tent was pure play for the two brands who had already been in footsy for over a decade. They've made jackets, pants, daypacks, but this is their first tent (aww).
Supreme Snorkel Set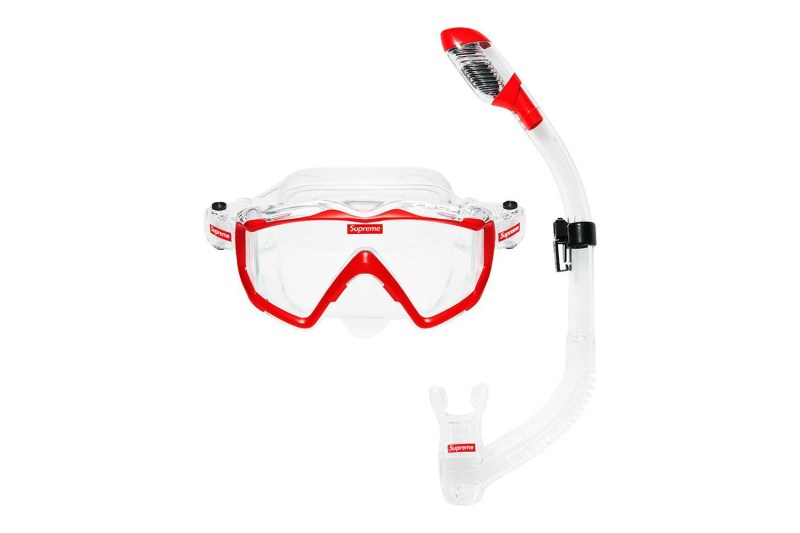 A drum set, a figurine, and now a snorkel set; it's safe to say Supreme Founder James Jebbia is living in 2050. The S/S19 collection will include a hypoallergenic silicone mask and snorkel made by professional scuba diving equipment makers, Cressi. It's almost too easy to imagine Drake looking for fishies on his post-Assassination Vacation vacation, rocking the red-lined snorkel.
Supreme Chopsticks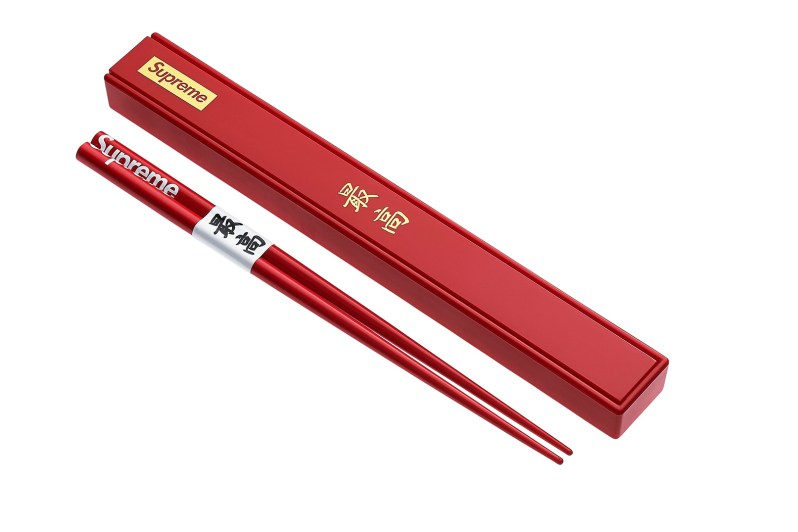 A Supreme fork? Nah, too boring. Supreme spoon? Still not enough. Fall/Winter 2017 saw the release of the nommy Supreme Chopsticks, complete with enamel chopsticks and box, and, unlike many of Supreme's accessories that beg to be displayed in a bulletproof safe, these stick are crying to be used. Only the dopest kid would pull out their own Supreme chopsticks while getting ramen or sushi. We want to be that guy… but at $150 resale for a pair.
Supreme X Packlite Kayak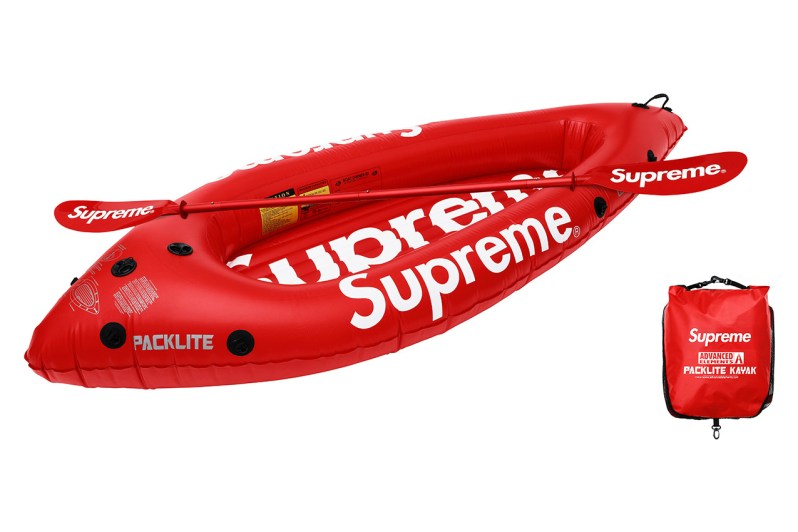 Much like the Coleman bike, we don't doubt that Supreme saw the vibrant red color of Advanced Elements Packlite inflatable kayak and decided it had to be theirs. The recreational, four-pound kayak packs down to a modest carry bag and is a legitimate adventure machine. Supreme's video teasing the kayak before its Fall/Winter 2018 release was a trippy, meditative sequence of a dude paddling past Liberty Island. The standard, non-branded Advanced Elements Packlite runs around $299 at REI, and the resale Supreme refresh is double that on eBay.
Editors' Recommendations