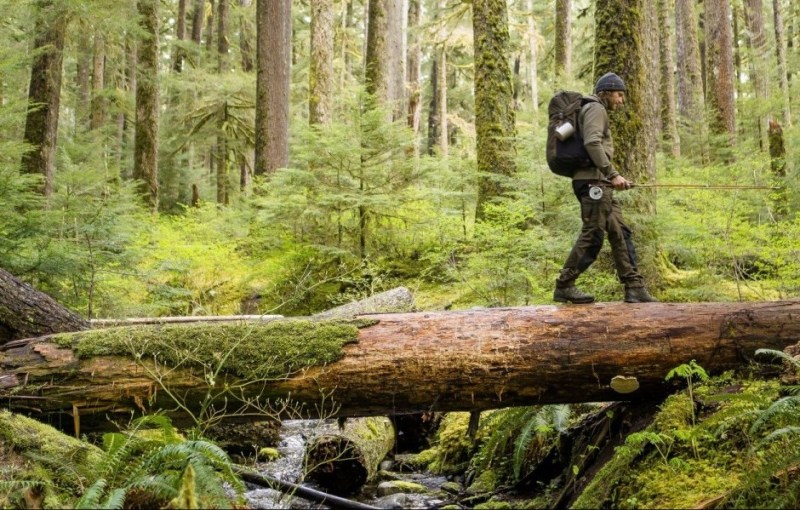 For truly bold outdoorsmen, the end of shorts season isn't a good enough reason to pack it in. The mighty outdoor apparel gods wrought outdoor pants so diehard nature lovers could comfortably enjoy the wilderness during the cold-but-beautiful fall and winter seasons.
Jeans, while stylish and versatile under most circumstances, don't quite cut it when you're on the trail — they're heavy, bulky, and easily saturated. A good pair of outdoor pants should be lightweight, warm, and impervious to the elements. In honor of the early days of fall, we thought we'd showcase Fjällräven's outstanding outdoor pants.
Related: The Warmest Winter Coats
No, Fjällräven is not a Swedish heavy metal band — rather, it's one of our favorite outdoor brands, and they've recently launched a new ad campaign to get the word out about their line of outdoor pants in time for the cold season.
Fjällräven's Vidda Pro trousers, for example, are made with water-resistant G-1000 and boast reinforced rear and knees. They also come with no fewer than seven pockets, including a map pocket, an axe pocket, and an inner safety pocket. In other words, these pants are legit.
You might also consider the Keb Eco-Shell trousers, which have three layers of wind and waterproof material; or the Abisko trousers, which boast excellent mobility and comfort. Each pant comes in a range of colors, allowing you to maintain your personal style on the trail.
Whether you're a hiker, a backpacker, a mountain climber, a fisherman, or a city slicker posing as an outdoorsman, you'll find these hardy outdoor pants from Fjällräven to be the ideal adventure companions.
(Images credit: Chris Burkard, 2014)
Editors' Recommendations