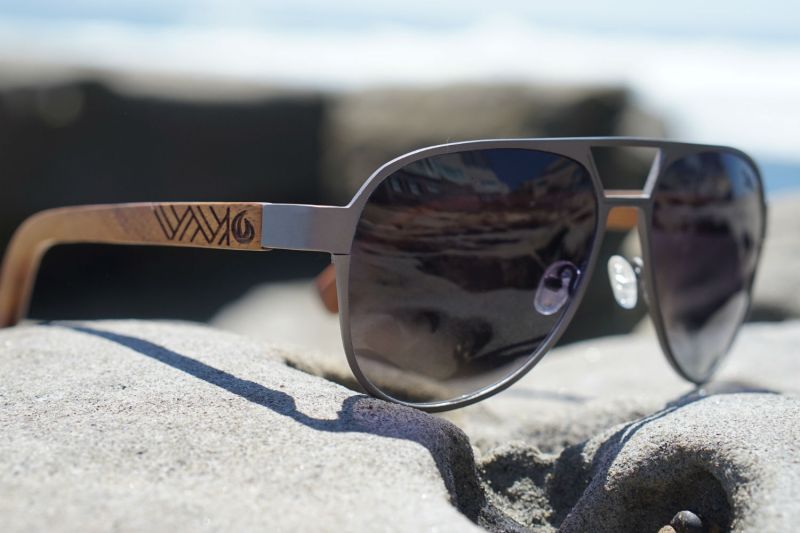 You may only ever make it to Hawaii in your day dreams while stuck in the office, but you might feel like you're getting a little closer to sand and surf every time you put on these new sunglasses from Nesian Eyewear. The founders of a new project on Kickstarter want to combine elements of Hawaiian design, local hardwoods, and functionality meant for people who live active lifestyles with a new line of tropic-inspired sunglasses. If you get in on the deal now, you can get these slick shades for the cheapest they'll ever be offered.
Nesian Eyewear was founded in 2006 as an apparel line that reps the unique cultural styles of the Pacific Islands ("Nesian," as in: Micronesian, Polynesian, and Melanesian Islands). As the original home of surfing, the Pacific Islands have an unusually large population of people who live an active lifestyle. These Nesian sunglasses are designed for guys who get outdoors, and they're so lightweight they won't get in the way of whatever adventure you find yourself on.
Mana Sunglasses use hardwoods native to the Hawaiian Islands such as Milo and Koa woods to make the arms of the glasses. The wood features weave engraving designs inspired by tattoo styles native to the islands. But don't worry, Nesian isn't contributing to deforestation; all the wood is harvested from fallen logs, making the company as sustainable as it is stylish. The frames are constructed from lightweight and sleek titanium alloy which comes in gunmetal for the Koa wood frames and black for the Milo wood frames. The lenses are polarized to keep your view clearer than the Hawaiian surf.
Mana, the namesake for the line of glasses, is a concept in Polynesian cultures that refers to an intangible spiritual force indicative of a person who is powerful, prestigious, and effective. This is, of course, the exact point of wearing aviator glasses like these from Nesian.
The project is currently in the middle of a Kickstarter campaign, and as of writing it has funded a little over $5,000 of its $10,000 goal from nearly 60 backers. As with many Kickstarter campaigns, there are various levels to pledge, from a $2 pledge which comes with a Nesian Eyewear sticker, to the $150 level which gives backers both versions of the shades. Pledge over $180 and the nice people at Nesian will throw in some extra stickers and t-shirts.
The campaign ends on November 4, by which point most of us on the mainland will be wishing we were on a tropical beach. Unless you've been saving your credit card airline miles, these shades might be the next best bet.