If you frequent The Manual Wind, it is apparent that I am a Tudor fan. The Tudor Pelagos and the Black Bay are two of the best watches on the market. Quality, attention to detail, classic design, and, of course, value brings it home for me. Tudor's obvious bread winner, the Black Bay, has slowly progressed from an individual watch to an entire lineup. This year Tudor really fertilized this Black Bay family tree. Two new additions and an update were introduced, one being their new Tudor Heritage Black Bay Bronze that I was fortunate enough to get my hands on. They are still quite hard to find, barely hitting the dealer showcases, and with good reason. This timepiece is awesome.
Related: Tudor Black Bay 'Black' Watch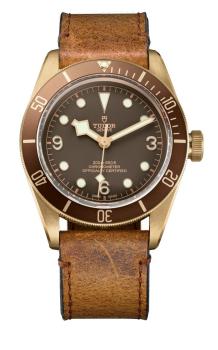 Jumping on the bronze band wagon, the Tudor Heritage Black Bay Bronze offers a whole new look. To start, the case is cast in bronze. Pictures do not do the proportions of this piece justice. At a larger 43mm in diameter, the wrist presence of this piece is profound. I have roughly a 7in wrist and this piece is on the larger side, but not overpowering. Not oversized, but larger than the previous Black Bay, this hunk of bronze makes a subtle statement. Matched with a chocolate brown bezel and dial, this is an all new color scheme for Tudor. The detail lies in the dial. Arabic 3,6,9 markers bring back design cues from old and rare Rolex submariners. Even the strap design, Nato with a stripe and a thick brown distressed calf, takes cues from the history books referring back to Tudors worn by the French Navy.
This all new look for the Black Bay gets even better. Bronze will patina with time and wear to make this your very own personalized Tudor. The brown color scheme is sporty yet classic and there is no detracted wearability. I would not characterize this as a brown timepiece. Yes the dial and bezel are the color of milk chocolate shavings, but the entire package on the wrist does not say, wear me with brown. Once again, at an awesome value, this in-house automatic timepiece will only set you back $3,975. A great unique addition to any collection, I am happy to say this has finally made mine. Check out more of my collection on Instagram: @thehairywrist.