The time has finally arrived, and it is being told by the most accurate complication; the tourbillon. When Jean Claude Biver took over Tag Heuer, it was obvious there were big changes to come. The first was the announcement of an affordable tourbillon. This complication, first designed by Breguet in the 1800s, is bult for accuracy. Counteracting the force of gravity on the movement, the aesthetically pleasing visual of the tourbillon is meant to keep the most accurate time in all eight positions a watch can be in. This well out of reach complication sat at the top of every brands line with a six figure price tag. Jean Claude Biver decided he would put the tourbillon within reach, and he has.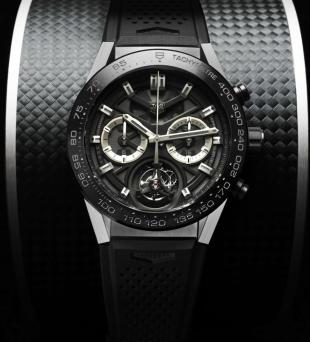 The Tag Heuer Carrera Heuer 02 Tourbillon is a 45mm modular case made up of twelve different components. This modular design is reminiscent of Biver's last brand resurection; Hublot. Made of titanium, both brushed and blackened, this is a sport tourbillon. The movement is an in-house caliber COSC certified chronograph automatic tourbillon with a 65 hour power reserve. The dial has an industrial look that fits well with this multi finish and component case. Black crocodile or rubber strap with titanium buckle completes this piece.
This is a ground breaking introduction by Tag Heuer. A timepiece of a similar complication from the likes of a brand like Audemars Piguet would set one back nearly two hundred thousand. This, the first of what i am sure will be an entire line of tourbillons, is reasonably priced under $20,000. I am sure this comes to the dismay of many other brands in the watch world. The Tourbillon is meant to be the pinnacle of complication and desire and in a few months will be within arms reach. Lets hope the allure of this mesmerizing complication is not lost with the introduction of this bargain timepiece.