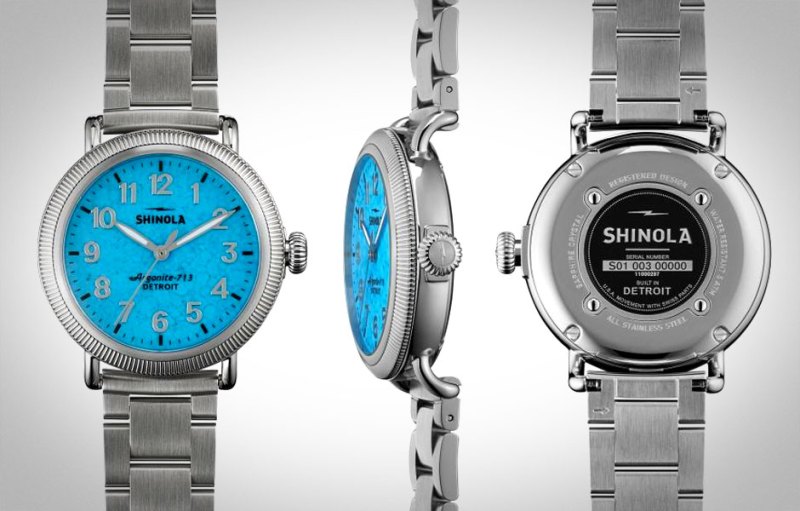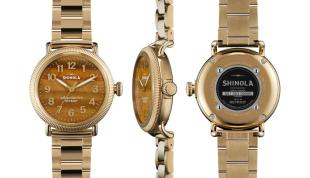 It is sometimes forgotten that a timepiece is a fashion accessory.  In the high end watch world, it can be hard to own a collection fit for every colorful shirt or belt and shoe combination.  Matching your entire wardrobe can get expensive.  As a collector myself, i like to find unique timepieces in both style and color that I will be proud to wear and will also match my wardrobe selection.  Shinola seems to share this same sentiment.  Their latest, The Shinola Runwell with stone dials, offers some of those more interesting dials at a price fit to wear.
Back in the day, Rolex came out with pieces with both stone and wood dials.  Rare and interesting, these are sought after by collectors today.  Within the 38mm steel or gold PVD case of the Shinola Runwell is a stone dial reminiscent of those old Rollies.  Great combinations of this piece include a steel case with turquoise, PVD gold case with Tigers eye, and PVD gold case with Malachite.  Paired with either a leather strap or bracelet, Shinola offers a very fashionable option for those unique colors.  The unisex 38mm case has a classic coined edge that sets this piece apart from any old round colorful piece.  Keeping the price manageable is a swiss quartz movement inside.
Shinola is a brand with many options and a great story.  Hand assembled in Detroit, these well priced pieces bring consumers a great looking, quality American product.  The Shinola Runwell is priced from $650 to $800 depending on the variation.  A stellar price for a great piece that will surely fill your watch void in your ensemble.