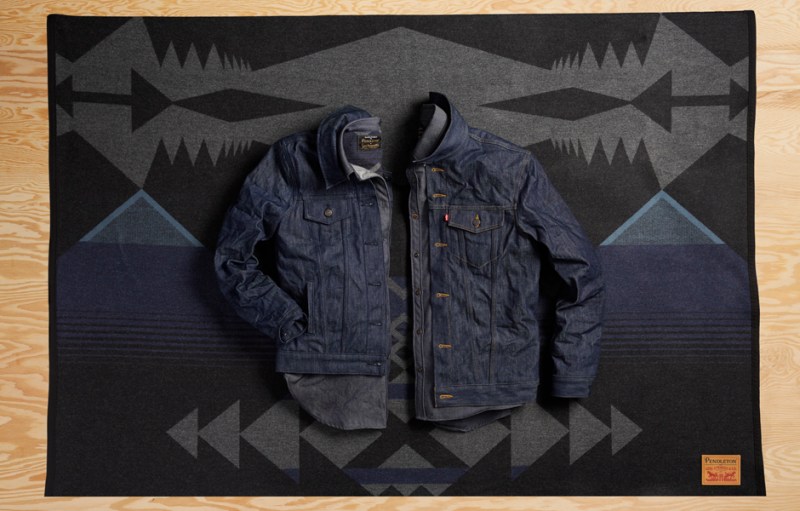 With nearly 315 years of combined brand longevity, Levi Strauss and Pendleton remain two of the most popular and well-regarded companies in United States fashion history. Launched in 1853, Levi's pioneered the American blue jean, creating one of the most successful and critically adored garments ever crafted. Subsequently founded roughly ten years later, the Portland, Oregon-based Pendleton Textile Manufacturing Company quickly made a name for itself, manufacturing high-quality fabrics (who doesn't love a Pendleton wool blanket?) with unique original designs. So considering the wealth of history shared between these two brands, it's not the least bit surprising to see the two release a stunning collaboration which perfectly celebrates each company's fashion strengths.
Related: Portland brands take center stage with MadeHere PDX
Officially dubbed the Levi's x Pendleton Fall 2015 collection, the lineup features the historic men's and women's line of Levi's Trucker jackets and work shirts, each of which lined with an exclusively designed Pendleton blanket print. Rounding out the collection is a one-of-a-kind Pendleton wool blanket featuring the exclusive print, adorned with a special "Pendleton and Levi Strauss & Company" leather patch. Simply put, clothing collections don't get much rarer than this and once it's gone, good luck finding it anywhere else.
Aside from the sheer uniqueness of the collaboration, each piece looks and feels as authentic as anything manufactured by Levi's or Pendleton. Featuring a relaxed, modern fit and highlighted with wool denim fabric, the work shirts are poised to become anyone's next favor piece in their wardrobe. All styles absolutely ooze the authenticity of each esteemed brand, yet carry their own definitive expression which put them in a class of style all their own. What's perhaps the collection's crown jewel is that — like everything Levi's and Pendleton — each product is designed, manufactured, and finished in the United States; a testament to each brand's iconic heritage.
Available at select Levi's stores all over the world — as well as at Levi.com — this collection is sure to fly off the shelves. Considering the amount of careful design and manufacturing that went into creating this unique collaboration, we don't recommend waiting long before securing your own piece of Levi's and Pendleton history.
Editors' Recommendations