For this week's Worn Out Wednesday, we speak with John Murray, co-founder of Lyons Den Power Yoga on his career and personal style.
I grew up in Girard, Pennsylvania which is a 2,000 person town 30 miles outside of Erie. Since leaving after my senior year of high school, I have lived in Syracuse, Boston, Venice Beach and New York City where I now reside. On May 17, I celebrated my 10th year in NYC and according to local custom, I may officially label myself a "New Yorker."
In every place I live, the job I keep finding myself coming back to is hospitality. For as long as I can remember, I have enjoyed knowing and interacting with others. I draw energy from each interaction and the hospitality profession has afforded me countless opportunities to do just that.
In a way, I believe my personal style is a reflection of how I relate to people; When I meet a person, I am meeting them and not their group, associations, or my preconceived notion of what they should or should not be. And when you are my friend, I am loyal. In fashion this sometimes leads me to wonder what the hell my own style is, as I do not consciously cultivate "a look," and when I find a piece of clothing I like, it is likely to grow threadbare.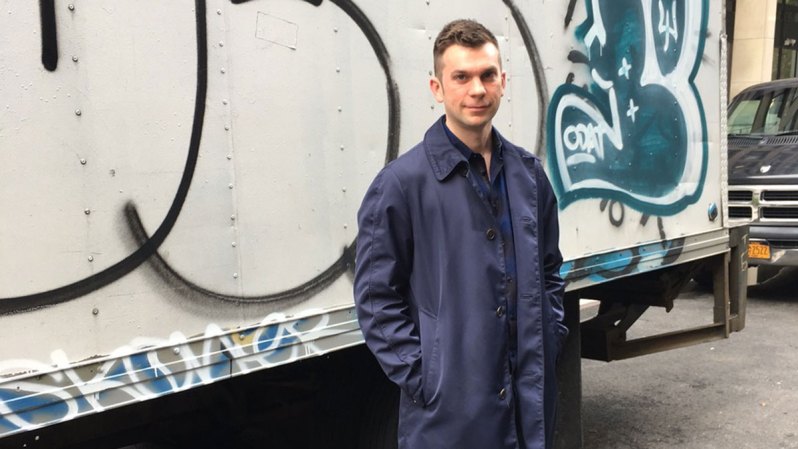 Prior to 2012, my experience in the yoga world was close to zero. I had practiced some and really enjoyed being on the outside looking in. Finally, after Bethany (Editor's Note: Bethany Lyons is Murray's partner in life and business) told me about her plan to open a studio, I decided to attend a week-long yoga teacher training in the Catskills taught by Baron Baptiste. It was, flat out, one of the most transformational weeks of my life. I came home and told Bethany we HAD to open the studio. One year later we opened the doors to Lyons Den Power Yoga.
After 2.5 years of operating our first location, we decided to take the chance to expand our existing location to a new floor and also open a second location in Chelsea, NYC. I had grown more and more passionate about the business and so, after 15 years of working as a General Manager, Regional Manager, Vice President and Chief Operating Officer in the hospitality world, I decided to join my wife in the full-time operations of Lyons Den Power Yoga.
Today, as I write this, I am proud to say that my work is dedicated to the empowerment of others to create connection and take action on what matters most to them and I get to do it side by side with the woman I love. And we look forward to expanding Lyons Den Power Yoga to many others in the years ahead.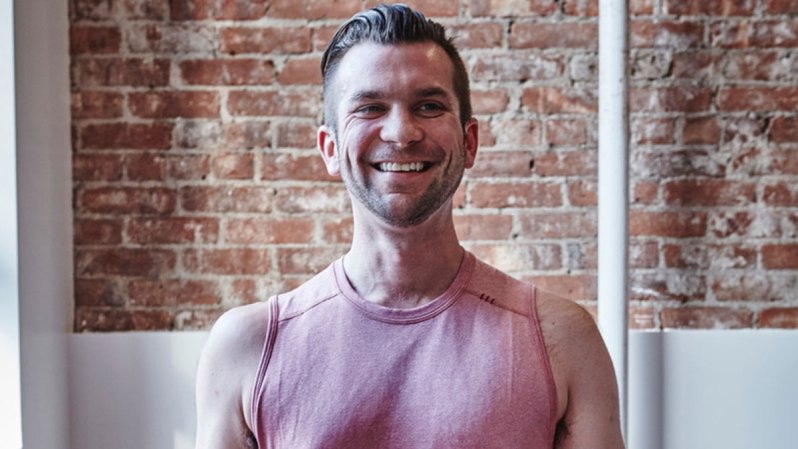 Jeans: For a night out: John Varvatos Wight Faded and Washed Jean. I love the look and feel of their faded denim. I can wear sports jackets or t-shirts and either way I have confidence in the way I look. These also work well with my black, ankle-high Cole Haan Boots (a few seasons old).
For casual on-the-go: Banana Republic Straight Cut Rapid Movement Dark Wash Jean. I love the stretch feeling of the denim and the cut that feels fitted but also does not grab around my thigh. I like clothes that feel comfortable and this is one of my go-to's.
Shirts: James Perse High Gauge Jersey Polo. I have a wider chest so the challenge for me is finding a polo that doesn't pull in the chest but also fits and isn't boxy. This polo fits the bill perfectly.
Rag and Bone Beach Shirt long sleeve flannel and pattern button downs are a nostalgic throw back for me from when I lived in Venice Beach and will forever be part of my wardrobe. This is one of the most comfortable ones in my closet.
Pants: Lululemon ABC (anti-ball-crushing) Pants
As the co-owner of Lyons Den Power Yoga, I am constantly in-between the worlds of conducting business both inside of the yoga studio and outside. Versatility here is clutch!
Suits: Bonobos Foundation Italian Wool Suit
To date, this is still one of the best fitting, most versatile, and comfortable suits I have ever owned.
Hugo Boss Pasolini/Movie Comfort Fit, Super 100 Wool.
When I first moved to Manhattan, I was interviewing with a big restaurant group. At the same time FRACTURE with Ryan Gosling came out and his suits in the movie were incredible. The first suit I ever purchased was a Hugo Boss suit. It felt like armor in New York City, and I have been a fan ever since.
Shoes: Nike Metcon 3's
After hours of exhaustive research on the best pair of cross trainers I decided on the Metcon 3. 2 weeks in I wear them everywhere and they are easily the most comfortable shoes I have ever owned.
Rivieras – Navy Slip-On Canvas
These are cool, casual and comfy. The perfect summertime shoe for NYC brunching or beaching.
Rust Colored Redmond Giorgio Brutini lace-ups.
These are a little different, always look sharp and the price is not to be beat.
Accessories: My wedding ring (Cartier), Yankees Baseball fitted cap (official Yankees gear), Hex Agency Convertible Backpack.
This is my mobile office and I carry it with me EVERYWHERE. Amazing gift from my wife when I officially came on full-time at Lyons Den Power Yoga.
My HAIR is actually my best accessory – and I've worn every style from a slicked-back 50's look, to shoulder-length California dude, to a full-on mohawk. My wife threatens me when I say I'm going to shave my head (also has happened several times). My father-in-law calls me the "Man of Many Hair-Dos."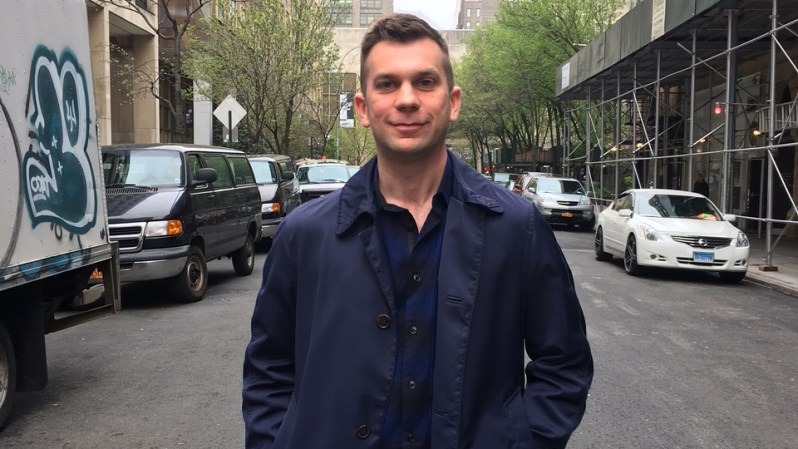 Outerwear: Hugo Boss Selection blue trench coat
(This is not the exact coat as it is a few seasons loved – but similar in style to this)
New York City proven and looks good over anything.
Mine is black & red and bold all over.
Favorite cologne: I do not wear it.
Favorite app: Headspace (a meditation app that works!)
Favorite piece of technology: iPAD Pro
Next style/gear purchase: It's time for a new pair of summer slip-on shoes for walking around the city. I might have to take the topsider plunge.