When we last checked in on IRON & GLORY co-founder Richard Brandt late last year, the former Izola partner had just got his motorcycle-influenced brand up and running. Fittingly located smack dab in the heart of Brooklyn, Brandt's newest project looked to celebrate the city's rich motorcycle culture while also carving out a niche in the community for the brand. Fast forward a year later and IRON & GLORY is as hip and momentous as ever, seeing massive growth among its customer base while offering a wider range of products and services. Needless to say, Brandt's vision of cementing himself into Brooklyn culture materialized faster than he could've imagined and doesn't appear likely to slow down anytime soon.
Related: Portland brands take center stage with MadeHere PDX
If you've yet to take a stroll through the IRON & GLORY product list, now is as good a time as any as the brand has never been more diverse. While the motorcycle theme still exists in many of its product, it's not what makes the company tick as Brandt has made it a point to allow the brand to evolve with how the customer views it. Like a musician choosing to withhold information about what a song means to them, Richard feels its best for people to discover the meaning of IRON & GLORY on their own. Because he also remains committed to keeping the product line fresh and different, the same customer may view the brand in several different ways.
"We're trying hard to avoid cliches and just continue to stay different," Brandt tells The Manual. "I want people to view us as the brand that's just always sort of been there."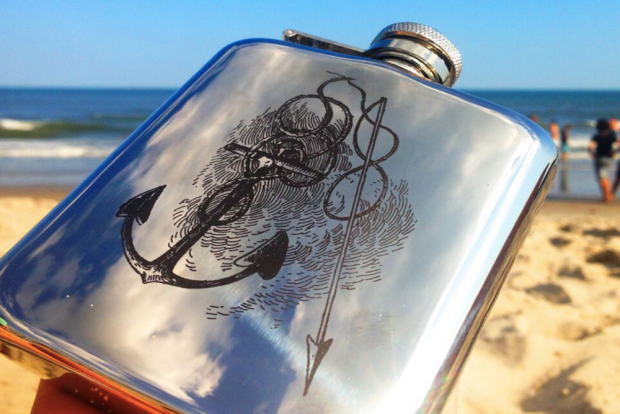 As the holiday season approaches and IRON & GLORY readies products to be featured in stores throughout the northeast, it seems it likely won't be long before people recognize the brand as something that's always been there. Brandt intends to grow the budding list of IRON & GLORY-carrying stores up over 100 locations by the second quarter of 2016, a move which should no doubt be met with the same kind of open arms as when it officially opened.
When Brandt opened IRON & GLORY, the store made its name by producing high-quality carabiners, laser-engraved flasks, and gorgeous belt buckles. Today, these products remain as the brand's staples, but the crew has worked tirelessly at crafting a fresh new product line. Now customers can purchase beautiful leather trifold wallets, stainless steel coffee mugs (laser-engraved, of course), or a slew of IRON & GLORY-branded grooming tools. As diverse as it is authentic, Brandt has somehow found a way to make the brand's available merchandise even more enticing.
What particularly sets IRON & GLORY apart from its competition isn't just its unique leather goods, signature grooming accessories, and high-quality metalware, but rather its "second business," The Brooklyn Engraving Company. Though part of the brand since its launch, Brandt decided to take the engraving portion of the business, give it its own legitimate business name, and offer engraving services to literally anyone interested. The result? A level of enthusiasm among customers Brandt would have never imagined.
"Within IRON & GLORY was this incredible engraving business that we wanted to make available for anyone to utilize to engrave glass, wood, metal, anything," Brandt says. "Next thing we knew, people were getting very excited about it. I literally have people saying 'shut up and take my money.'"
Despite the incredible growth, one thing which remains especially apparent with Brandt his how humble and down to Earth he remains in light of what he calls "finding lightning in a bottle." Not content with resting on his laurels, Richard stays focused on keeping the brand's momentum rolling forward by getting his products in front of as many people as possible.
As the company plots out its next steps — i.e. artist collaborations, appearances at design shows, etc. — it seems as though Brandt may take a cue from the way he treats his customers in that IRON & GLORY may never mean the same thing to him twice. In an industry where originality and creativity can be sparse, this is amazingly refreshing.
Editors' Recommendations