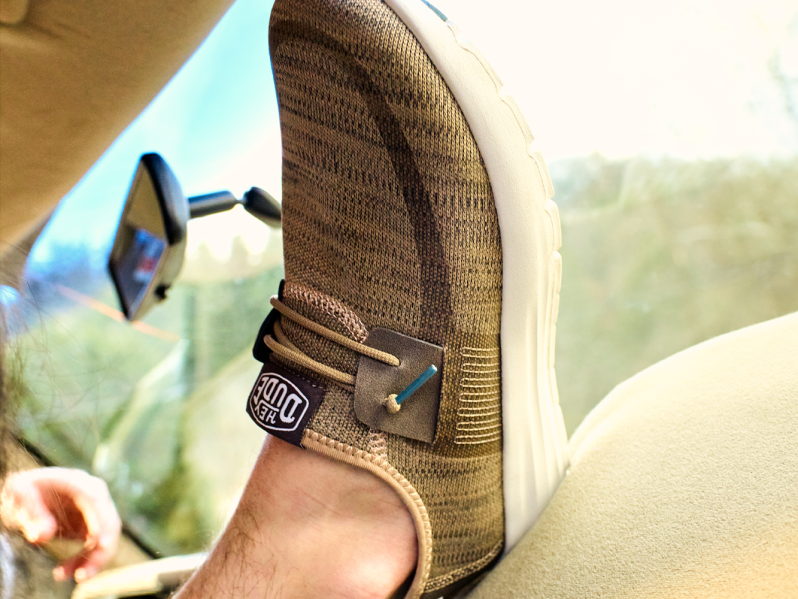 This content was produced in partnership with HEYDUDE.
As a brand, HEYDUDE is sweeping the nation. Becoming more and more popular with just about every age, and people from every walk of life — it's the fastest-growing footwear brand in the U.S. and the company will surpass $1B in value real soon. There's a good reason for it. HEYDUDEs are stylish, super comfortable, convenient, and once you try them, you'll fall in love. To understand why, we have to backtrack a little bit.
In warmer weather, flip-flops and sandals are the go-to, not just because they keep your feet cool and open, but also because they're so convenient to put on. You just have to slide your feet right in and off you go. They're not at all stylish, however, and you wouldn't want to wear them with certain outfits. HEYDUDEs fix that problem, and so much more. Known as some of the "cushiest, comfiest, airiest, featheriest, lightest shoes on Earth," these words of praise still don't do these shoes justice. You might be wondering, what makes them so comfortable? What kinds of styles do they offer? We're going to explore precisely that.
Go-tos that make your feet feel supported and happy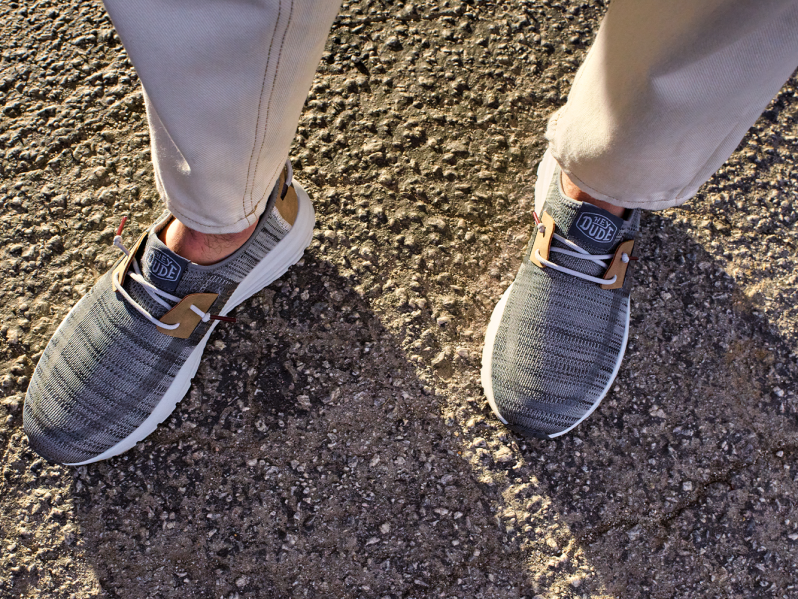 Life can be challenging at times, so naturally, we gravitate towards belongings and experiences we love, all things that make us happy. That leads to "go-tos," or reliable essentials that we know will give us the satisfaction we deserve. HEYDUDE is dedicated to making its shoes exactly that, a go-to for everyone.
The first thing you'll notice about them, especially once you try them on, is that they match just about any outfit or style, from casual and relaxed to more formal. They offer pairs for men, women, and kids — clearly we're more excited about the men's shoes here at The Manual — and in a variety of formats such as sneakers, sandals, dress casual, and the fan-favorite, Wally. Wally is a tried-and-true design, offering a mix between a relaxed dress shoe and a versatile slip-on, but you'd be happy with any pair, of course. HEYDUDE's secret sauce is that they keep every pair of shoes authentic, light, and pleasurable, primarily because they feel weightless on your feet.
Insanely comfortable, so step right in!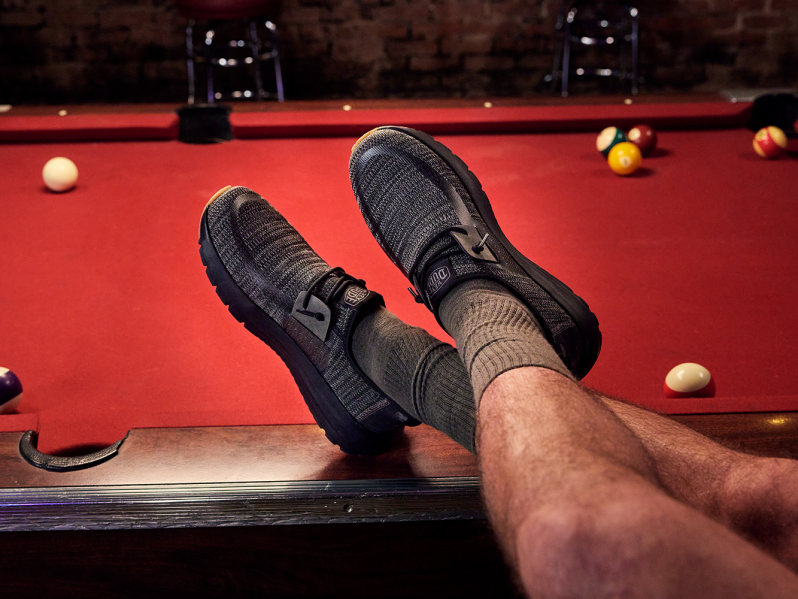 There are no laces to tie, no buckles or straps to engage, and they fit wonderfully. Every pair of HEYDUDEs is easy to slip right into, and although they feel airy — like walking on a cloud — they're still exceptionally supportive. Your feet won't be sore or complaining, even after a long day walking around or standing in HEYDUDEs. How do I know? I own a pair, and I wear them all the time.
HEYDUDE "invites you" to step into a "comfier state of mind," and with these shoes, those words have real meaning.
Check out these lookers
While we could carry on about their comfort for another few hundred words, we'll let the shoes do the talking. Here are some recommended shoes from HEYDUDE, but remember, you'll want to browse for yourself too:
Sirocco Grey Mix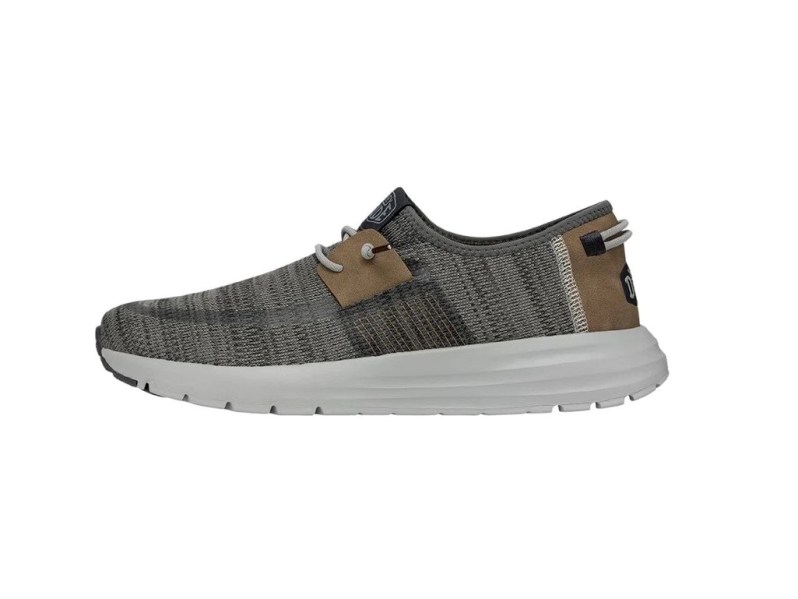 Espousing a combination of sporty and stylish, these sneakers rest slightly higher than other HEYDUDEs. They're light, stretchy, and breathable, with comfortable cotton fabric and a supportive outsole. Minimal no-tie elastic laces adorn the front. They come in a few different color combinations too.
Wally Tropical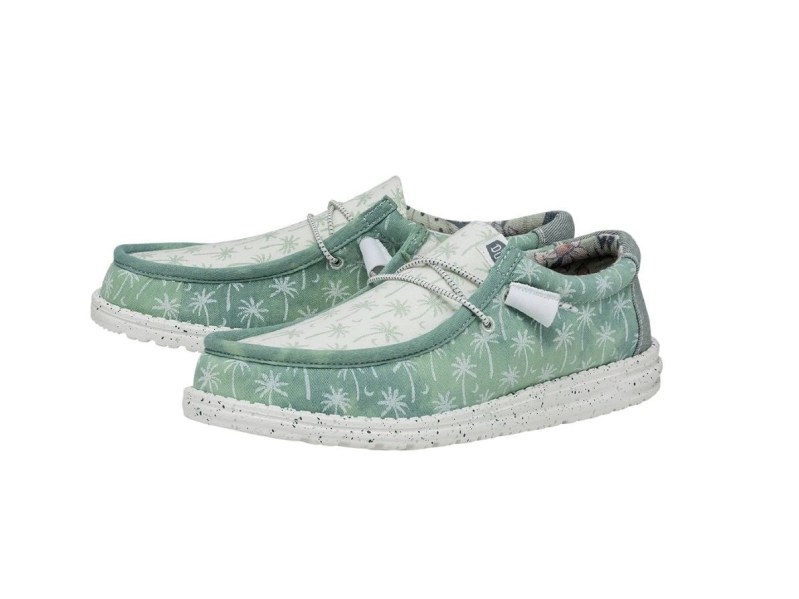 Excellent for vacation, or just lounging around the house, these breathable and lightweight slip-ons feel as good as they look. The biggest highlights here are an ultralight outsole, cotton lining, and no-tie elastic laces with a cushioned ankle collar.
Wally Kite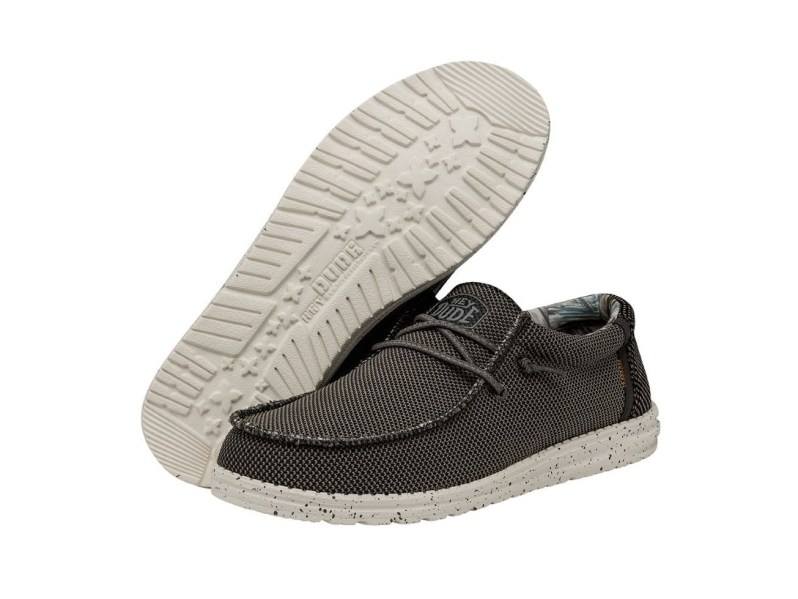 Thanks to a woven-blend upper, soft cotton lining, ultralight outsole, and cushioned ankle collar, these shoes are a go-to for all-day wear, whether in the sun or not. The no-tie, elastic laces are back, complementing their slip-on nature well.
Phoenix Tropical Sandal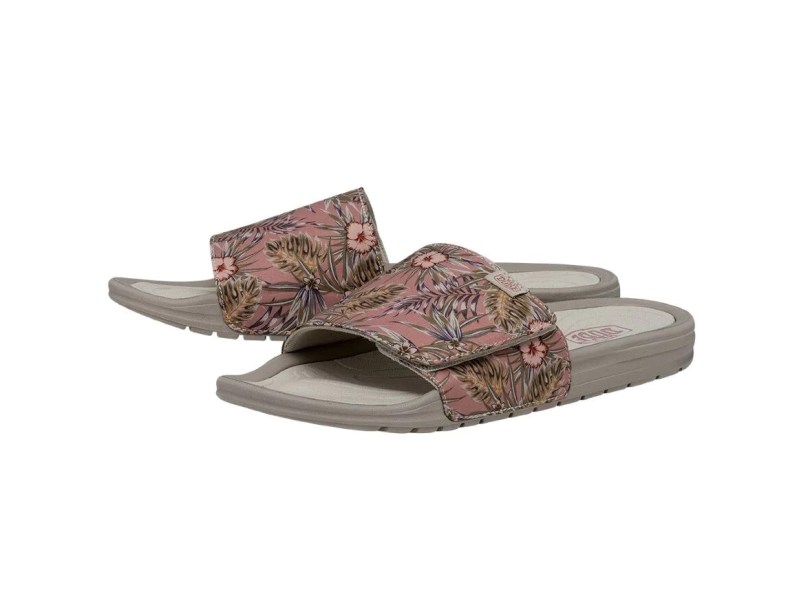 Love the fit and style of a sandal? No problem, that's exactly what the Phoenix Tropical offers. Unlike most slides, these are perfect to go walking in. Don't worry, they're cozy when you're hanging out too. An extra grip keeps them firmly in place so you don't have to worry about slipping and sliding whether you're on asphalt or powdery sand. Talk about island vibes, right?
Experience HEYDUDE for yourself
One of the better things you can do for yourself is to, at the very least, try on a pair of HEYDUDEs and experience what it's like wearing such a comfortable and weightless pair of slip-on shoes. Before the hot summer months hit, and you're spending a lot of time outdoors, grab these airy shoes, your feet will thank you. Honestly, we've done the brand no favors barely scratching the surface exploring the styles they offer. There are tons of different shoes to choose from, and sandals too. Go take a look and see which pair matches your personal style.
HEYDUDE features some great sales, including a Buy More Save More event, that nets you bigger discounts on select items. The more shoes you add to your cart, the more you save, just use code AFFBMSM at checkout. Free shipping is available for all orders over $60, as well.
Editors' Recommendations