Casual menswear line Gilded Age has been a purveyor of unique, high-quality denim jeans and related items including chinos, woven shirts, knits and leather jackets since it was founded in New York 11 years ago by designer Stefan Miljanic, who previously worked at such well-known brands as Tommy Hilfiger, Banana Republic and Abercrombie & Fitch. A somewhat underground label that is not widely known despite its longevity, the brand offers usually utilitarian-inspired clothing that is classically masculine, rich in design details and never overtly trendy. It's even one of the few brands whose distressed/ripped jeans styles are appealing instead of ugly. Last week Miljanic discussed Gilded Age's success, gave me a preview of the forthcoming fall 2016 collection, which is inspired by dockworkers and will be available in August, and shared what it currently has in store for spring/summer. In addition to its online store, the brand is also sold at its own brick-and-mortar shop near The South Street Seaport in New York and in better independent stores throughout the world.
Your brand is famous for your terrific premium denim jeans. Tell me about the ones here.
They are for fall and many are made in Japan. Any piece of denim goes back to the heritage of that dockworker. There is a beautiful ripped jean that kind of looks like someone has been working in it for years, whether it's on the docks or the boats or the market. There is also a beautiful selvedge denim that we have used since Day One. It comes in raw with a lot of character. Then we have natural indigo denim that's very authentic and very rare. No one does this in the United States. The same natural indigo is also used in vintage-look jeans. We also have overdyed 14 oz slubby denim in a dark and medium dark wash, a made in Japan work chino with repairs that are all done by hand and a lined flannel chino and cords that are backed in flannel. For denim it's blacks, grays or some interesting new colors and developments.
What percentage of the Gilded Age collection is denim?
Roughly around 50 percent. Woven shirts are 20 to 25 percent and knits are 15 percent. Leather outerwear is getting bigger now.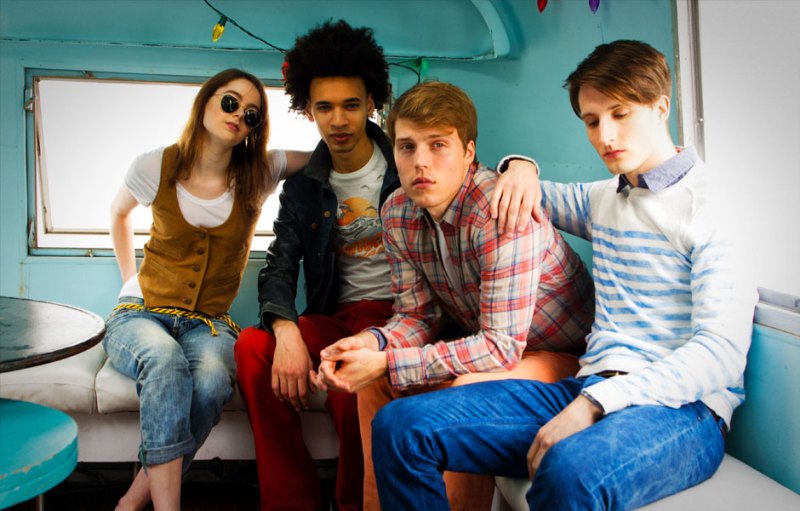 What is the cost of the jeans?
The opening is around $198. Then it's in the $200 to $300 range. And some of the made in Japan jeans it's $300+.
How many jeans fits do you offer?
We have two different fits now. We offer The Morrison which is a 14" leg opening and The Baxten which is our 15" leg opening.
What are the highlights of the current spring collection?
The inspiration for this season was the late '70s – 1978, basically. It was inspired by sitcoms like "Happy Days" and kids hanging out in diners and all that stuff. And the movie "Dazed and Confused" because that also deals with the subject matter. It was a little bit about color and living good and having a great spring and summer. There are looser fits and some of the denim is rolled up.
Would you say that workwear is your most predominant inspiration each season?
Yes. In the past three or four years I have been inspired by various movies like "The Wild One" or riders and we were more into biking and that kind of stuff. Now we really feel like [the tide] is coming back to our end again and I feel like there is really nothing that did better in the past than classic American utility because all the jeans and everything started from utility. It's inspirational and something that America is known for. It's a pillar of casual and always does well. After we started this Americana trend back in 2004 to 2007, I think this city utility is something that brings back emotion. You just need a great pair of beat-up jeans with a leather jacket or a utility denim jacket.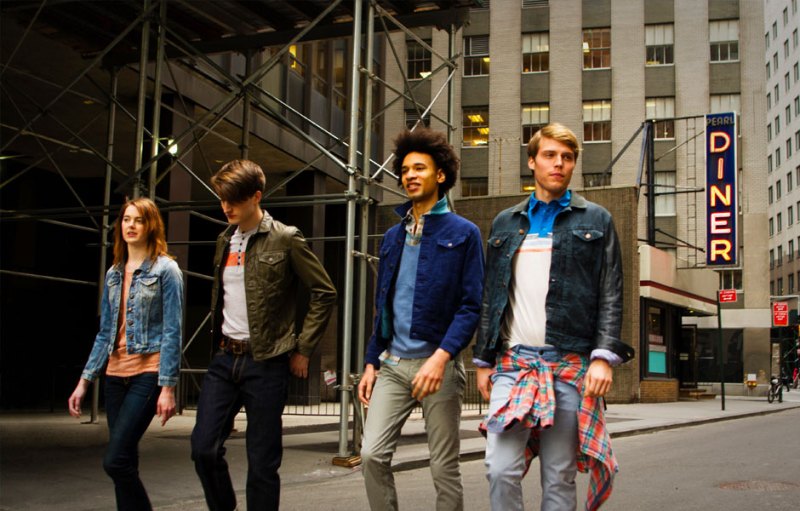 Where do you manufacture?
For bottoms it has kind of shifted from Japan and Italy and now it is between the USA and Japan. We shifted Italian production to the USA. For denim we have about 20 percent made in Japan and 80 percent made in the USA. When you have to spend a day of work on a single jean you go to Japan because they are perfectionists and meticulous and they take the time and effort. It's kind of like painting a picture; it takes that long. The knits are made in Peru and the leather jackets in Turkey. We do everything like the huge brands – we manufacture in five different countries.
What's the your favorite piece you've created in these 11 years?
I think some of our best work probably was done in denim and I would say some of the cashmere hand knits that had patterns. As far as the jeans, I'd say that some of the work on the natural indigo – it's hard.
Another thing that stands is when I went to Japan years ago when I was doing some natural dyeing on knits which required the guy to do it in an organic way in his own studio in boiling pots. When I came the next day to see the finished product he had to climb the roof because he was drying them on the roof. To achieve that particular color it had to be exposed to direct sunlight. We did that in denim as well and used tree bark, which dyes it very unevenly and creates this very unique look.
Who is the Gilded Age guy?
He's in the know. He's worldly, he's well educated and he travels. He's not into the latest fashion trends but is someone who understands good product: the quality, the craftsmanship and someone who wants to buy a pair of great jeans that fit well and are well made and unique. We always emphasize the quality and the craftsmanship and that's really where we reside and we own that part of it. There are a lot of people who would probably like it but we are one of those hard to find brands. We don't advertise and we don't seek out major promotions so if people discover it, it is a true discovery. People find it, test it and if they like it they buy it and then they come back. I think that's the reason we are around. We've done this in the last 11 years just in the power of our own way and the product really works for the people who buy it.
Editors' Recommendations