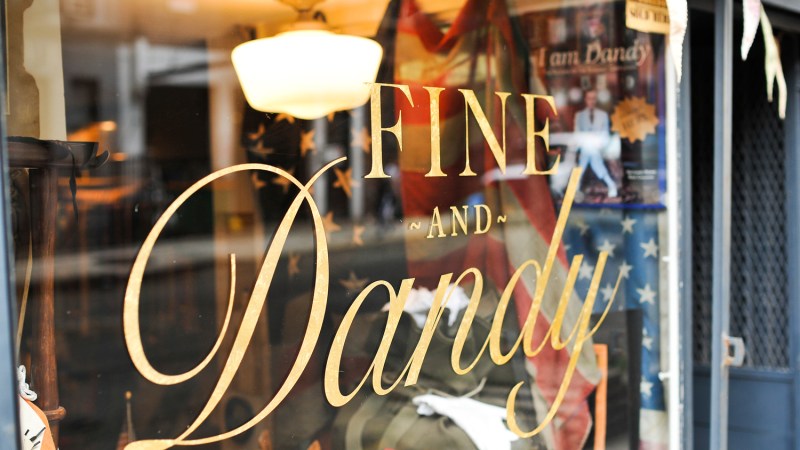 If you are looking to update your wardrobe but don't have many dollars to drop or just want to add a subtle-yet-masculine dash to your look, a few well placed accessories – from ties and tie bars to pocket squares, cufflinks, and patterned socks – are probably your best bet. They can easily reinvigorate that classic, never-going-out-of-style suit of yours or add some modern day panache to the timeless white shirt and blue blazer pairing. And while department and designer stores offer oodles of not so special carbon copies of these items (often with steep price tags), finding truly unique and special men's accessories can be a challenge both to your Internet search engine and your wallet.
Which is exactly why you should know about Fine and Dandy.
Founded as an online venture in 2008 by business and life partners Matt Fox and Enrique Crame III, this men's accessories label opened its own brick-and-mortar shop in the Hell's Kitchen neighborhood of Manhattan at the end of 2012. A charming and very old-school looking shopping destination filled with antique men's photos, advertisements and other memorabilia, this small, independent retailer – which still operates a thriving webshop – is rare not just because it's an independent one in a city that is increasingly covered with chain-store names, but because it specializes in one-of-a-kind men's items that you are not likely to (easily) find elsewhere – and all at extremely reasonable prices.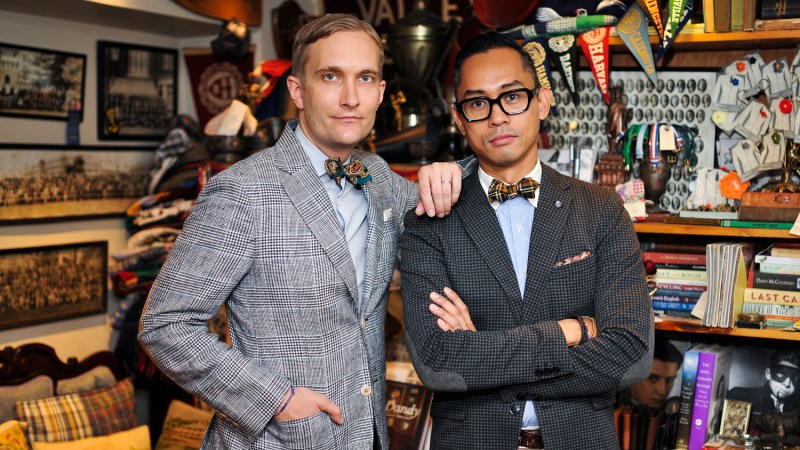 With jazz standards playing in the background of their welcoming basement emporium on West 49th Street, Matt and Enrique recently shared the story of Fine and Dandy, their truly extraordinary venture that's all about those "little extras."
What's the story behind Fine and Dandy?
Matt: We specialize in men's accessories. If you go to a department store they have a bow tie or three bow ties or five bow ties. We have one hundred something bow ties, so we're kind of that one-stop shop for men's accessories and classic men's accessories.
Enrique: We've learned to diversify our selection. We did a few flea markets and pop-ups [before opening the store] and we always wanted to have options for everybody.
How did the idea to produce accessories start?
Matt: It was very practical. We were working out of our apartment and accessories are small. It's as simple as that – and there really are no sizes.
The atmosphere in here is pretty amazing.
Enrique: We started collecting old men's photos and family photos. That picture hanging on the wall there is actually Matt's great-great grandfather. We noticed how well men used to dress. Matt's grandfather is a farmer and we found this other cool photo…
Matt: He was a dairy farmer and my mom pulled out this one amazing photo of him at the state fair with a cow but he is wearing this pure white shirt and trousers and a black bow tie and I just thought that was so cool.
Enrique: That was on the farm. You would wear that on the farm! What happened to us?
Yeah, what did happen to guys' wardrobes?
Matt: I always say starting in the Sixties it was a very gradual decline as far as menswear and there was less and less formal. But over the last ten years or so I think it's slowly creeping up. We think the recession may have had something to do with it.
Enrique: The timing was great for us to start in 2008 because people wanted to update their wardrobe without spending a lot but you can accessorize and make it look new again by changing a tie or a little pin. I think it's a combination of men reading blogs and style forums and wanting to know how things are made and what's the history and background of that and just kind of being careful about spending at that time. But you also want to look good because you want to keep your job.
Matt: I think that's a real thing. When you have to put your best foot forward. If the person sitting next to you is equally qualified but is schlubby looking and you're not it could really make a difference.
How much of your business is online?
Matt: It's much more here in-store. You would think it would be the opposite, but I think people are so desperate for real experiences–and I like to think that we created something kind of cool and warm. People say that all the time. They're walking in off the crazy street and come in here and it's just like this little oasis that takes them away from the craziness. But online is still very important to us and we are rebuilding a new website.
Where is the in-house Fine and Dandy line made?
Enrique: Everything that is ours is made in New York as much as possible or local. Jewelry is Rhode Island, shirts are Tennessee, belts are Connecticut and a lot of it is Brooklyn or the Garment District. We've also started custom shirts and we've started doing a whole vintage division with shops, designers and showrooms looking for props and costumes. We also started wholesaling and you'll find us in various small shops around the world.
What's the price range?
Matt: Our ties are $65, our bow ties are $59 and tie bars are $29. We try to be that kind of in between price point where it's not going to break the bank but it is made here and it's something special.
What are your favorite pieces currently?
Enrique: I'm into neckerchiefs right now – all year round just because of laziness.
Matt: And I'm a bow tie wearer. We've been doing double sided floral bow ties for spring that are real fun.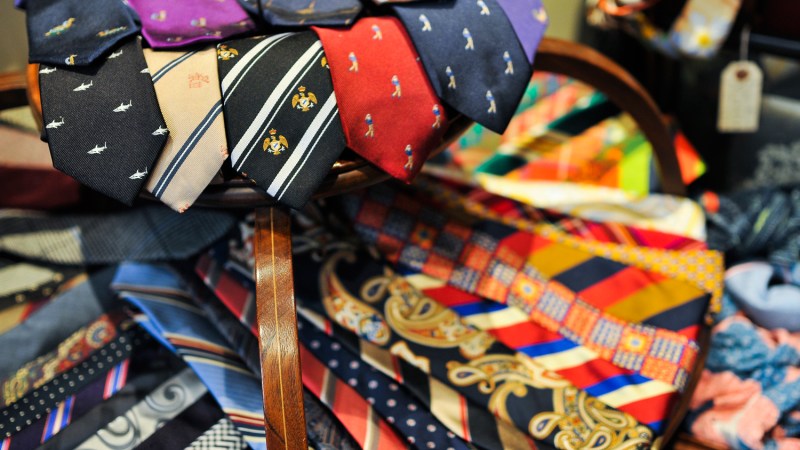 And your favorite new pieces?
Matt: We were in Dublin for a trade show in January and we found this amazing knitwear factory in the Shetland Islands so we are doing this collection of Fair Isle sweater vests that are so beautiful. There are five different vests like a shawl collar and a button down and in the same patterns we are doing scarves and gloves. They'll arrive in August for the fall.
Do you have a typical customer?
Matt: It's all over the place from a young Brooklyn hipster to a conservative gentleman from Georgia. It's really fascinating to see in the course of a day. A couple of years ago this guy came in, an older gentleman from Georgia, and he said: "I've been waiting for 20 years for you to open ever since this store – I can't remember the name – closed on Madison Avenue." We had such a nice conversation and he was buying bow ties and pocket squares and he was so cool. Two hours later this Goth couple came in – a man and a woman – and the woman turned to the guy and said, "Honey, you've finally found your store!" The extremes are crazy but it's cool that different people identify with the different things here.
Do you get a lot of special occasion customers for weddings and other events?
Enrique: All the time. We found that weddings have increased because we're in this age where people see each other and ask where they got their stuff.
Matt: It started because the women weren't going to have the same dress. It was just a color palette that they could choose. It was Enrique's idea to not get everything matching for the guys too and pick and choose and see how it all comes together.
Is the bulk of what you sell your own brand?
Matt: It's about 80 percent. There are things like socks and knitwear is just not done in this country like it used to be so we sell Pantherella socks and our velvet hats are Stetson or Woolrich or Christie's or Biltmore. Two years ago, we hooked up with a hat maker in Donegal, Ireland, and we do these beautiful Irish tweed caps.
Enrique: Our very best seller is a patchwork tweed scarf with contrast corduroy on the other side. We sold those out even before winter. We put them out in August and they were already sold out by November.
What's the one accessory that all guys should have and know how to wear?
Matt: I'd say the white pocket square.
Enrique: Well, right now it's all about pins, whether it's a lapel pin or a boutonniere.
Matt: Personally I feel you should master the basics of a couple of ties and a few pocket squares before you try pins. As a guy thinks about his style he should think of accessories as being able to mix and match. Whether it's neckwear, pocket squares or pins. It's what you can mix and match with few basic suits or blazers.
Enrique: Collar bars are the other new thing. I don't know where it came from. Maybe it's the movie La La Land. The Great Gatsby movie did a whole thing before that and the ascot was big thanks to American Hustle. It's funny how these big movies lead to an increase in certain products.
Matt: It's always interesting to see a bump in a particular product and to ask where that's coming from. And then you do see that it's from somewhere in pop culture. It's like tie bars after Mad Men….
I bet that show gave your business quite a boost!
Matt: It sure did! But we hated it when it got to the later Sixties when the style was for wider ties and such.