It's unsurprising that Farm to Feet is doing something to celebrate National Public Lands Day on Saturday, September 30 — a day on which we can visit our glorious national parks for free (or better yet, volunteer in them). After all, this superior sock company is as American as apple pie. Everything, from the wool in the socks to the ink on the packaging, is made in the United States. This week, the company offering a limited edition pair of socks commemorating Bears Ears National Monument in Utah, with 100 percent of the proceeds going to conservation efforts.
The design evokes the beauty and majesty of Bears Ears, complete with a #SaveBearsEars slogan. The socks, available in "Monument Blue" or "SacRed," cost $25 per pair (which includes shipping) and all of that — that's right, every single penny — will go straight to the Conservation Alliance, which works tirelessly to protect our public lands.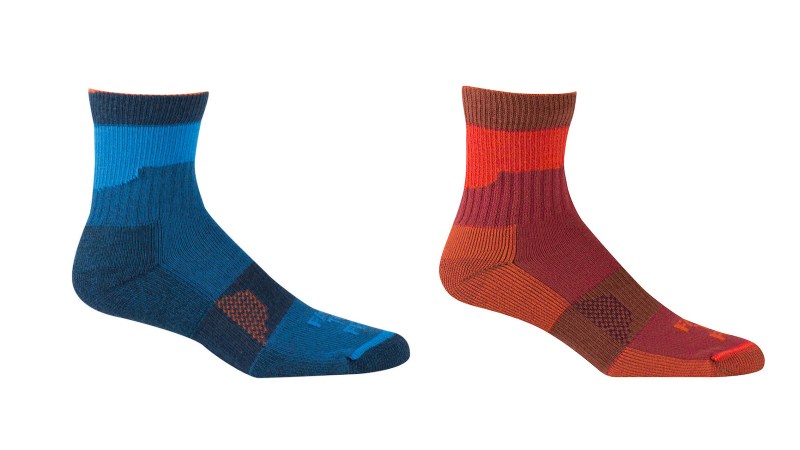 Bears Ears, a pair of mesas in Utah, are scared to a number of Native American tribes, including the Navajo, Hopi, Uintah, Ouray Ute, and Zuni. The park is home to over 100,000 sites of cultural and archaeological significance. Just before he left office, former president Barack Obama created the Bears Ears National Monument, protecting 1.35 million acres of land and stimulating the economy in one of Utah's poorer counties.
The current administration is considering reducing protected lands and reopening them to commercial logging, cattle, and fishing. Bears Ears found itself in the crosshairs when Interior Secretary Ryan Zinke purportedly suggested slashing its size by over 1 million acres, which ignited backlash and inspired a coalition led by the Navajo Nation.
These socks from Farm to Feet benefit more than just Bears Ears since the entire supply chain is American. The Merino wool comes from ranchers in the American Sheep Industry and nylon and spandex are both made here in the States. The ingredients head to Mount Airy, North Carolina, where they're assembled into the best damn hiking, hunting, snow sport, equestrian, tactical, and everyday socks. Your feet are cocooned in the perfect amount of compression, stretching from the Achilles tendon down through your arches. Plenty of cushioning and a lack of toe seams keep everything warm, cool, and dry at the same time.
One of the more amazing things about the United States is our national parks. They define our spirit, our history, and our love of the land. So this National Public Lands Day, pull on your new favorite pair Farm to Feet socks and support uniquely important monuments like Bears Ears — then go find some wild adventure in our parks.
And, maybe, take action to protect Bears Ears too.