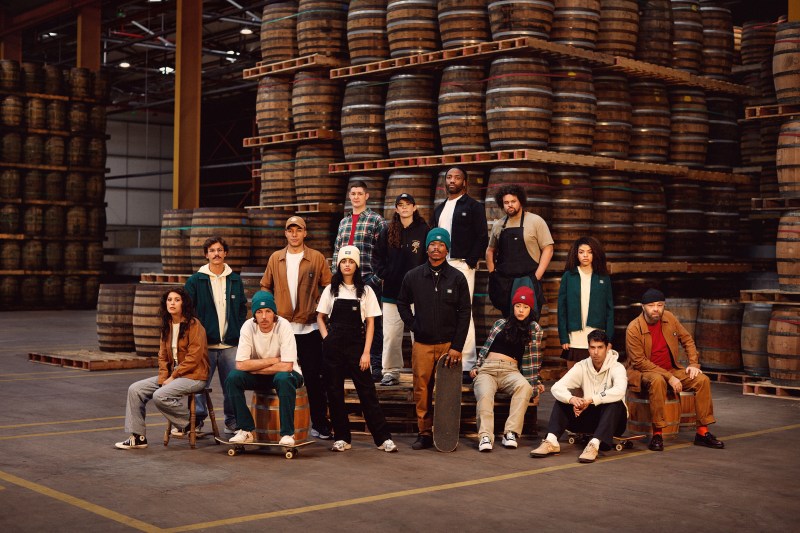 Workwear brands are known for creating some of the toughest garments on the market, able to withstand the harshest environments and take a beating. Among those workwear brands is the iconic 101-year-old pioneer brand, Dickies. Built on grit and pride, their high-quality products embody the American worker and have done so for the last century. Now they look to celebrate that American working spirit with a collaboration with Jameson Whiskey in their new limited edition collection, Crafted Together.
The collection's launch took place in two pop-up retail locations in New York and London. Travis Bennet, an actor best known for his roles in Workaholics and History of the World Part II, was on hand to check out the new collection. (Shoppers — all of whom were over 21 — were also treated to bespoke cocktails featuring Jameson's world-famous whiskies.) The line is now available through Dickies' website.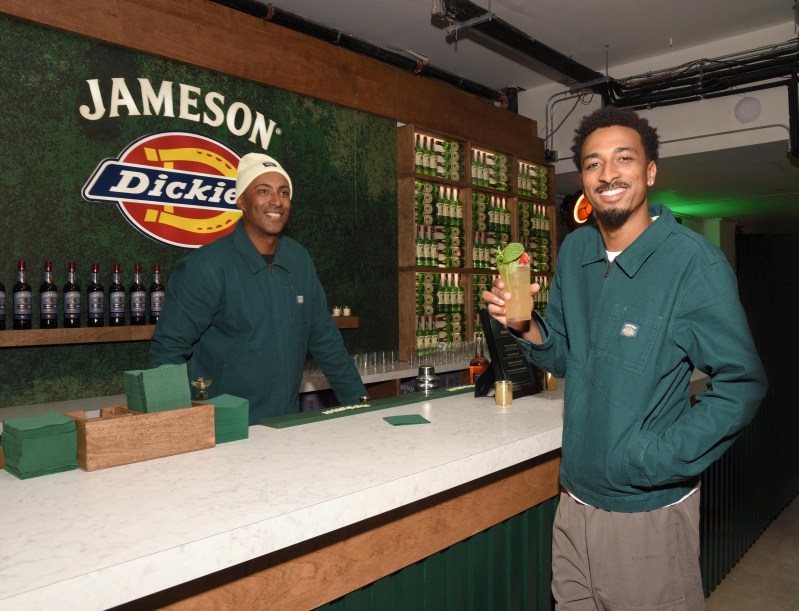 Crafted Together celebrates craftsmanship
Why Jameson and Dickies? Workwear and a good drink go hand in hand. The image of an American worker pulling up a stool and knocking a few back after a long day is iconic for a reason.
A century ago, Dickies was a small Texas company making bib overalls, and now that they are the number one workwear brand in the world, they still haven't lost the focus on craftsmanship. Jameson has a similar story. Since the original Jameson dropped in the 18th Century, the company has become one of the stalwarts of spirits. With their wide array of flavors and tastes, this whiskey brand genuinely has something for everyone.
"Quality craftsmanship is a longstanding pillar of our Dickies business and deeply rooted in our workmanship community," says Dickies Chief Marketing Officer Sarah Crockett. "Dickies and Jameson teaming up feels like a natural partnership due to both brand identities and our shared DNA. We're thrilled to collaborate with Jameson to commemorate our brand stories and, most importantly, celebrate our loyal customers."
Global Marketing Director for Jameson, Brendan Buckley, echos the statement and speaks about the shared DNA of craft and kinship being the focus of the collaboration. "Jameson Irish Whiskey was founded in 1780 when workwear was the uniform of the working community, often seen in the local pub after a hard day's work," he says. "Meanwhile, Dickies began its life in 1922 as a quality and respected workwear brand. Craft and kinship underpin both brands, and we are delighted to bring that shared ethos to life through the Jameson and Dickies 'Crafted Together' collection."
What's in the Crafted Together collection?
Crafted Together's capsule clothing collection includes workwear-inspired garments like jackets, overalls, caps, and more — including the iconic Dickies Eisenhower Jacket. Select tees and hoodies feature a new bespoke graphic, designed to pay homage to Jameson's original Barrelman icon (which dates back to the 1700s). The whiskey brand's influence can be found in other ways throughout the collection — Jameson's signature colors, triple stitching on products (a nod to the fact that Jameson Whiskey is triple-distilled), and hardware inspired by copper whiskey stills. You can even find hidden flask pockets in some of the items.
Products range from $20 to $80, making the collection as affordable as it is stylish.
Editors' Recommendations