It took becoming a dad to set Calvin Cearley on the right career path. Working as a marketing/advertising executive when his wife became pregnant with his son, he realized he wasn't where he wanted to be. But where he wanted to be seemed a mystery at first.
Bit by bit, he put together a plan, along with Kaleb Harrell and Ryan Anderson, former Orlando Magic player and current forward for the New Orleans Pelicans. What they came up with is Cloak & Dapper, a men's general store they first unveiled online.
When the business launched, Cearley continued working full-time and running the business out of his garage. That routine started getting old, so they began doing some pop-up shops in Orlando to see if it was the right city for a traditional storefront. The pop-ups were overwhelmingly successful and led to Cloak & Dapper opening a store last month in Orlando's Ivanhoe Village.
"We're in a building that was built in the 1930s," says Cearley. "It has beautiful windows and a middle room, that we dubbed "the parlor," that we'll use for events."
Community building is crucial to the brand. They want guys to come in and feel comfortable. Selling products will be a byproduct of that atmosphere. They're working to create a speakeasy type of feel, without the element of a bar.
"We have free wi-fi and freshly brewed coffee. I encourage people to come in, crack open their laptop and work," says Cearley, "or collaborate with other creatives. This may be the place where someone comes up with the next big idea."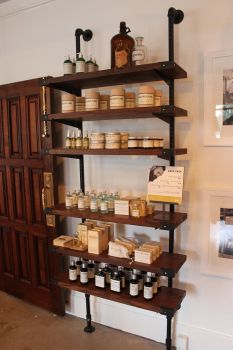 It fits into the approach to make shopping a better experience for men. Most, Cearley says, hate the browsing part of shopping. That's why Cloak & Dapper is a one-stop shop offering clothing, shoes, accessories, and grooming items, featuring made in America products.
Instead of offering a wall of 20 types of jeans, they seek out the best and offer a couple of different fits to simplify the selection process.
"We are trying to curate a collection that hopefully no one else will have," says Cearley. "Imagine the top dresser drawer of the coolest guy you know. He has great ties, socks, a cool leather watch that anyone would covet, and a cool pair of shades. We want this shop to be like that—the dresser drawer of the coolest guy you know."
Their combo of pomade and a stainless steel comb has a proven record as a top seller, but the clothing gets a lot of attention too.
Now that Cloak & Dapper has a traditional brick and mortar presence, Cearley says it won't stop there. He plans on opening at least five new stores within the next 10 years. They are looking at places like Asheville, N.C., Charleston, S.C., New York City, Boston, and D.C.
"Each one would have a cultural significance as the first priority," he says. "The retail functionality has to complement that, not the other way around."