Brendon Beck is the founder and partner of catering and events company Beck and Call. When not overseeing operations and business development for his company, Brendon can be seen in the studio shooting editorials for GQ, Esquire and Vogue Italia or brand campaigns with Colmar or Only & Sons.
Beck grew up just outside of San Francisco in San Mateo, California. As a hockey protégé who played in the Junior A division, a league just below professional level, he shares hometown notoriety as a star athlete, having  grown up a few streets away from NFL champion Tom Brady. After a career-ending injury, Beck's childhood best friend, Julian Schratter, who was having a breakout year modeling, suggested Brendon meet his agent. After a few go-sees, Beck was booking jobs in all of the top fashion markets–London, Milan, New York, and Paris.
Eventually Beck decided to settle in Brooklyn for its creative vibe and entrepreneurial community–to one day launch his own business. Prior to launching Beck and Call, he cut his teeth at Silkstone Hospitality agency and harnessed his artistic and operational talent freelancing at high-end events such as of Dom Perignon and Veuve Cliquot. This experience combined with his passion for food during his travels became the impetus for Beck and Call.
Founded in 2014, Beck and Call partnered with Michelin star chef Derek Orrell (also a former model) to create seasonal "market driven" food with artisanal flare that also has an "eye candy" worthy staff when necessary. Beck also designs and builds his own unique serving trays and platters—some specially designed for his unique floral arrangements.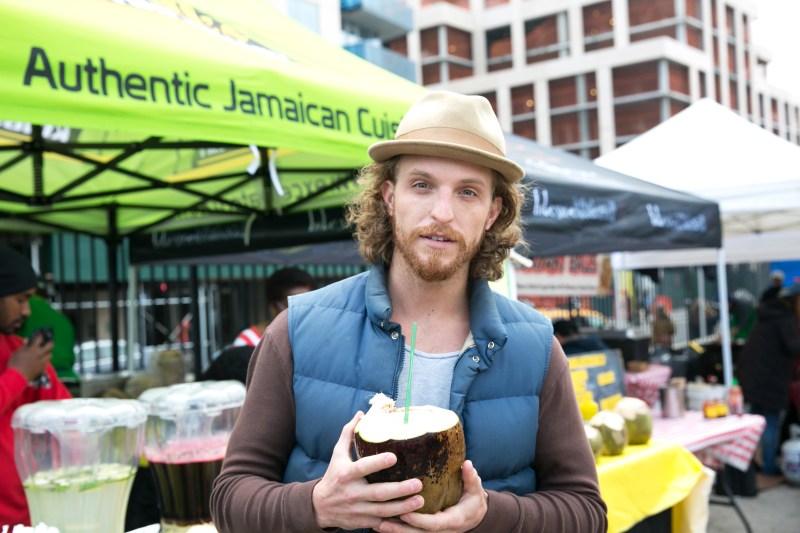 Fast forward to 2016, Beck and Call has built up a clientele of big name fashion and beauty brands including Alexander Wang, Hugo Boss, and Tommy Hilfiger, along with a few of the biggest named celebrities. The company has now expanded into a full-scale events production company with food still being a huge focal point.
As for his personal style:
Jeans: BLK Denim Slim fit. Easy to dress them up with a dress shirt or dress down for casual chic.  Most comfortable pair of jeans for me.
Shirts: Everlane, the Japanese slim fit oxford. Everlane fits perfectly, and is a great quality work uniform perfect for all the Beck and Call events. I still look stylish and will get some mileage from them. I also support as many newer brands as possible and Everlane is from SF like me, and they have a special story.
Pants: Diesel Black Gold Pech Pants. One of my fave brands in general and the fit is perfect.  I fell in love with Diesel while living in Milan and still love their creative direction.
Suits: David Reeves, Bespoke 3 piece suit. David is a longtime friend and client of Beck and Call. The high quality cashmere/cotton blend fabric is so luxurious. I get excited to put it on and feel so confident in it. I learned that there is nothing like getting something custom made for you.
. Wolverines last forever. I can dress them up too so versatility is important in my wardrobe. I can get them resoled after a year after they are broken in and it's like they're new. They guarantee their leather which is huge for me.
Accessories: Goorin Brothers Top hat. If I need to add some swag to a casual outfit, Goorin's hats give me that extra "icing on the cake" to my look.
Outerwear: David Reeves Overcoat. This is currently my favorite piece in my wardrobe.  It's the most beautiful cashmere coat with a unique color of rust and maroon I picked out.  I have never seen a coat this rich in color and it's perfect on my coloring for all seasons.
Favorite cologne: iiii; inherited the scent from dad.
Favorite app: ESPN; I am a huge sports fan.
Favorite piece of technology:  Apple TV
Next style/gear purchase:  Custom made, We the free Folk Backpack. Happy to be supporting a good friend and buy a great bag.
Editors' Recommendations