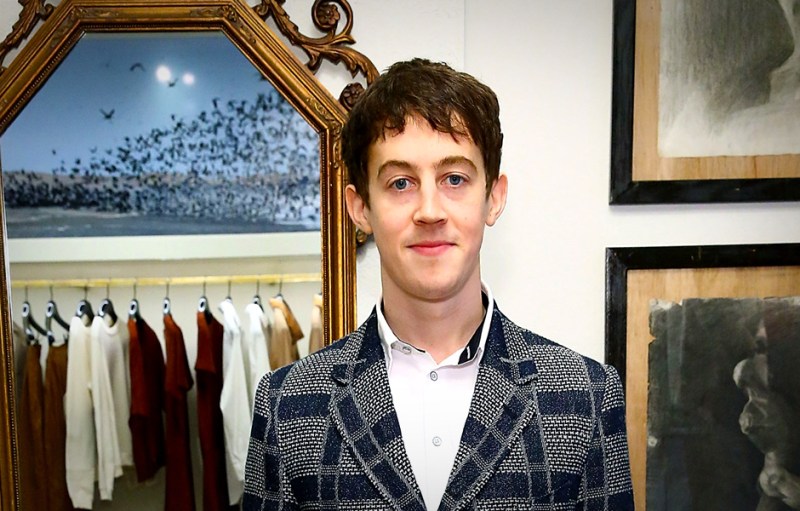 It has been a curiously remarkable year for Alex Sharp. The now 26-year-old London-born actor graduated from Julliard in May 2014 and less than five months later made his Broadway debut as the star of The Curious Incident of the Dog in the Night-Time, a stage adaptation of the 2003 bestselling novel by Mark Haddon. In the critically acclaimed production, Sharp plays Christopher, a 15-year-old suburban British boy with autism and a brilliant mind for mathematics, whose attempt to solve the mystery of who killed his neighbor's dog takes him on a harrowing journey to London and back. The role is so intense and demanding that an alternate actor performs it two performances each week.
Sharp has been nominated for the Tony Award for Best Actor in a Leading Role in a Play for his work and prognosticators favor him to win the coveted theatrical prize when the envelopes are opened on Sunday night. We recently met the affable, down-to-earth actor to talk acting, fashion and style at a party given in his honor at the new West Village boutique of designer Billy Reid, who has been outfitting Sharp this awards season and who will again provide his tux on Tony night.
The role of Christopher is so taxing. How do you find the stamina to do that performance after performance?
It's crazy. It's very physically and emotionally exhausting but you find ways. I've been doing it for like eight months and you find ways to conserve energy and take care of yourself. And it's about really living a life of discipline. I've given up drinking alcohol and I don't smoke anymore. I watch what I eat. It's about eating the right meal at the right time and sleeping a lot.
Do you workout?
I do. I exercise during the day and it kind of gets me in the right state of mind and the right physical state to do the show at night.
How would you describe your personal style?
Growing up I had a lot of hand-me-downs. I never bought designer clothes or anything like that. I often felt like I wasn't wearing clothes that were as cool as the other kids'. I would have a lot of my dad's old shirts and I would cut the sleeves off and I used to skate for a long time so I would kind of like have a bit of a skater style going on. It was always a bit mix and match, to be honest. And then I traveled for a long time. Before I went to Julliard I was in South America so I would try to wear very utilitarian stuff with very hardy materials.
What are your go-to brands for jeans and sneakers?
For jeans, probably just Levi's and for sneakers I have a pretty cool pair of Reebok Pumps. I'm throwing it back with them.
What do you wear day to day?
I've got an old pair of leather boots that I got in India. They're camel leather. And I wear an old pair of Levi's that are kind of ripped up with a white T-shirt or something like that.
And what's your workout gear?
I've got an old pair of sweatpants. I can't even remember where they are from. I've had them forever. They are kind of gray. They used to be black but I've washed them so much. And just like an old tank top–a super baggy tank top. I think those are probably from H&M but I can't remember.
Has starring on Broadway forced you to become more fashion-conscious or is it just sort a result of that?
It's just sort of a result. I don't think I would necessarily have to be more fashion-conscious but fashion is like an art form and I've had my awareness raised to it recently and I'm just really enjoying finding things that feel like they fit me as a person as well. I'm having a really fun experience with that.
What are some of your favorite stores in New York?
I love Rag & Bone. I quite like thrift stores as well. I'll go into Housing Works or something and find something kind of cool and unusual. Burberry is another store I love. I really, really love Burberry.
What is your favorite piece of clothing that you own?
Right now? This jacket. But I don't own it. Billy still owns it. I'm pretending that I own it for the time being.
What do you think your next clothing purchase will be?
Probably something from Billy Reid because I am standing here in the shop and looking at everything and continuously thinking: Oh, I need that, I want that…. I have my eye on one of those jackets. It's on the next rack over. The thing is, they don't make it in my size but I might be able to get it tailored to my size.
What grooming products do you use?
I've got a bar of soap which has no fake additives in it and that's what I use for my hair and my face. Just keep it simple.