In fashion, one day you're in and the next day you're out. What we're trying to say is – 2016, you're out.
Some trends from 2016 will continue into this year, but others were one hit wonders that 2016 can keep.
We saw oversized fits grow in popularity, distressed denim jeans and jackets, and the return of the classic turtleneck sweater. We were all pleased by 2016's best, but we were also repulsed by some of 2016's worst.
We can't wait to see what is in store this year for fashion, but before we do, lets look back on some trends that 2016 would like to forget.
Adidas Yeezy SPLY – 350
Whether you like him or dis him as a rapper, Kanye West has proven himself as a creative with his Adidas Yeezy fashion line. These sneakers, however, missed the mark. The Yeezy Boost 350 V2 was released in September of 2016 and sold quite well, but how? We're not going to sugar coat it – These are an eye sore.
Biker Jeans
Biker jeans were a big hit midway through 2016. They quickly faded, however, once everyone caught wind of the trend. It's just like when your favorite underground band goes viral and now everyone is listening to them. They just aren't as cool as they used to be. That's kind of what led to the demise of the biker jean craze. Real-life bikers called. They would like their jeans back.
Obscene Prints

We all love our graphic tees. After all, prints are in – Like this one. But, some designers have gone a little overboard with the trend. For example, Scott Disick (pictured above) is wearing a Middle Finger Kimoji Sweatshirt designed by none other than Kim Kardashian herself. Lord Disick shows flashes of being a style icon, but he's taking two steps back for this cringe-worthy print. You can do better, Lord.
Overpriced Gildan Tour Merchandise
Kanye's "Life of Pablo" tour may have come to a shocking end last year, but not before it made a big impression in the fashion industry. People flocked to his concerts not only to experience one of Pablo's thrilling shows, but to get their hands on one of his tour t-shirts. The very same t-shirts that are made by Gildan. These basic tees normally sell for $4, but slap a tour logo on the chest and back and you have yourself a $50 Gildan t-shirt. Some even sell for over $100 on eBay because of the high demand. These tees are cool, but are they $100 cool? Maybe in 2016, but not in 2017.
Souvenir Jackets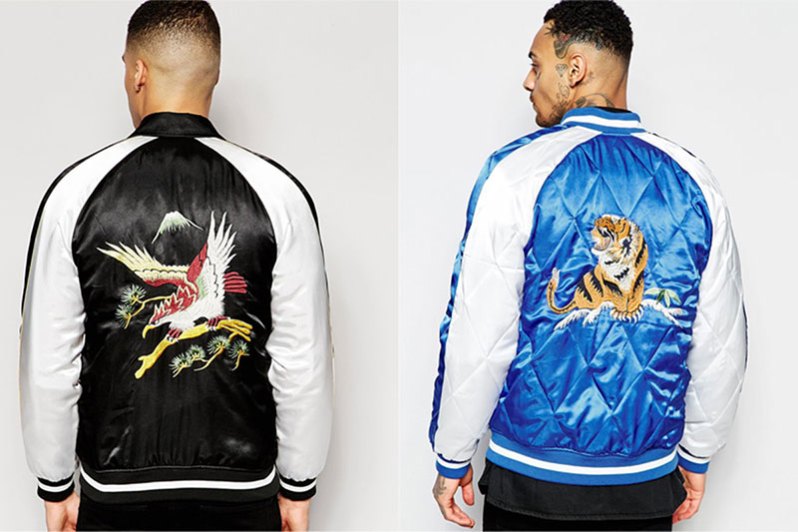 These satin, Japanese-inspired jackets made a lasting mark in fashion in 2016 – not a good one, at that. The satin look and material cheapened the jacket's appearance and the prints looked like they were straight out of a Pokémon cartoon. There was no middle ground with the souvenir jacket. You either loved it or you hated it. It was popular on the runway, but that wasn't enough to make it one of 2016's best.
Bandanas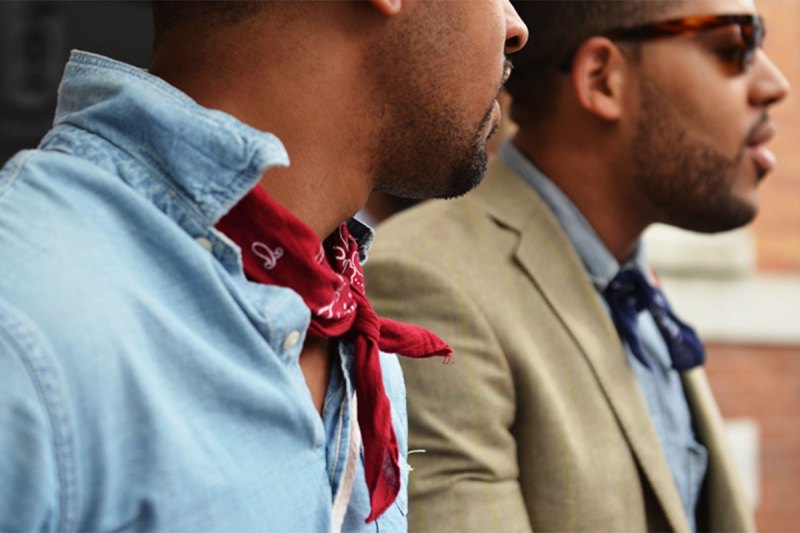 Bandanas made a brief run, and thank God it was brief. It was a bold and creative look for 2016, but it was an accessory that failed to make sense to most men. Why wear a bandana when you could just not wear anything around your neck at all? If you think about it, they kind of make you look like one of the Italian gondola rowers.
Wide-Leg Pants
There's nothing better than a well-tailored suit, but don't tell that to those in the fashion industry. They wanted to make 2016 the year of the wide-legged pant, otherwise known as the super duper relaxed fit. Thankfully, they failed. The only pro to these pants we can think of? They are perfect for skydiving! Who needs a parachute when you're wearing parachute pants? Lets just forget these ever happened.
The Term: Dad Hat
The actual hats are cool. We still love the classic snapbacks and flat brims, but the curved-bill, dad hat made a lasting impression in 2016. The problem – Why are they called dad hats? Who deemed them as dad hats? Since when were dads cool? So many questions and very little answers on the term "dad hat". Urban Dictionary defines it as a hat that your dad wears at a barbeque even though he doesn't know how to barbeque. Thanks for clearing that up, Urban Dictionary.
Featured Image Courtesy of Upscale Hype
Editors' Recommendations