Normal people run ultra marathons, a distance defined as anything over a marathon (26.2 miles). The degree of ultrarunning madness, however, can span 100-mile races through the desert where your shoes literally melt off your feet to multi-day trail races through Europe, and 24-hour obstacle courses. There are dozens of fun, bizarre ultra-races to satisfy any looney brave enough to try them.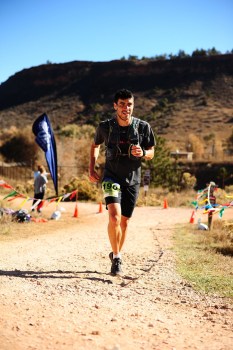 Increasingly, that's people like you and me. The rise of ultrarunning has proven more people are game to test the limits of the human body and mind.
Our question: How do you run an ultra marathon without killing yourself?
For answers, we asked Kris Mendoza, an ultra runner and Merrell Ambassador (whos a dentist anesthesiologist by day).
Mendoza says the biggest dangers are:
Dehydration, which can lead to serious problems like heat stroke.
Improper hydration (hypo/hypernatremia) which is an electrolyte imbalance that is basically caused by too much or too little salt/electrolytes consumed during the race.
Rhabdomyolysis due to excessive muscle breakdown which leaks into the bloodstream, which can lead to other serious problems like kidney failure.
Taking NSAIDs like ibuprofen, which can decrease kidney function and exacerbate problems like rhabdomyolysis or possibly decrease your kidney's ability to filter and concentrate waste.
How to Run an Ultra, According to Kris Mendoza
Start Your Training
Give yourself at least six months to train for your first ultra. It is important to give yourself enough time to ramp up miles slowly. A lot of people try to rush into too many miles too fast and don't make it to the starting line healthy, or don't make it at all! No matter what, you will be tired at the end of a race.
Get Friendly with Your Hydration Pack
Mendoza's Accomplishments
Farthest Run: 100 miles
Number of Ultras Completed: 12, including five separate World's Toughest Mudders, a 24-hour obstacle course race over 100 miles with400 obstacles, Never Summer 100k, Black Canyon 100k, and more.
Get comfortable carrying gear and hydration packs while you run. It will feel weird at first. There are many quality brands out there, but I typically use Ultimate Direction hydration packs. I really like there Jurek FKT Vest or the new Halo Vest!
Learn to Eat and Drink While Running
Consistency is key. Running a little bit every day is better than doing two long runs a week. Slowly increase the number of miles per week to avoid injuries from overtraining. Practice running on tired legs by doing back-to-back long runs. This will help simulate what it is like to run later in a race. Learn to eat and drink while running. Most people do not like to eat and drink during a race, but during an ultramarathon, you need to train your stomach to consume calories while running.
Don't Eat Healthy During a Race
Practice your nutrition before race day. Race day is not the time to experiment with new foods or fueling. I prefer gels like GU Energy and liquid calories in the early part of the race. As the race goes on, I start to eat more solid foods like baked goods and candy bars. It's important to have something to look forward to eating later on in the race for a mental boost. Remember the race is not the time to eat "healthy." Try to consume easy-to-digest calories.
Get in a Happy Headspace
Focus on the process of training and try to enjoy every opportunity to train. If you do not enjoy the training, then why run at all? The race itself should be viewed as a celebration of all of the hard work. Pro tip: Read the book Happy Runner by Megan and David Roche for some good insight into running mentality!
Know When to Stop
Ask yourself if continuing on will cause permanent damage. Sometimes it is hard to tell during the middle of the race since every racer has low points where everything hurts. If you have an acute injury (like a broken bone), then it may be best to stop. It is important to know why you are running the race. This will help pull you out of the low points during the race
Feel High Crossing the Finishing Line
Mendoza's Ultra-Running Essentials:
Water/hydration
Extra calories
Windbreaker or emergency space blanket
Anti-chaff cream
Headlamp, depending on duration of race and time of day
Nice to have: Food beyond what you will get at aid stations, phone in case you get lost, and toilet paper or emergency wipes, which can be a lifesaver
The first emotion is often a huge sense of accomplishment. We often don't think we can finish an ultramarathon until we cross the finish line. Breaking free from our preconceived notions is an awesome feeling. The next thought is, typically, "I'm never doing that again!" But once the soreness subsides, it is easy to find your way back for another race.
Within 24 hours of finishing an ultra, you need to:
Eat a lot of food with a good mix of protein, carbs, and fat.
Do not just sit down. Try to move around, stretch, and gently roll out. Staying still for long periods of time will lead to a lot of stiffness and soreness.
Celebrate. Enjoy your accomplishment.
Best Ultras for Beginners
Start with a 50km race without too much elevation gain and loss. Sometimes, people who are used to running on the road see a 50km race and don't think it is much different than a marathon, however, elevation gain will make a huge difference in race difficulty. Choose a race in a location that inspires you. It is so much easier to finish a race when you are in a beautiful place to look around in when the race is beating you up!
Editors' Recommendations