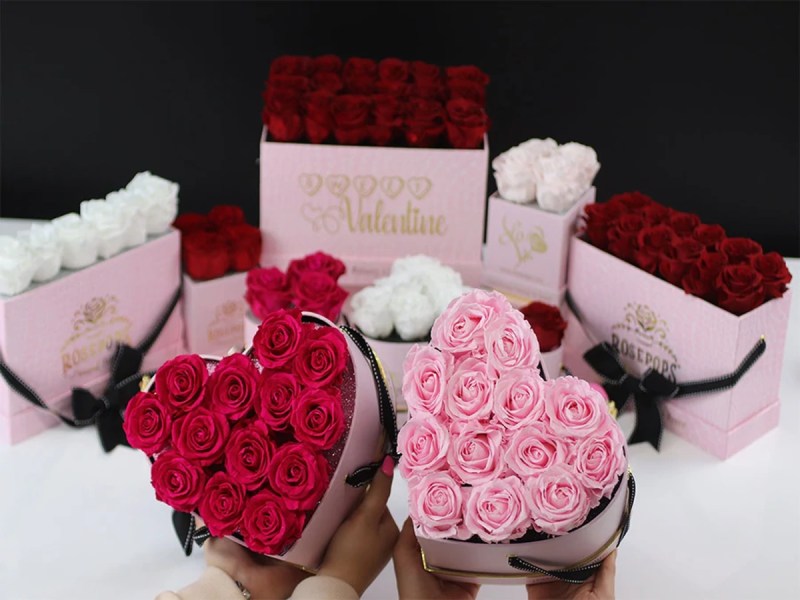 Valentine's Day is almost upon us. You still have time to order your loved one a special gift that will remind them all year long of how much you care. Roses are a favored and traditional Valentine's Day gift, but roses typically last a week or two at most. The past two years have been trying on all of us, so how about making this Valentine's Day extra special? If you order preserved roses from the specially curated Rosepops collections, you will send a strong and clear message of the timeless nature of your affection. The extra care you show this year on the day of love will be remembered forever and could even start a powerful tradition. Rosepops is a wonderful gift to order your Valentine.
Step up to make this Valentine's Day special with a Rosepops bouquet. The roses literally pop up out of the gift box or container when your loved one pulls on the included ribbon. Many people send a traditional flower bouquet on Valentine's Day, and you can still do that. But wouldn't you rather have this be a standout year when you went the extra distance to delight your loved one with a preserved rose delivery service that gifts eternity roses? Free standard shipping is included with all Rosepop all orders, plus you can get 15% off all orders sitewide when you use the promo code: VDAY15. Order now to have your custom order delivered in time for February 14.
Bonus: When you spend more than $200 on Rosepops this year, your Valentine will also receive a $50 Sephora gift card.
Related Guides
How Does Rosepops Work?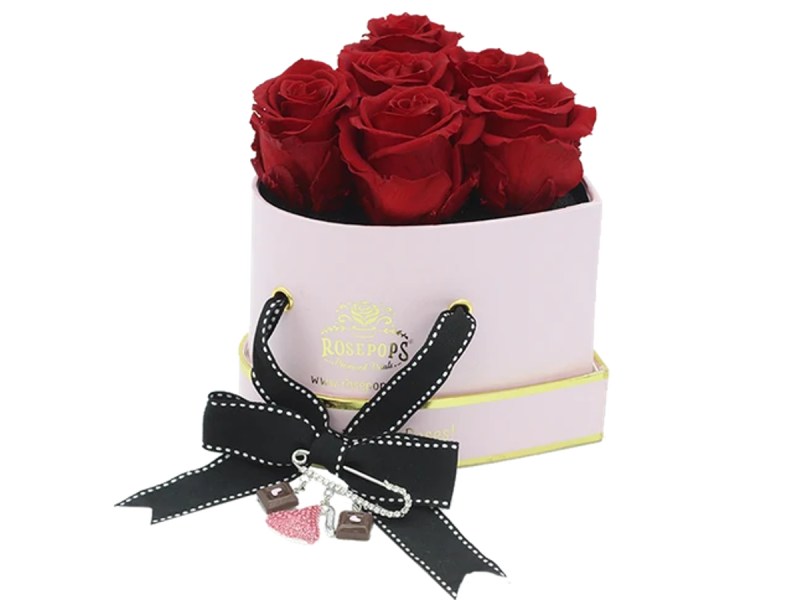 Rosepops creates luxurious floral arrangements starting with roses from premier Ecuadorian rose farms. Rosepops uses natural preservation techniques, including adding a natural wax to the base of each rose. No watering or maintenance is required for the roses to last for up to a year.
Rosepops sends rose arrangements in sturdy custom decorative boxes. You can also add a personalized message for your loved one that is included with the roses. Your message and the forever roses stay together as a lasting reminder of how much you honor your relationship.
Feeling creative? You can create your own arrangement of Rosepops roses. Start by selecting a bouquet size, from a single flower up to 18 flowers. You can select colors, monograms, photos, charms, custom fragrances, and more.
Most Rosepops customers choose from a perfectly curated selection of pre-designed rose collections. For example, The Kisses with Sugar on Pop in the image above costs $150. This collection includes a pink heart box, six red roses, plus a custom kiss and chocolate charms attached to the ribbon. You can also pay for The Kisses with Sugar on Pop in four interest-free payments of $37.50. Apply the VDAY15 discount code for 15% off, which drops the delivered price to just $128. If you have recently purchased ordinary bouquets that last only a week or two, figure those costs over time against the savings if you invest in real roses that can last all year and into 2023.
Order soon so your Rosepops order arrives in time for Valentine's Day. If you need it, Rosepops also has optional expedited shipping. Remember the VDAY15 15% discount and don't forget the $50 Sephora gift card your Valentine receives when your Rosepops order is over $200.
Editors' Recommendations