Putting together an organzied, well-appointed, and well-styled bachelor pad or apartment is a pretty difficult task. Don't let the guy in your life get himself down when he buys a terrible rug or can't stop collecting old football jerseys.  Instead, give him one of the home and living gifts for guys we rounded up below. Depending on your husband/brother/father/friend's own home style, this could either be a finishing touch on an already put-together pad or a subtle nudge toward better taste. Either way, there's something for everyone on this list.
Parachute Home Merino Wool Travel Kit – $169
If there's a frequent flyer on your gift list, they're bound to appreciate any gift that makes traveling easier or more comfortable. Enter this travel kit from Parachute Home, which includes a restful eye mask, cozy blanket, and convenient carrying case all made from 100% warm, breathable, borderline-sinfully-soft Merino Wool. The eye mask and blanket tuck neatly back into their matching case, resulting in a handsome respite from all the hubbub of a crowded airplane cabin or packed vehicle.
Parachute Home Graphic Throw – $269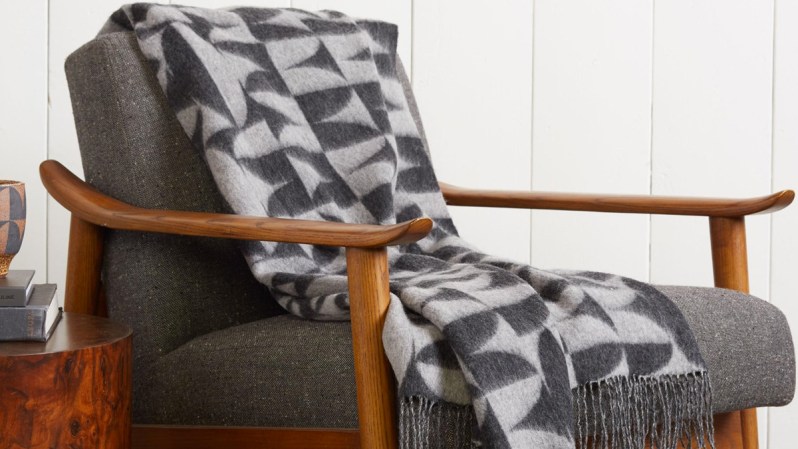 When it comes to cold weather, every lived-in couch and cozy corner chair needs an eye-catching throw slung over it. Give the gift of pure, luxurious comfort with an artsy flair with this wool and cashmere collaboration from Parachute Home and LA-based artists, Kat & Roger. The silky soft throw is made with a double-faced jacquard weave so Kat & Roger's signature geometric design shows through on both sides, making it just as much a statement piece as it is a toasty reprieve from winter weather.
Grovemade Wireless Charging Pad – $79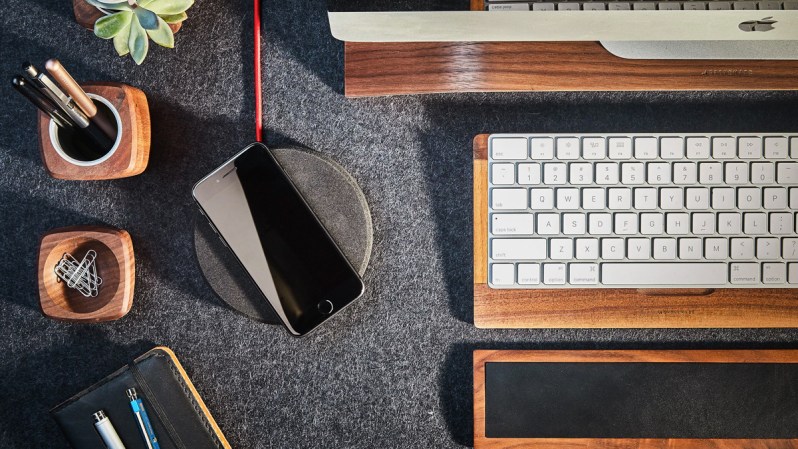 Say what you will about humanity's increasing attachment to our devices, but the knowledge that nearly everyone on your list is probably toting around a smartphone sure does make for some sweet holiday gift options, including this elegant, minimalist charging pad from Grovemade. Made with solid stainless steel and natural cork, each charging pad is carefully hand-crafted in Portland, Oregon and designed to offer a seamless blend of form and function, with a 5 watt power rating and impeccable hand-sanded detailing.
Shinola Runwell Turntable – $2500
From metalheads to parrotheads, most people can appreciate jamming out to a solid groove. If you've got a beloved audiophile to buy for, go big with this gorgeous modern turntable from Shinola. Available in both a classic black-and-silver skin and a rose gold version that is just covered in subtle retro charm, the turntable has a built-in phono preamp and can play both 33 and 45 RPM records. Stash this baby under the tree with a pair of Shinola's attentively engineered Bookshelf Speakers, and the vinyl lover on your list will be singing your praises come Christmas morning.
Mini Express 2 Cup Stovetop Espresso Maker Set – $45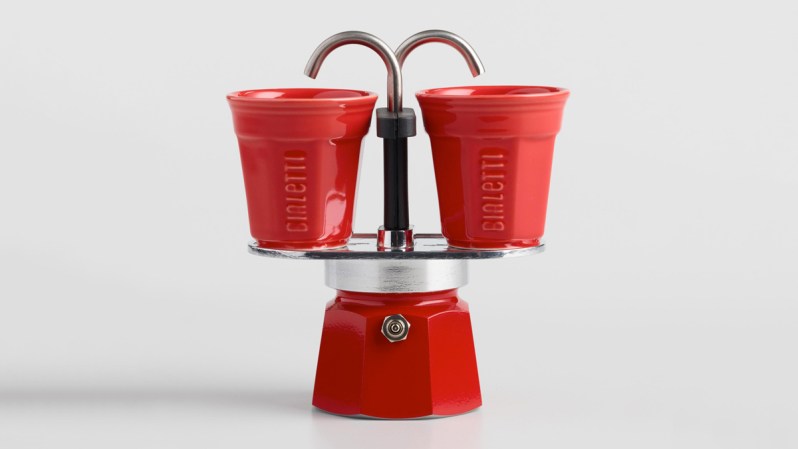 Java junkies and apartment dwellers alike can appreciate the absolutely adorable convenience of this Bialetti stovetop espresso maker, which is specially designed to brew two precious little cups of the energizing caffeine concoction. The set is made of metal and ceramic, with a fire engine red finish to start off any morning with a bright pop of color. An itsy bitsy footprint and two included matching cups make this the perfect gift for anyone on your list who appreciates the warm rush of fresh Italian-style espresso.
Graf Lantz Felt Home Accessories – $18-24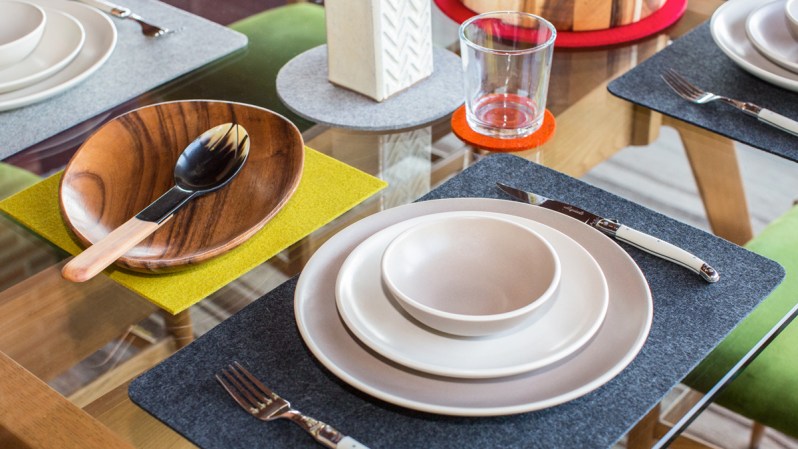 Have you taken a moment yet during this year's holiday shopping spree to stop and appreciate felt? Seriously, wool felt is something of a wonder fabric. It is naturally durable, flame retardant, moisture-wicking and renewable, among other impressive characteristics, which makes it somewhat of an unexpected hero of home decor. Graf Lantz decided to take the magic that is felt and run with it by creating a line of eye-catching merino wool felt home accessories, including coasters, trivets, and "Wine-Os" – their cleverly christened wine glass markers. Soft and pleasing to the touch and bold and energizing to the eye, all of Graf Lantz's merino wool felt products combine all of felt's best qualities with satisfyingly sleek designs and bright, bold color choices that turn each little fiber into its own work of art.
WoodWe Macbook and Device Covers – $29-107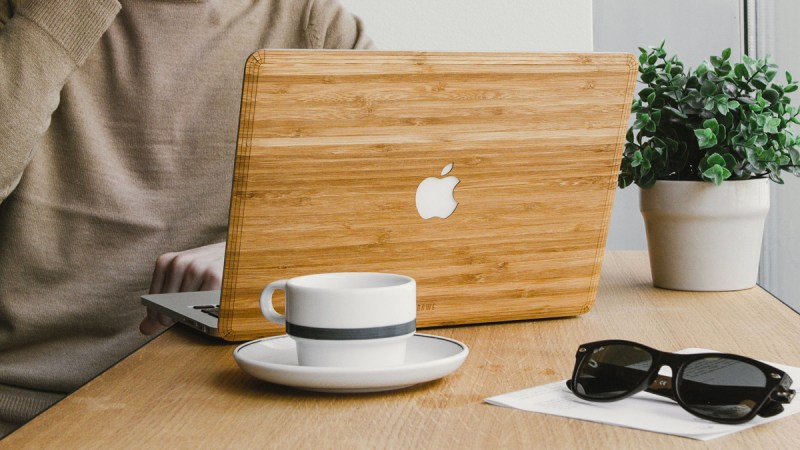 No matter the length or breadth of your holiday shopping list this year, nearly every person on it probably relies on a computer or other device in their day-to-day life. With such a flood of devices on the market, there also comes an endless stream of options to protect them, from simple skins and screen protectors all the way up to Fort-Knox-security-level reinforced cases that will seriously pay off should you ever need to drop your phone out of an aircraft onto solid adamantium. For the folks on your list that are more scholar than superhero though, you may be looking for something with a bit of a subtler flair. WoodWe takes their design cues from good old Mother Nature, and creates covers for Macbooks and other Apple devices from real wood, stone, and rust. The cases, which are available in a huge range of colors and finishes, are ultra thin and fastidiously hand-finished so they fit snugly over laptops, phones, and tablets without damaging the device's surface.
Love Adorned Rosewood and Stainless Steel Barbecue Set – $350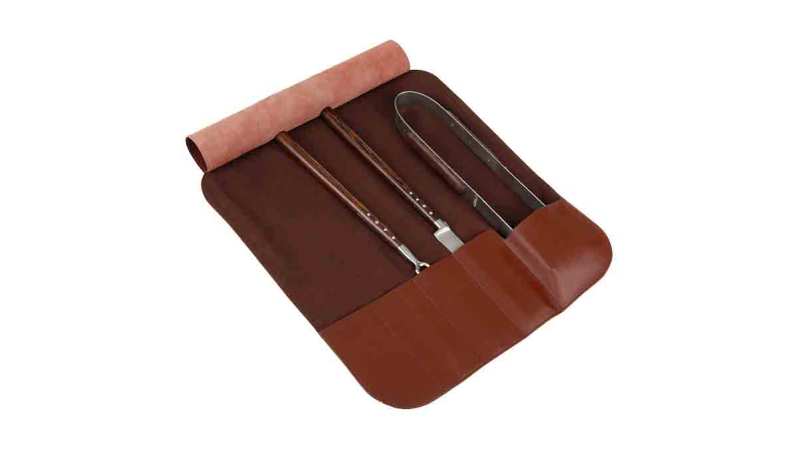 Anyone with a grillmaster in the family knows that the art of barbecue is not to be taken lightly. If you're looking to light up your favorite backyard barbecue connoisseur's Christmas, then the Black Friday discount tool set at your local big box store is not going to cut it. Instead, go all in on this beautiful handcrafted trio from Love Adorned. The included knife, fork, and tongs are all made from stainless steel and gorgeously finished rosewood, and each one is meticulously handmade in France, with all the tender care and expertise that can only come from experienced master craftsmen. The entire set rolls neatly into the included leather case for extra protection and easy travel (and it makes for pretty easy gift presentation, too).
Paddywax Library Candles – $8-28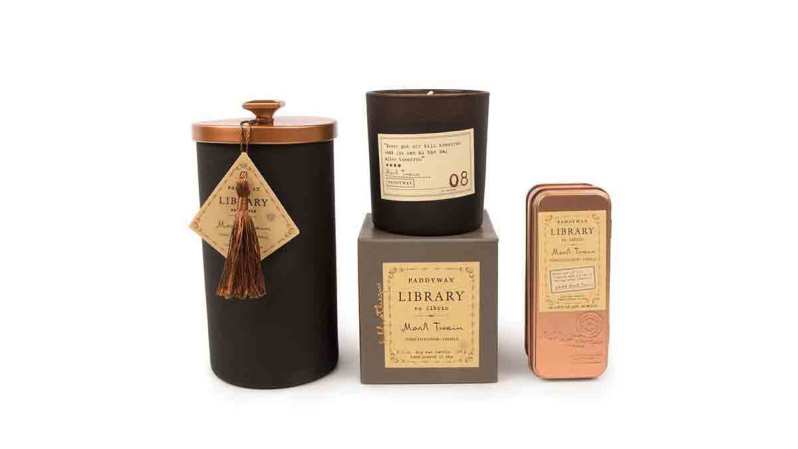 The candle has become so synonymous with gift-giving that, even in all of its pure aromatic splendor, it often runs the risk of being received as a cliche or an afterthought that you dug out of the back of your car when you realized the office holiday party was going to have a gift exchange this year. Thus, it can be a little tough to find one that has enough quality and originality to eschew the fear of gifting it. Fortunately, Paddywax makes a habit of inventive candle collections, and their Library line makes a delightful surprise for all the bibliophiles you're shopping for this year. The line takes its inspiration from literary powerhouses like William Shakespeare, Jane Austen, and Oscar Wilde, combining memorable quotes with delectably layered scents that include notes like citrus zest, cedar, rose water, and cinnamon. Each author gets their own special fragrance blend, and the Charles Dickens set even includes excerpts from his holiday classic A Christmas Carol.
Nebia Shower System –
See it
You probably weren't expecting to be looking towards the bathroom on your quest for gift ideas this year, but there's actually something going on in the shower game that just may qualify as giving the gift of pure relaxation. What could be better for that overworked friend on your list than the gift of a hot, refreshing, enveloping spa-level shower in the cozy comfort of their own home? That's where Nebia comes in – an innovative new shower system that atomizes water, creating a glorious stream of tiny droplets to replace that familiar jet of spine-pummeling lukewarm water that too-often comes spraying out of a regular shower head. By atomizing the water, Nebia not only creates a refreshing shower experience that feels like a beautiful warm sea-blanket caressing the bather back into the effortless comfort of the womb, but it actually uses nearly 70% less water than the average standard shower head. So, you can feel just as good about giving it as the recipient will about using it.
See it
Brooklinen Twill Hardcore Sheet Bundle – $297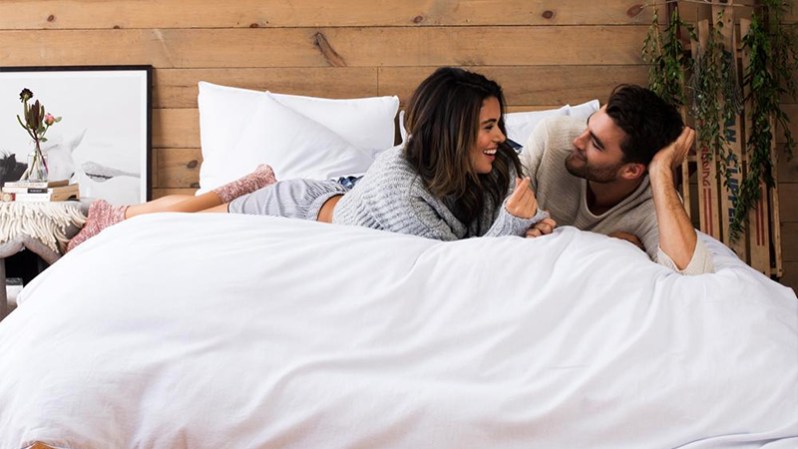 Brooklinen has been crushing the bedding game for a while now, so you probably don't need us to tell you that they're a pretty safe gift bet when it comes to sheets and blankets. What we will do, though, is point out that their Twill Hardcore Sheets are a stellar choice if you're looking to gift a little Christmas comfort. The Twill collection, made from combed, long-staple cotton, is Brooklinen's softest sheet set ever (a milestone that seems almost impossible given the quality of their other collections) and is available in a small range of neutral colors that mix and match flawlessly. If warm and fuzzy is what you're after, this is the gift.
What if you could give the purest gift of them all – the assurance that the recipient would never again have to experience that unique flavor of full-body fury and panic that ensues when they cannot find their phone or car keys despite having not left home in days? With Tile, you can do just that. Clip the clever little "tiles" to prized possessions (or pair them with smartphones) and they will play music or cause devices to ring until they are found. The companion app even has the option of tracking the lost item's last known location, and a global community where users can help each other track down their missing items (like the little girl's panda you may have seen in Tile's recent brilliant but completely emotionally devastating ad campaign).
Nintendo Super NES Classic Edition – $80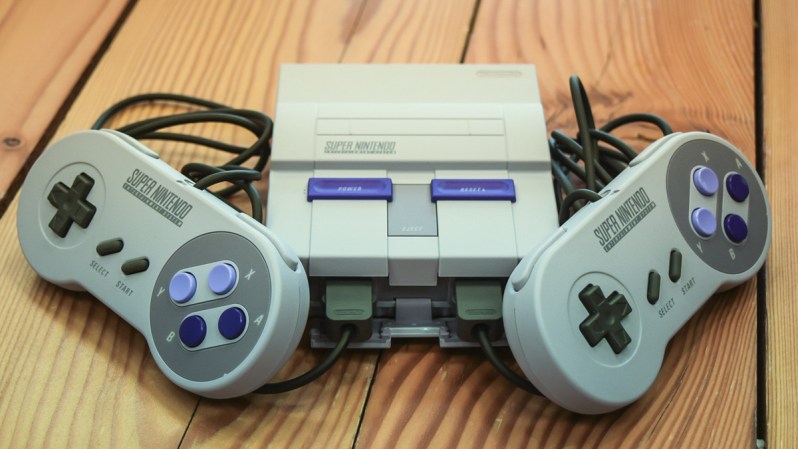 If the inclusion of previously-unreleased StarFox 2 isn't enough for you to have already bought the Super NES Classic for every remotely cool person on your list, we honestly may not be able to help you, but we're still going to give it our best effort, just the way Fox McCloud would want us to. This little nostalgia bomb looks exactly like the original, but is itsy-bitsy and comes pre-loaded with 21 SNES games (including the aforementioned StarFox sequel, but not Zombies Ate My Neighbors unfortunately). Even the packaging is bursting with 90s nostalgia, from its throwback color scheme to an old-school operations manual that includes a Nintendo-Power style poster on the back. Seriously, is there anyone on your list who wouldn't like this?
Nest Learning Thermostat – $249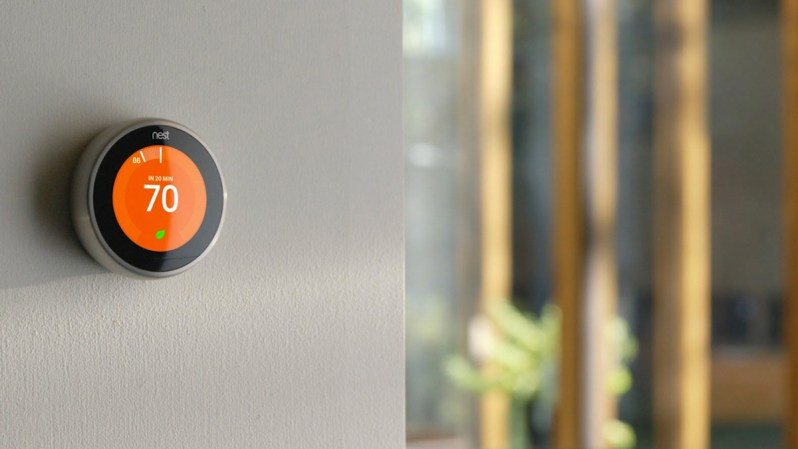 Shifting seasons and unpredictable weather have long meant constant fiddling with the thermostat, trying to strike that elusive balance of comfortable temperatures and acceptable heating and cooling bills. The Nest Learning Thermostat offers the gifts of extra cash and utter convenience by learning the user's routine and adapting itself as activities and seasons change. It installs quickly and easily, and learns its new household's temperature routines over the first week of use, memorizing when the home's temperature shifts and how its family adjusts it during certain times of the day. After this brief learning period, Nest will even automatically set itself to an Eco Temperature setting when no one's home in order to save energy. The companion app allows the user to adjust the thermostat from their phone, compiles Energy History reports, and offers tips on the unique ways its owners can save money on their energy bills.
Editors' Recommendations