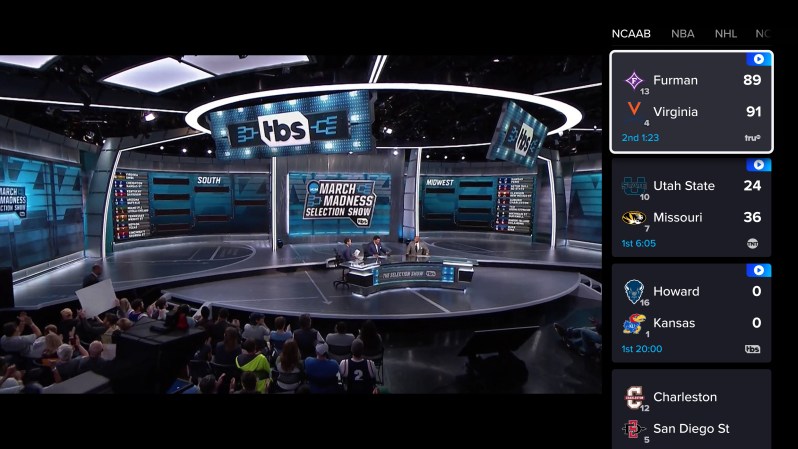 For many people, spring means a vacation from school or work. It could signal the flowers are ready to bloom and the barbecue is about to exit the garage and settle in on the back porch. And for basketball fans, spring is the best time of the year! March and April are two of the busiest months to watch college basketball as the NCAA Tournament kicks off. May and June mean the NBA Playoffs will begin to determine the champion of the league.
With so much sports action to keep track of, it can be difficult for fans to maintain focus on all of the games and teams they want to follow. Fortunately, SlingTV just announced new features that will make the March Madness experience all the more exciting and comprehensive for viewers.
SlingTV now has a feature called Sling Sports Scores for March Madness. This is a brand new way to see all of the scores of the games currently happening while you are watching TV. Whether you are enjoying your favorite action flick or a new documentary, or you're locked into watching a lifetime favorite team, you now have the ability to see the rest of the games' scores all around your screen using SlingTV. A dedicated home screen row lets viewers check the scores, the matchups, or jump into the best live games — but if you're recording a game, you don't have to worry. SlingTV will hide those scores because no one likes spoilers (just be sure you avoid your phone, the internet, and other people, too).
This is another way the company has evolved and tried to separate itself as of late. Last month they introduced SlingTV Freestream. This service allows access to over 210 different channels and several different streaming services such as Showtime, AMC+, and more. To use SlingTV and their new Sling Sports Scores feature, you should have access to Roku, Amazon, Xbox, or an Android TV device.
Even though SlingTV is highlighting these features for the height of the basketball season, there are other spring and summer sports that will allow for the same viewing experience. If you're more of an F1 racing expert or a baseball fan, you can get the same experience while you watch other events. (But, let's be honest: With all of the rule changes in baseball this season — including some comical ones — you're probably going to want to watch those games as they happen.)
We know that you can't always be home to watch your team, and SlingTV also has you covered with another new feature: their Sling widget. Apple iOS users can connect their devices to their DVR and record the games they want if they have access to a SlingTV account. This takes multitasking to an entirely new and convenient level. You can also just watch games on the go on your phone with the widget feature. Versatility is what makes SlingTV one of the fastest-growing television services on the market right now.
Editors' Recommendations