Super Bowl parties are so much better than they used to be. Of course, we've always had beer, assorted meat dishes, cushy recliners, and enough yelling to make a drill sergeant proud. But there is one factor that makes the Super Bowl in 2018 vastly superior to any past year, and it is arguably the most important part of any football-watching gathering: the television.
If there exists in your family (as there does in mine) multiple VHS cassettes containing endless footage of mundane family life, pull out an early one and take a look. I defy you to find a television set that, by today's standards, doesn't seem woefully inadequate. Those TVs were tiny. Their definition made the picture about as clear as the world viewed through your grandpa's bifocals. They occasionally required a human sacrifice to work, i.e., the youngest kid to stand beside them and hold the antenna. With those ancient sets, it's a wonder we thought TV was worth watching at all.
We've come a long way.
It's a given that, for watching the big game, you want a big TV. But size isn't the only technological consideration in 2018 —you can shop for a TV that is great-looking too. Our five best televisions for Super Bowl LII are not only large enough for everyone to see the action, they're also equipped with some of the most stylish and convenient features on the market.
Samsung 55" MU6290  – $699
With 2160p resolution and backlit LED, the 4K Smart LED TV has all the bells and whistles you could ask for. It also has Smart technology, making it simple to connect to all your favorite streaming platforms. Best of all, it comes at a price that requires no asking permission from the spouse. (Though you probably still should, just in case.)
Sharp 55" LC-55LBU591U – $430
This 4K Ultra HD TV will make you recall Aristotle's immortal words: "How long does it take to watch 4,000 ultra high-definition streaming channels?" Now you can find out the answer with this smart television from Sharp 4K. This model is compatible with everything except the dress your aunt wears to most family functions. (To be fair, nothing goes well with that dress.) It comes with built-in Roku, which means you have 500,000-plus movies at your fingertips. And when your always-late buddy shows up to the game in the second half and has to sit in the weird chair on the side, he'll still be able to see everything perfectly, thanks to the 178-degree viewing angle on this TV. The picture is all-time and the price is low. Two thumbs up.
LG 55" 55UJ6300 –
$536
This stylish Smart LED TV has the 4K capability you're looking for as well as all the features you need to take game night to the next level. Active HDR elevates your watching experience by optimizing content, from scene to scene or play by play. The True to Life color technology automatically corrects color distortions for vibrant, lifelike color. Life is good when your Super Bowl experience is great.
$536
Sony 65" XBR65X900E – $1,498
It has to be said: This Sony 4K Ultra HD TV really ties the room together, does it not? Though it might be out of place in the Dude's ganja-scented bachelor pad, it would make any real-life living room, family room, or man cave into a veritable palace. With extra features like TRILUMINOS Display and 4K X-Reality Pro, you know you're heading into a futuristic world of couch-based happiness. Admittedly, we don't understand all the technical terms attached to this extra-advanced TV, but we would gladly sacrifice our portion of seven-layer dip to watch a Super Bowl on one.
See It
Samsung 65" UN65MU8500FXZA  –
$1,400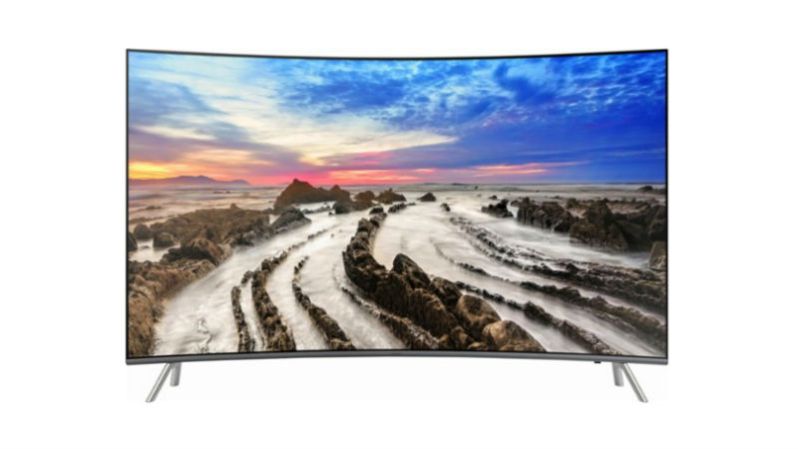 There's just something about the curve of this Samsung LED 4K Ultra HD TV that makes me flinch whenever an errant pass is thrown toward the near sideline. It's super clear, and the tiny screen border makes any game seem like you're watching from the first row. By the way, does your TV have auto depth enhancer? The Curved 4K does. You also get Ultra HD and a One Connect Mini box to link up everything you need. Call up the guys, tell them specifically what to bring (IPAs, the good pretzels, etc.), and get ready for the game with a TV that can guarantee your team will win … OK, we made that up.
$1,400
Once you've got your new TV squared away, check out some of our football food ideas and other Super Bowl party essentials.
Editors' Recommendations