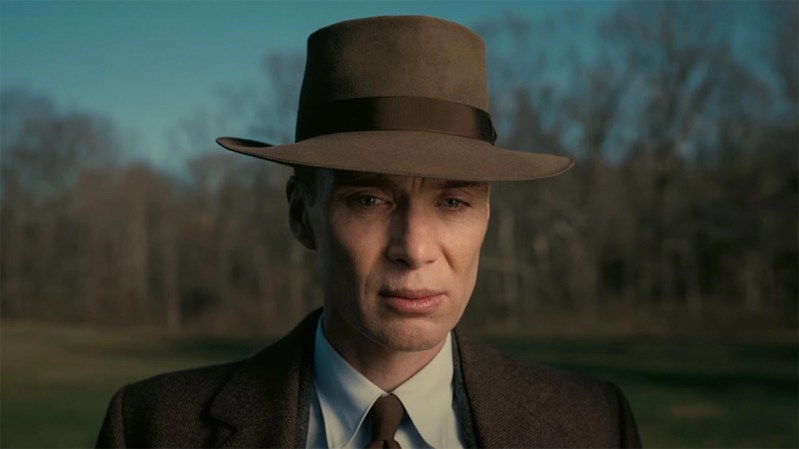 Summer is always the best time for movies, but that doesn't mean there hasn't been a ton of great pictures leading up to this halfway point of 2023. The year has been filled with ambitious standalone films, sequels to blockbusters from the past, and small-budget movies with actors you've definitely heard of before. From biopics about history makers to animated game-changers that people are still buzzing about, these are the 10 best new movies of 2023.
Spider-Man: Across the Spiderverse
Even with all of the famous movies from the Marvel Cinematic Universe to choose from, many fans of Spider-Man will choose this animated film as the best superhero story of the last several years. Spider-Man: Across the Spiderverse has created quite the fervor due to its loving tone and detailed comic book reincarnation onto the screen. Miles Morales is a nice change of pace from Peter Parker (though he also features prominently, too), and the voice actors are just as on-point as the first time around. There is more Spiderverse on the way too, with Spider-Man: Beyond the Spiderverse in 2024.
John Wick: Chapter 4
Even four movies into the John Wick franchise, the Keanu Reeves action series is more fun than it's ever been. Reeves seems to seamlessly combat whatever foes come his way without ever boring the audience or making it feel like we've seen the same old story before. The fourth movie is fresh and dynamic, and leaves the door open for more sequels, something Hollywood is always ready and willing to accommodate.
M3GAN
Movie releases are always a little slow in the winter, so M3GAN was a jolt of adrenaline that audiences responded to in great force. A horror and comedy film blend that shows the consequences of incorporating A.I. into the world of children's toys, this is a modern take on the genre that also uses the best parts of our fears about dolls that have already been touched upon with movies like Child's Play.
Air
Michael Jordan remains relevant decades after his retirement not just because of his greatness on the basketball court, but also due to the marketing folks who capitalized on him off of the court. Ben Affleck and Matt Damon are among the many stars who bring the story of MJ's shoe deal and ensuing relationship with Nike to life in Air. Fans of both basketball and historical dramas, in general, should be fascinated by this look at how one of America's biggest icons was successfully embedded into the country's collective zeitgeist.
Oppenheimer
Christopher Nolan is finally back and better than ever in his expansive and immaculate look at the folks who worked on the Manhattan Project, the group of scientists who built the atomic bombs that ended World War II, specifically J. Robert Oppenheimer. The film was hyped for its unbelievable use of practical effects and the dedication of the cast to Nolan's techniques and vision. Historical film buffs and those who just enjoy a well-crafted movie regardless of genre should take something great from this one.
Barbie
This Greta Gerwig production is more than just a celebration of an iconic toy. Barbie is filled with themes of feminism, the effects of capitalism, and more that help tell a story well beyond the nostalgia of a toy brand. Margot Robbie and Ryan Gosling deliver standout performances as Barbie and Ken, and the upbeat aesthetic should draw in viewers of all ages.
Creed III
Michael B. Jordan's boxing franchise started out as a spinoff of Rocky, but it's found its own legs without Sylvester Stallone's character, breathing new life into a universe that many viewers seemingly weren't interested in any longer. The third movie introduces Jonathan Majors as Damian Anderson, Adonis Creed's friend turned frenemy. Jordan does a great job balancing three hats as director, producer, and star actor.
Linoleum
Not one of the big box office draws on this list, Linoleum is still one of the best movies of the year because of its ambitious and heartfelt depiction of regret and overcoming an unfulfilled life. Jim Gaffigan stars as a man who settles for hosting a science TV show instead of becoming an astronaut. His life takes a turn for the more exciting when he has an opportunity to go to space for the first time. Fans of Better Call Saul will be pleased to see Rhea Seehorn in the main supporting role as Gaffigan's character's wife.
Guardians of the Galaxy: Vol. 3
All of the things that fans love about the Guardians of the Galaxy series flourish yet again in the third volume. Chris Pratt and the whole gang are raucous and rowdy as usual, delivering lines that shouldn't sound good, yet in their capable hands, end up becoming iconic. Music and visuals are yet again another strong suit for the film.
BlackBerry
If you grew of age during the late 2000s and early 2010s, you probably remember the prominence of the BlackBerry line of cell phones. Before the iPhone took over as the dominant smartphone device, this keyboard-featured phone was at the top of the world. The film does an excellent job of showing BlackBerry's sharp acceleration and downfall with keen portrayals of the company's founders and investors.
Editors' Recommendations