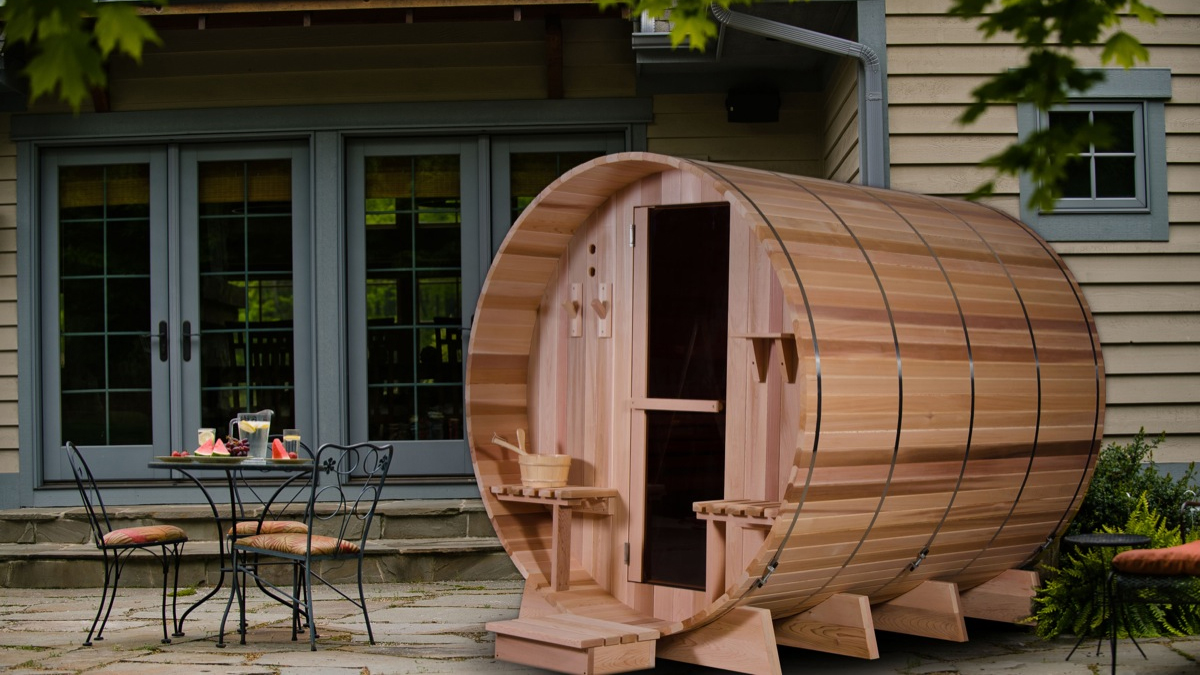 As the sun and horizon approach each other, the men return from the fields. Solemnly, they wash in the frigid stream — or virta — that flows through the village. Without a word, all clothes are removed and left neatly folded outside. The men shuffle into the heated room, a small abode with a large wooden stove placed centrally. They sit and allow the heat to ease their sore muscles and relax. 
This has been a tradition in Finland for the last 2,000 years – where the sauna was first invented and has since become an important piece of everyday life. With the Grandview Barrel Sauna — by Almost Heaven — the sauna experience can become a part of your tradition as well.
Although many of us are not working in the fields anymore, we still have our reasons for relaxation and tension release. Whether you strain your back or neck working in an office, or have a workout routine that leaves you sore, a sauna can benefit your well-being greatly. The two main benefits of regular sauna use are increased blood circulation and stress relief. Increased blood circulation allows your body to do it's job more efficiently, delivering oxygen and nutrients to muscles, joints, and organs. Stress relief has immeasurable health benefits as well, bringing calmness and confidence to the mind.
The Grandview Barrel Sauna is an ideal option for anyone looking to add a sauna to their home without bringing in a construction crew. When ordered, the sauna is shipped in pieces and can be assembled inside the home or outside in a backyard. With options for a standard barrel or a canopy barrel with an attractive outside sitting area in the front, this sauna is as pleasing to the eye as it is to the body. Choose from 4 different lumber options — nordic spruce, hemlock-fir, rustic western red cedar, clear western red cedar — and two heater types — electric or wood burning — to build the right sauna for your home. With simple instructions and a video guide, this do-it-yourself kit shouldn't take more than half a day to put together, leaving plenty of time to start a new tradition and break out a good sweat.
Editors' Recommendations