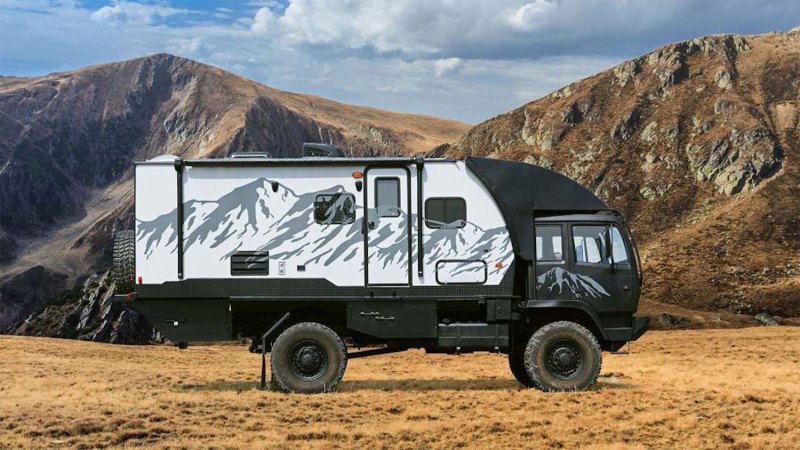 The Hunter RMV site starts with a perfect quote: "Mountains, rivers, and sand are meant to be traversed. What's stopping you?" And indeed, with one of the company's four-wheeled behemoths, little outside a torrent of pyroclastic material spewing from a volcano's fissure could likely stop them. These are vehicles built to not just laugh in the face of adversity, but do so with a modicum of civility unknown to their more militaristic underpinnings. Welcome to Hunter RMV's "Go Anywhere" vehicles.
The company is based in the Eastern Sierras near Lake Tahoe in a city called Minden and its mission is to build the best "four-season off-road recreational vehicles" it can. These vehicles aren't built atop anything from Ford, Dodge, Chevy, or even Mercedes-Benz. No, for Hunter RMV, only a vehicle designed for military use will do, all of which are modified to become the most serious expedition vehicles since the horse.
Though Hunter RMV has adapted a handful of unique chassis', the company has consolidated to a single, unimpeachable platform dubbed the Predator 6.6. Based on a Stewart & Stevenson M1078 LMTV, the Predator 6.6 is powered by a Caterpillar built 6.6-liter, six 6-cylinder, turbocharged diesel engine developing 225 horsepower and 735 pound-foot of torque. It has a top speed of 70 mph, but because of its massive, but optional, diesel fuel tank, it can travel 800-plus miles, and that's 800 miles over just about anything. Don't believe? Just look at those tires and all that ground clearance.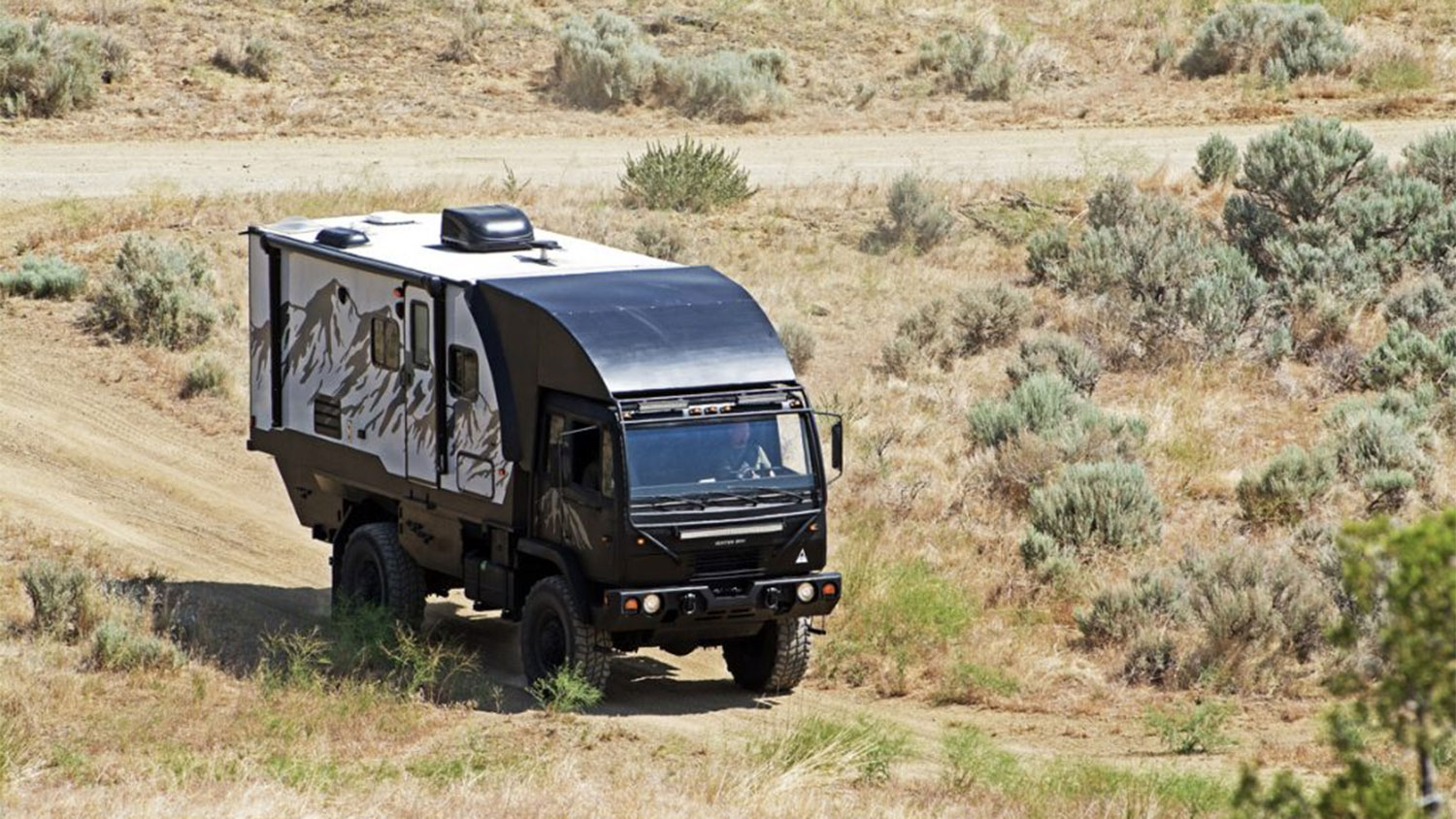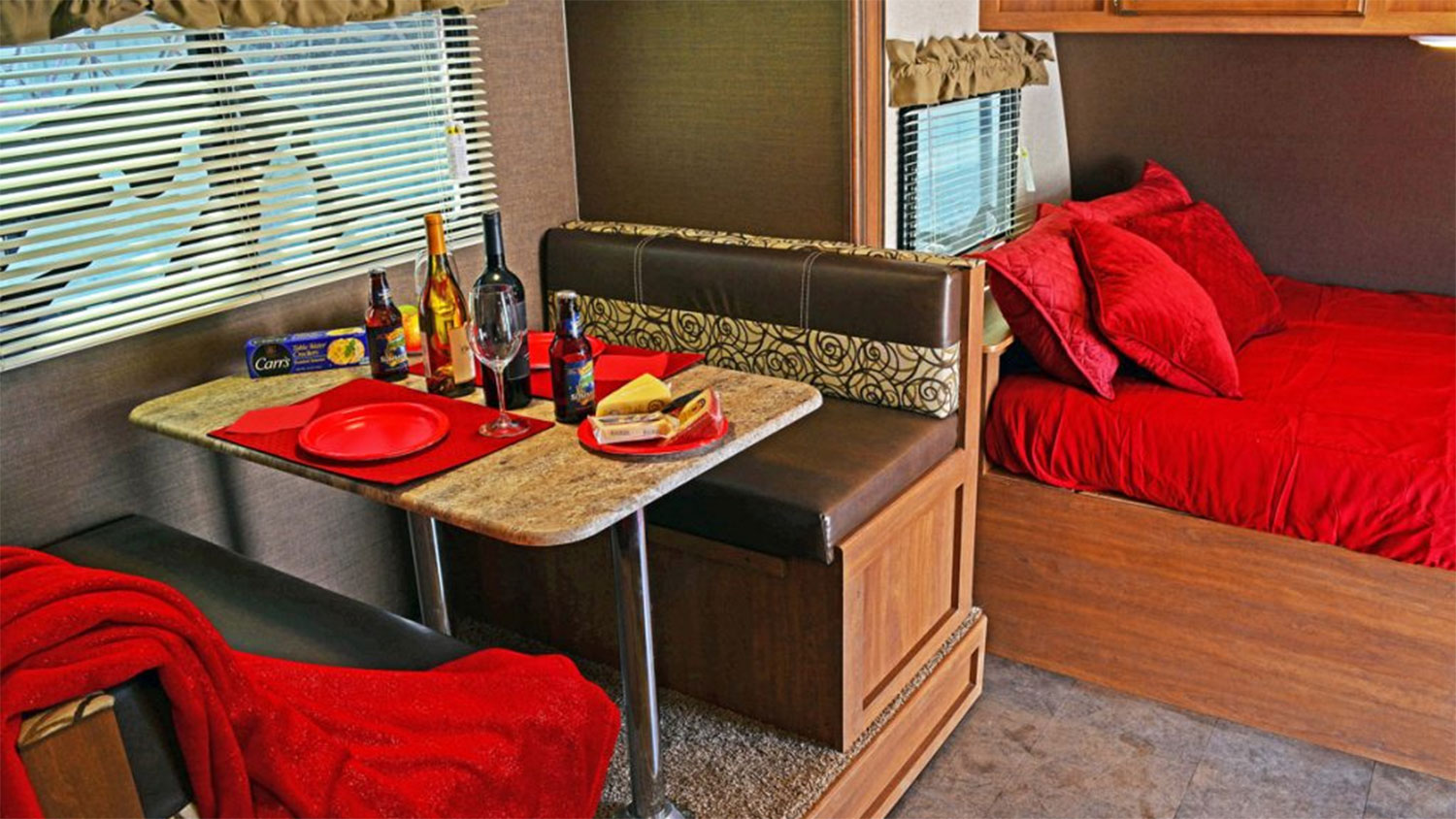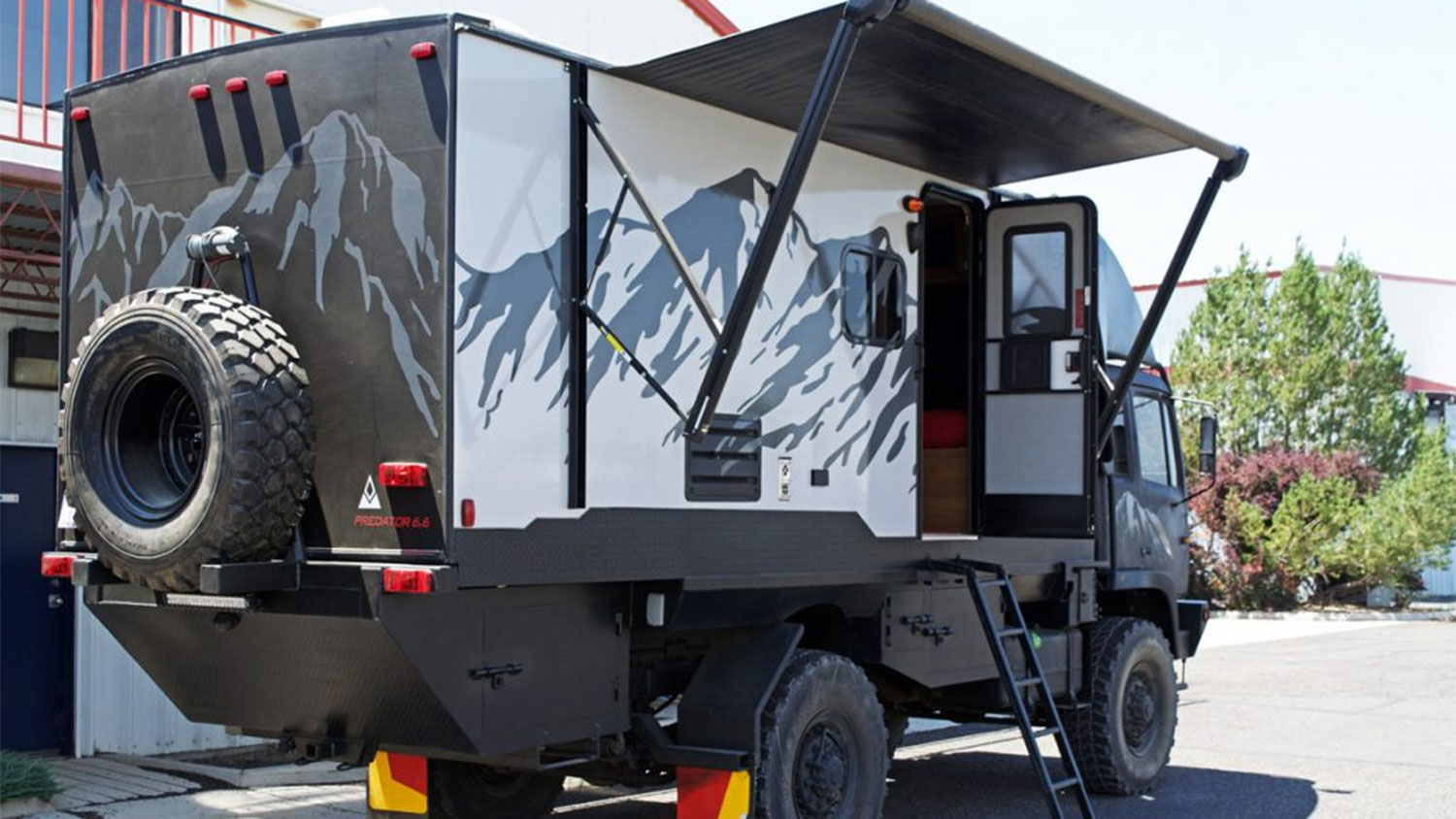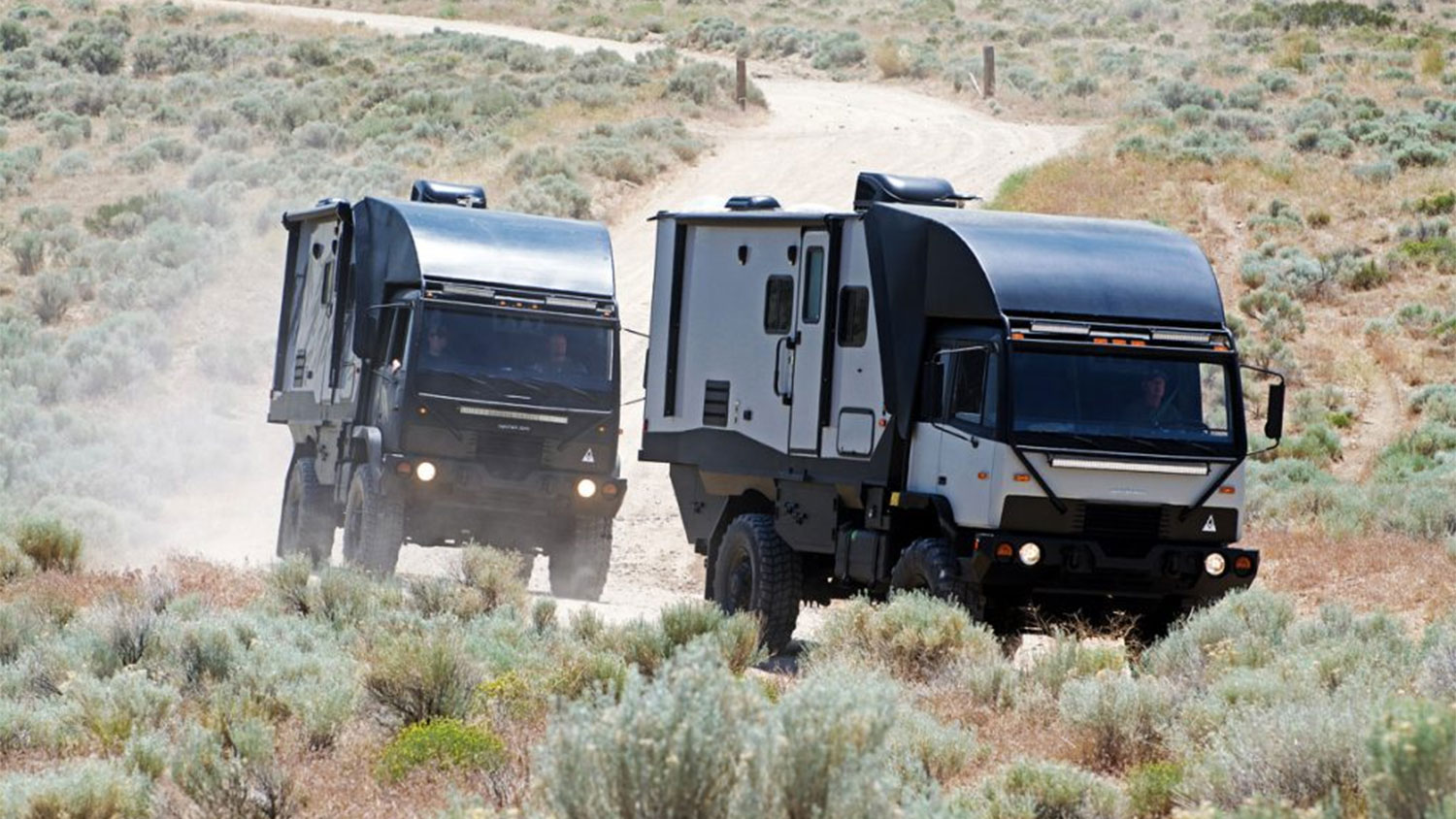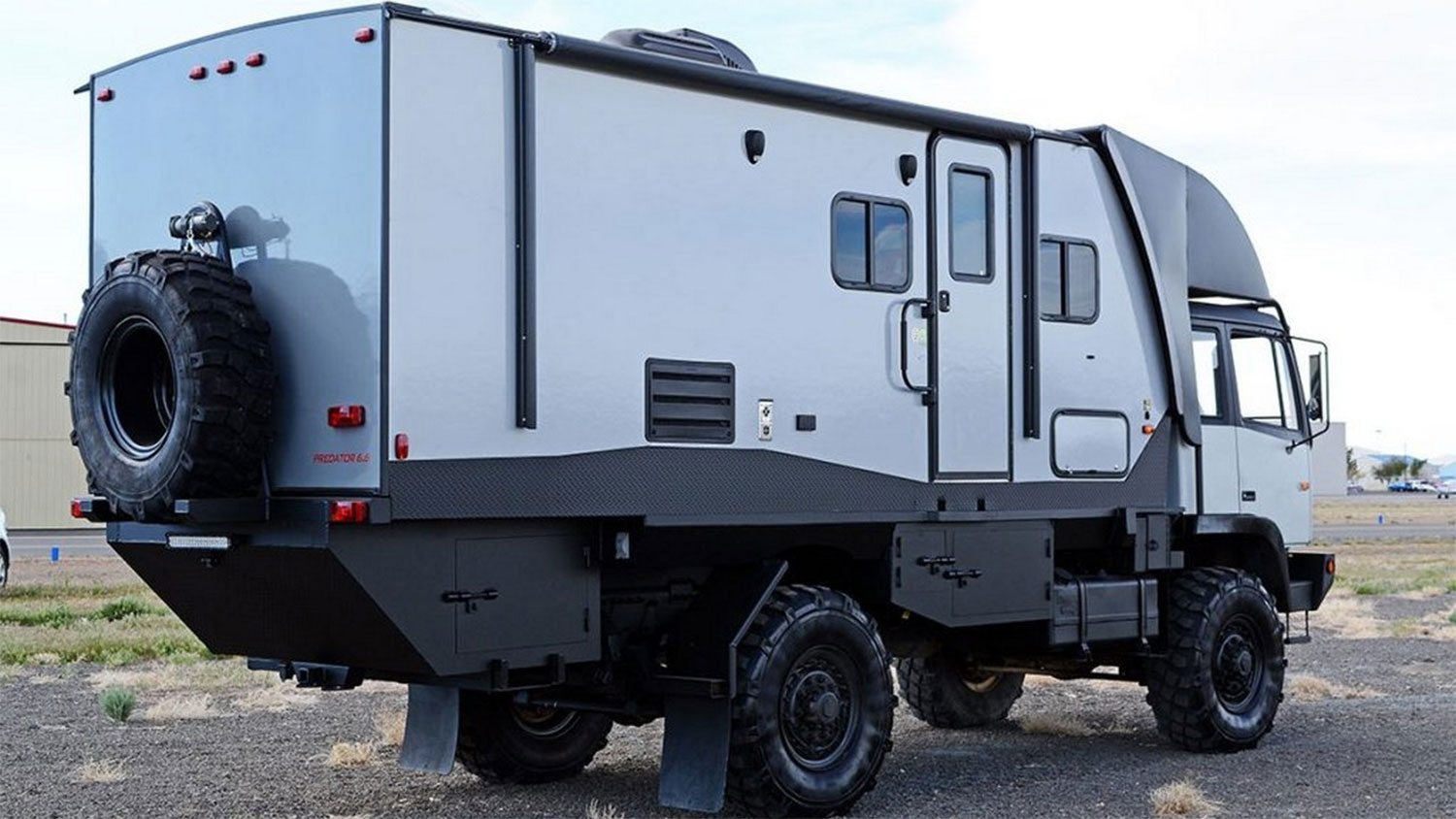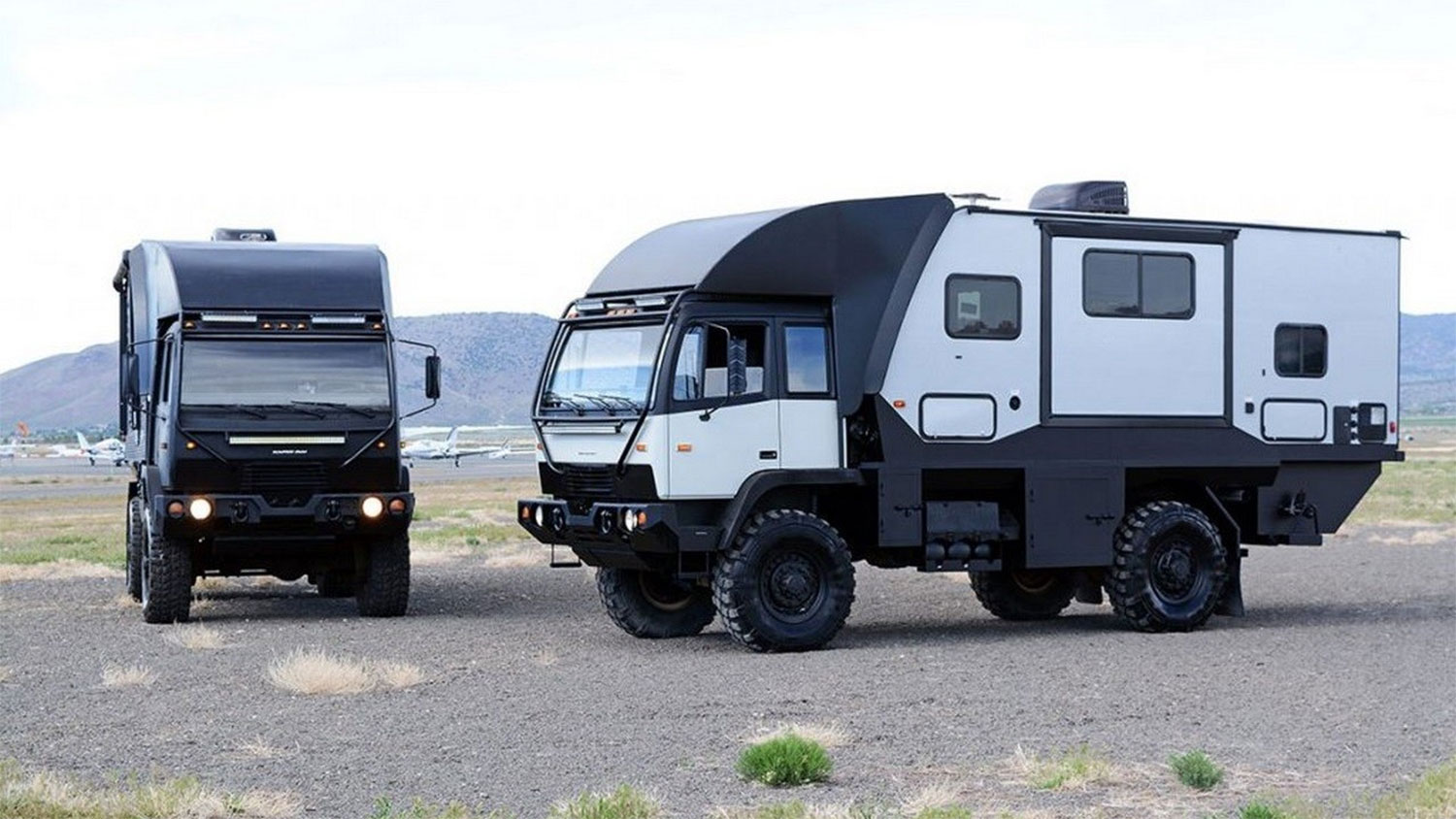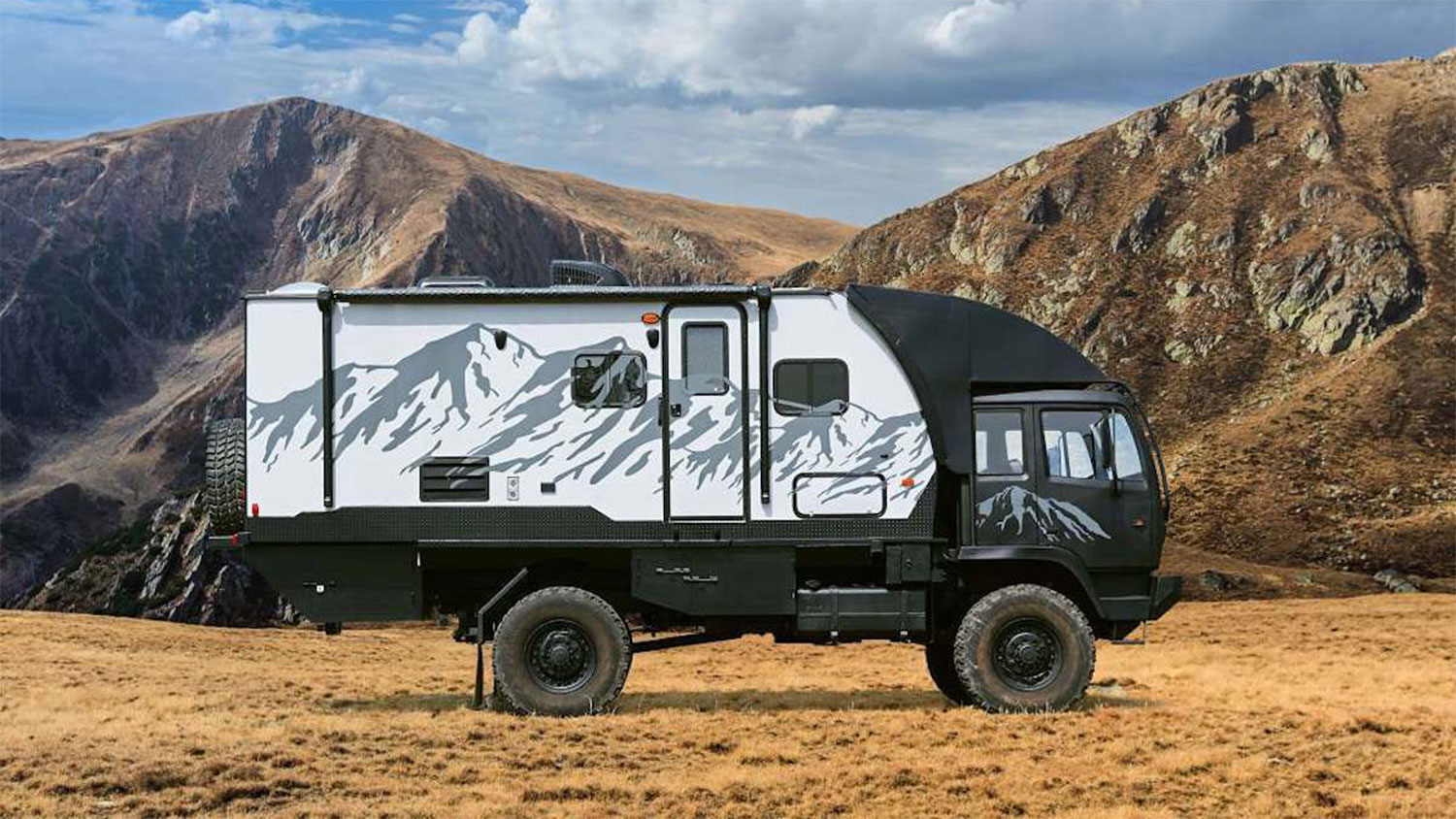 Furthermore, if things get a little sandy and traction is limited, the Predator 6.6 comes with a built-in Central-Tire-Inflation-System that can either deflate or inflate upon command. It can also tow over 10,000 lbs, because when the world goes to hell, you may need to tow a mobile artillery unit to stop the aliens from invading your secure base of operations. But being out in the middle of nowhere anywhere on Earth doesn't have to be tents, campfires, and getting bit by every known type of insect and snake, at least not with the Predator 6.6.
In addition to the cab's air springs cushioning the Predator's 6.6 occupants, air conditioning, roof and rear cameras, and seating for four, the overlanding badass has a queen bed, two bunk beds, an expandable dinette, media center, kitchen, and a full bathroom with toilet, tub, and shower. Hunter RMV also outfits the Predator 6.6 with outdoor speakers, LED lights, hookups for TV and cable, a water heater, solar hookups, a power awning, and its own generator. Additionally, the company also offers a water purification system, roof ladder and additional storage, more soundproofing, leather seating, washer and dryer, a Warn winch, and enhanced audiovisual equipment.
As far as cost goes, the Predator 6.6 isn't cheap. Builds start at $200,000 and only go up from there depending on spec and level of customization. According to the company, a "typical build requires three to six months" to complete. However, it can't be understated that in the case of a true apocalypse, such as zombies, aliens, 57-foot rabbits, or whatever, you're going to want a vehicle that can get you and your family out of every ounce of danger. Especially those rabbits. So, the price isn't too terrible when you think about it that way. Until then, you'll just have to pick a direction and make sure the tanks and cupboards are full.