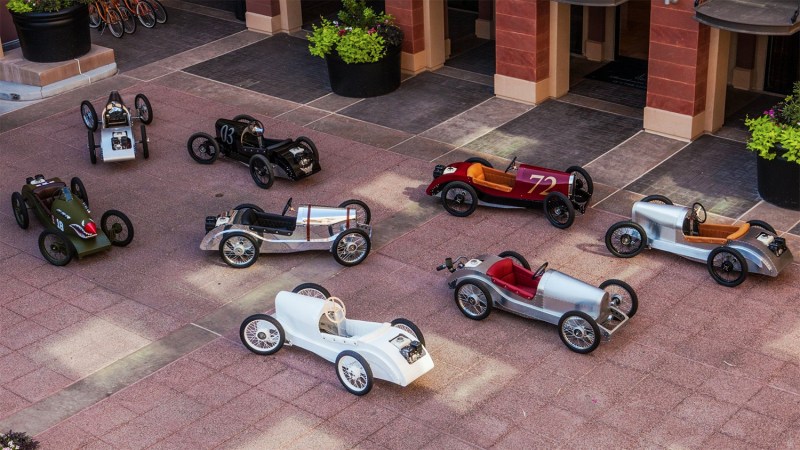 Our pursuits to own a vintage classic may be hindered by the price tags of these antique rarities. However, if you've set your motorhead mind to owning a vintage racer before your next birthday, Vintage Kart Company (VKC) of Mesa, Arizona is making the goal achievable and (more) affordable.
Enter the Vintage Mini Racers, a more attractive and elegant spin on the go-kart that honors the aesthetic of classic cyclecars of the past. Like an antique ride, these Mini Racers pack superb engineering (it's not just plastic over a dinky motor), in a compact 200cc driving machine that is precision fabricated, hand-assembled, and detailed to a meticulous degree— as all classic beauties on four wheels should be.
Furthermore, Vintage Kart Company, who has only been in operation for a toddler three years, has already made its two Vintage Mini Racers fully customizable to your taste, thanks to its team of in-house manufacturers.
Plus, if you're really ballsy, there's an even more financially friendly option to construct your own racer by hand.
The first model, Italiano, maintains a distinct Italian design in the body of the Racer; sculpted with a voluptuous grant Triumphal Arch hood and grill. If futuristic is more of your calling, the second model, MonoCar, is a space-age aluminum design featuring a rocket nose cone.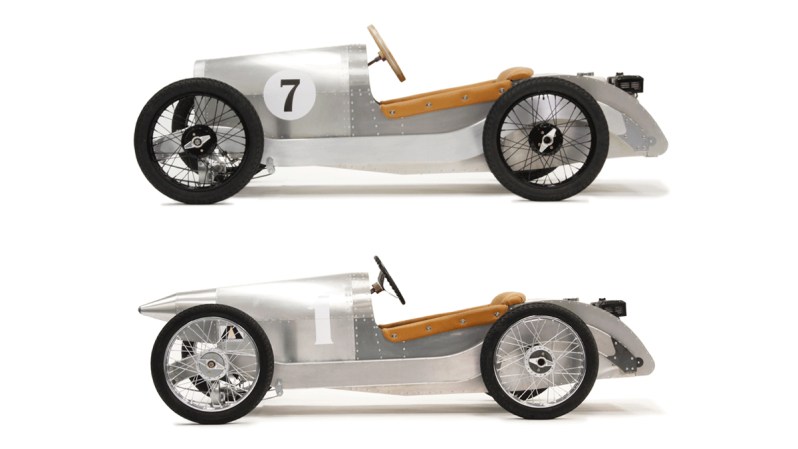 Both Racers range from $6,975 to around $14,000, depending on your level of Do-It-Yourself, and desirability for customization, color, and polish. Vintage Kart Company's Custom Vintage Racers can top out a little above $22k.
Other specs on these bad boys include removable side mirrors, a fully-suspended beam front axle, removable standard steering wheel for easy access, and tough Michelin tires.
As for customization options, it's a jewel VKC takes immense pride in showcasing. Additional items to consider adding to your Vintage Mini Racer include leather hood straps, a sleek wooden steering wheel, carpet, wood laminate or real wood floor treatments, leather, hood ornaments, polished brand logos on the front grill, your race number on the body, and… of course… buffalo or exotic print interior.
Heck, even if you can afford a vintage, full-sized car that, let's be honest, you'll only ride maybe twice a year for fear of getting it dinged or scratched, a Vintage Kart Company's Vintage Mini Racer should still be on your wish list because getting behind the wheel instantly summons that child-like enthusiasm for the pure love and exhilaration of go-karting.
VKC was founded on this joy, by a team of mechanics, engineers, designers, and businessmen who share a passion for quality CycleKart craftsmanship and both the usability and art a mini racer can present. This means each car is a work of passion, and each customer is catered to as if they were a part of the gang.
And if you find your small hobby for vintage racers growing to a full-on passion, plan a trip to the Grand Prix Scottsdale, a car enthusiast's celebration of the roaring 20s and its racers, where VKC brings 40 of its finest minis to take the track.
Come prepared to dress in your Gatsby's best and talk Honda 6.5 HP engines, sipping Sidecars and Corpse Revivers.
Editors' Recommendations