Since 1950, Monterey, California has played host to a gathering of the world's most exquisite automobiles. In conjunction with the first Pebble Beach road race, the Pebble Beach Concours D'Elegance began as a demonstration of pre-war, post-war, and MG-class vehicles. The single-day event soon became a week of vintage road racing, auctions, and specialty car shows.
Today, Monterey Car Week is a chance for automakers to show off their latest and greatest production and concept cars. Unlike a typical auto show, Pebble Beach tends to draw out the most obscure brand visions. For evidence, look no further than Infiniti's all-new concept creation. Visually inspired by 1950s racing machines, the Prototype 9 looks pretty far-fetched. However, instead of building a rolling chassis or wedging a traditional internal combustion engine under the long, slender hood, Infiniti ported an all-electric powertrain from its next-generation Nissan Leaf.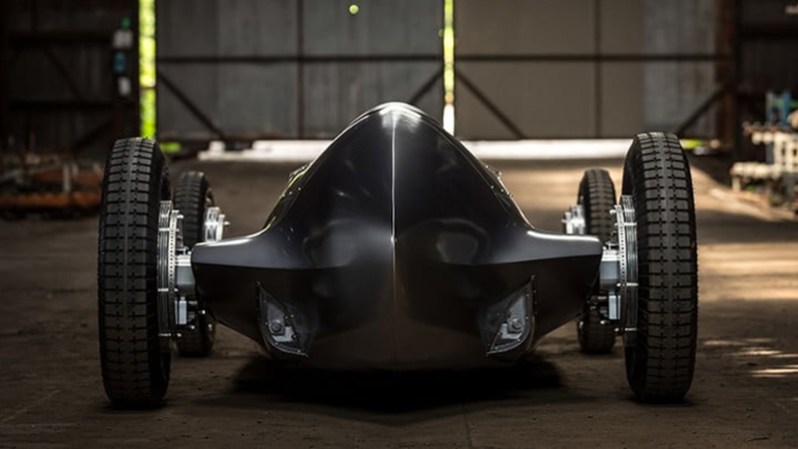 "It started as a simple thought: What if we found a car, down at the southern tip of Japan, buried deep in the barn, hidden from all eyes for 70 years?" stated Alfonso Albaisa, Infiniti's senior vice president of design, in a statement.
The Prototype 9 is a narrow, single-seater concept with a brushed steel body, exposed wheels, and a tall single-frame grille. For reference, the Prototype 9 is 3.5 inches shorter and 0.6 inches wider than the new Infiniti QX30. Built from a steel ladder chassis with handmade steel body panels, the retro concept weighs just under 2,000 pounds.
The electric powertrain develops 148 horsepower and 236 pound-feet of torque, shuffling the concept to 60 mph in 5.5 seconds. With a leaf sprung suspension and no power steering, we highly doubt the Prototype 9 is easy to drive, but that doesn't mean we don't want to take a crack at it!
If you're a bit confused as to why a Japanese brand that launched in the U.S. in 1989 is showing off a 1950s-style concept, you aren't alone. Still, it's a badass ride and we're thankful to Infiniti for keeping Pebble Beach obscure as ever. Will it see production? Don't hold your breath.
Editors' Recommendations