It's time for an automotive history lesson.
Turn back the clock to 1924. Ettore Bugatti, an Italian-born French designer, had just put the finishing touches on his latest project, the Type 35 prototype. In the six years that followed, the Type 35 would become the company's most successful race car — reportedly winning more motorsport competitions than any other model from any manufacturer in history.
To put a number on it, the Type 35 is estimated to have won over 1,000 races. Among the victories, the Type 35 won the 1926 Grand Prix World Championship, five consecutive Targa Florio victories (1925-1929), and the inaugural Monaco Grand Prix in 1929.
Some of the most iconic pre-WWII drivers spent time behind the wheel of the Type 35, including Rene Dreyfus, Louis Chiron (whose name graces the latest Bugatti supercar), and Pierre Veyron (another name we won't soon forget).
Around the time of the second World War, exclusive European cars began trickling into South America. Without a steady supply of spare parts, the region was forced to create infrastructure to reproduce its own.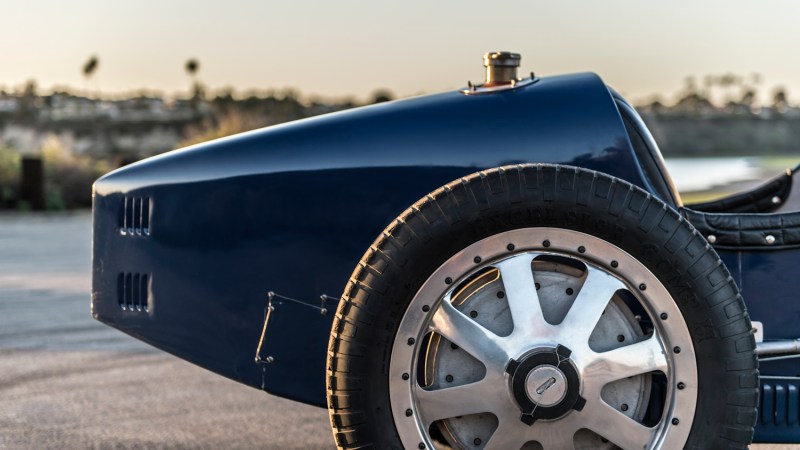 Decades later, a revival began in Argentina. Skills that had been passed down through generations were used to restore these legendary race cars. Pur Sang, which means "pure blood" or "thoroughbred" in French, began specializing in pre-WWII models during the 1980s. To create the most meticulous restorations, Pur Sang made its own tools for production based on original blueprints for the Type 35 engine and other components.
The Pur Sang Argentina Type 35B is the result of that labor. Using the same techniques as Ettore himself, the restored Type 35 is a perfect recreation of the original. From the hand-turned finishes on the instrument panel to the English wheel-made carriage, to the original square bolts. Every detail is to spec and every car made to order.
There are a few modern touches, however. CNC machining ensures accuracy and repeatability for critical components. Ettore was a mastermind of several forward-thinking engineering practices, including the first-ever aluminum alloy wheels, integrated brake drums in the wheel spokes to dissipate heat, equalized brake bias at all four corners, a hollow front axle to reduce unspring weight, and a two-piece crankcase to make the 2.3-liter straight-eight engine part of the vehicle.
Once customers place their order, they can begin customizing their personal Type 35B. Each build takes about 90 days and Pur Sang receives roughly 20 orders per year. To date, Pur Sang has delivered dozens of cars to over 20 countries worldwide. Prominent Pur Sang customers include members of the Bugatti family, members of royal families, and Jay Leno.