Contemporary performance vehicles are incredible. Literally thousands of horsepower beat physics into submission. Gear changes take fractions of a second. Adaptive suspension systems and electronic steering racks facilitate precision driving. Cars have never been so capable – but potential can be a curse.
For mortal man to tap into the ability of his mechanized wonder, he needs the right conditions. Exploring the limits of a supercar on the street puts others in danger and may even land you in jail.
"Fine," you reason, "I'll behave myself around town." Trouble is, the latest performance vehicles can be downright dull when driven at sane speeds. Excitement only sets in at the threshold. As it turns out, we have to look to our motoring past for contemporary thrills. That's where Superformance comes in.
Superformance has a bit of an obsession with racing legends of the 1960's. For over a decade, the specialty outfit has recreated rolling chassis of the hottest vehicles from the era. Everything built in the company's South African facility matches original design specifications, and is assembled via the factory equipment. Just add power. This dedication to authenticity has been rewarded by licenses from Ford, Shelby, and GM for every Superformance model. It doesn't get more true-to-form than this.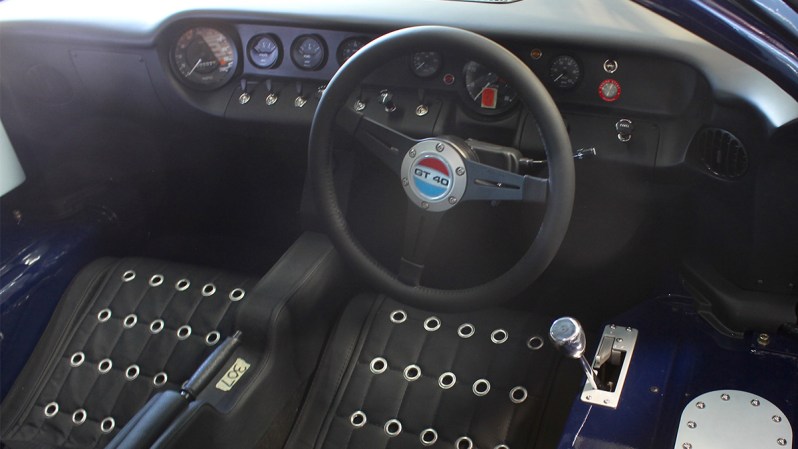 Walk into the Hillbank Motorsports showroom in Irvine, California, and an audience of AC Cobras, Daytona Coupes, Corvette Grand Sports, and Ford GT40s will greet you. Whatever your flavor of mid-century prominence, Superformance has the right fit. I'm cozying up to a Shelby Daytona Coupe in Guardsman blue with Wimbledon white stripes.
Evidently, I share a fantasy with Superformance CEO Lance Stander; my dream Daytona is Stander's personal car. Today, we're both drawn to the car's fastback roofline, clamshell bonnet, and swollen rear fenders. In 1965, we'd be far more impressed by its World Championship victory under the leadership of racing legend Carroll Shelby.
By some miracle, Stander deems me worthy to drive his precious machine. I don't wait for him to reconsider.
It's a three-step process to ignite the Shelby Daytona's all-aluminum 427 Windsor V8 engine. Side-exit exhausts now roaring, we engage first gear of the Tremec six-speed manual and peel off the clutch. There's 525 horsepower on demand, but threading the Coupe through suburban traffic is effortless. Ergonomic leather seats and air conditioning betray the car's race-bred exterior. Is this just a modern sports car in classic garb? Not quite.
With every "shunk" of the shift lever, my arms ripple with goosebumps. As the revs climb above 4,000 rpm, the rumble of the exhaust turns to a bellow, sending chills down my spine. I glance down at the speedometer – I've just crested 40 mph. Something must be wrong; how could I be having this much fun without exceeding the speed limit?
Here lies the beauty of a Superformance machine. Modern build quality means you can forget about reliability concerns. A well-appointed cabin means you can cruise for hours without an ounce of fatigue. But above all else, a visceral driving experience is standard equipment – whether you're tearing up the track or running errands. Not only does a Superformance product look like nothing else on the road, it promises unparalleled stimulation.
Not everyone will forfeit $100K to relive America's greatest hits, but there's no better way to make even supercar owners jealous.