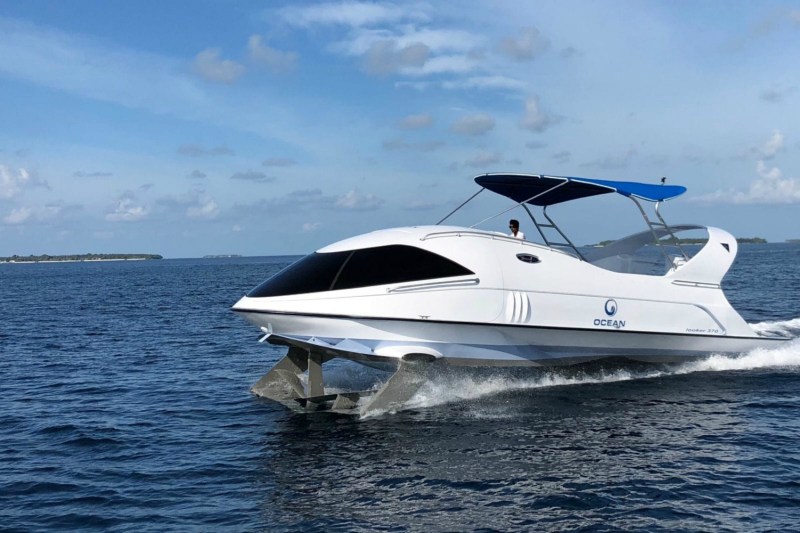 For most casual boaters, glass bottom boats are a novelty best enjoyed on some far-flung tropical island getaway. They promise a unique window to the underwater world, but the often tired, cracked, and beat-up hulls rarely deliver more than a blurry, unsatisfying view. But, Paritetboat's Looker 370 is an entirely different animal — a unique glass bottom boat unlike any you've seen before.
All-new for 2019, the Russian-made Looker 370 is designed to slot neatly into the middle of Paritetboat's lineup. It boasts the looks, elegance, passenger capacity, and creature comforts similar to the company's flagship Looker 440GB, but with the agility and affordability of the entry-level Looker 320. From the side, the Looker 370 reveals a silhouette similar to an orca on the move with a sharply curved bow forming the head and an exaggerated rear wing defining the whale's dorsal fin. It's an elegant, streamlined design reminiscent of much faster, more powerful speedboats.
While it's no cigarette boat, the optional inboard diesel or dual outboard engines pushing up to 400 horsepower offer more than enough thrust for a leisurely day on the water. Plus, the 500-liter (132-gallon) fuel capacity promises to take you and 29 of your closest friends (or paying customers) wherever the most colorful marine life might be swimming.
The Looker 370's pièce de résistance is, of course, the glass bottom itself. The hull is constructed of a special sea-grade aluminum alloy with a durable corrosion-resistant finish. It encases a large glass bottom, promising panoramic views of the world below. The "glass" is actually a heavily modified acrylic that's more solid than fiberglass and virtually impossible to break. Hydraulic steering, cabin climate control, and a bimini top are all standard, while upgraded features like a toilet, shower, stereo system, and a lunch table are also available. Inside, the features and layout are straightforward. Designed first and foremost as a commercial vessel, the floor plan consists of a single, large, oval bench that rings the oversized window in the floor.
Paritetboat hasn't disclosed pricing for the 2019 Looker 370. But, if you're the kind of well-heeled hotshot who's in the market for a premium, one-of-a-kind glass bottom boat, we imagine the price isn't much of a consideration anyway.